10 Full Body Strength Training Exercises for the Beginner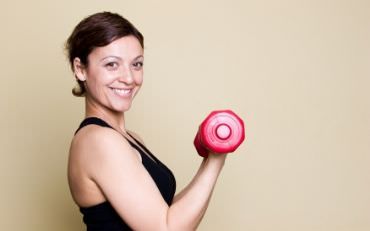 Fitness experts recommend a triad of exercises we should incorporate into our lifestyle in order to achieve optimum fitness. These exercises include cardio-respiratory activities, flexibility exercises and resistance training. Cardio-respiratory activities such as walking, cycling, running, and swimming help with our overall health, while flexibility exercises, such as stretching, help with range of motion around the joint. Lastly, we should all participate in some form of resistance training regardless of our age or gender, whether with free weights, machines, resistance bands or even your own body weight.

If you feel you do not have time to incorporate all the various exercises into your busy schedule, according to the American Council on Exercise, "significant fitness and strength gains can be made in just two strength training sessions per week when you target all muscle groups."

Below are ten strength training exercises to do at home with the use of free weights, a stability ball and a step. These exercises target all the major muscle groups.

Please be sure to include a warm-up and cool-down before and after doing these exercises.

Note that if you have a history of joint problems or health issues you will want to get medical clearance before performing any of these activities.

Chest Exercise

Chest Fly with Dumbbells

Back Exercise

One Arm Dumbbell Rows

Shoulder

Dumbbell Alternating Shoulder Press

Bicep Exercise

Seated Dumbbell Bicep Curl

Tricep Exercise

Overhead Tricep Extension

Quadriceps, Hamstrings and Glutes

Squat with a Ball

Hamstring

Hamstring Curl Alt

Glutes

Quadruped Hip Extensions

Calf Exercise

Calf Raises

Abs

The 1-Minute Plank Pose

Next week's blog will feature full body exercises to do in the gym setting.

Do you prefer a full body routine or a workout targeting specific muscle groups every day? What is your favorite at home resistant training exercise?



You will earn

5

SparkPoints

Like what you read? Learn more

about SparkPeople,

or

sign up

for your free account today!
Got a story idea? Give us a shout!