10 Motivational Twitter Feeds to Follow Today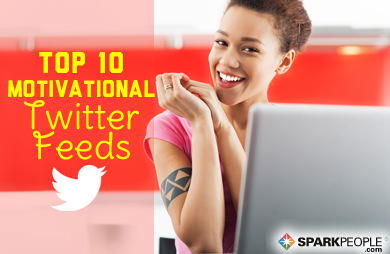 If you enjoy inspirational and motivational messages in your Twitter stream you probably already follow heavyweights like @Deepak_Chopra, @DrWayneWDyer and @Oprah. But Twitter is full of many lesser-known, but just-as-amazing thinkers, who share inspirational quotes, thoughts, questions and messages every single day. Here are the top 10 motivational Twitter streams you should be following right now:

Your Pocket Guru
Your Pocket Guru (@YourPocketGuru) is the Twitter stream of William Paisley, a life coach who shares the quotes and bits of wisdom that have helped him in his own search for answers to life's big mysteries.
Small positive decisions done consistently will lead to big positive life change's. The key is consistency! #ypg

— william paisley (@YourPocketGuru) March 14, 2014
Soul Seeds
SoulSeeds (@soulseedzforall), created by husband-and-wife-team Ian and Meg Lawton, shares daily affirmations to help you grow a fulfilling life.
Do not let the behavior of others destroy your #innerpeace. http://t.co/baTkHDsw81

— Soulseeds (@Soulseedzforall) March 18, 2014
Marc and Angel
Marc and Angel (@marcandangel) are the happiest couple on the internet, sharing their advice and inspiration in several forms from a blog to a book to a great Twitter feed full of quick quotes and links to longer pieces all about finding happiness, love and peace.
In life you have to create your own sunshine. So read something positive every morning & do something positive before you go back to sleep.

— Marc and Angel (@marcandangel) March 18, 2014
Dale Partridge
Dale Partridge (@DalePartridge) is a serial entrepreneur who believes in building businesses that do good. His personal Twitter stream is full of tidbits of wisdom for living an authentic life.
Most of our problems are because we act without thinking or we keep thinking without acting. #truth

— Dale Partridge (@dalepartridge) March 19, 2014
Kid President
Recapture your childlike sense of wonder by following @iamkidpresident, the Twitter stream of Brad (the adult) and Robby (the kid). Kid President and his grown-up partner collaborate on hilarious videos with powerful messages.
You may not realize this, but it is true. In the party of life, you're a VIP. All of you.

— Kid President (@iamkidpresident) March 1, 2014
The One You Feed
The One You Feed podcast and Twitter stream (@oneyoufeed) are based on the parable of the two wolves that are warring inside all of is. Which one wins? The one you feed. So feed your good wolf with inspiration and ideas to help you live your best life.

If you wait for conditions to be just right before you start, odds are you'll never do anything. #inspiration

— The One You Feed (@oneyoufeed) March 19, 2014
Action for Happiness
Action for Happiness (@actionhappiness) is a U.K.-based nonprofit focused on creating more happiness in the world. The organization's Twitter stream includes happiness challenges and calls to action.
Your mission for the week: share a photo of what makes you happy & join our #happinessday wall of inspiring pictures http://t.co/mGid9f4wTj

— Action for Happiness (@actionhappiness) March 17, 2014
Valorie Burton
Valorie Burton (@valorieburton) is an author, speaker and life coach who helps people get unstuck. Her Twitter stream shares nuggets of wisdom and advice culled for her own experiences.
Being your best self is a state of continual improvement. As we learn, we grow, and our best gets better.

— Valorie Burton (@valorieburton) March 11, 2014
Dr. Happy
Dr. Timothy Sharp, also known as Dr. Happy (@drhappy) is an expert in the emerging field of positive psychology, and shares quotes, questions and thoughts about finding more happiness.
"To keep the heart unwrinkled, to be hopeful, kindly, cheerful, reverent--that is to triumph over old age." Thomas Aldrich

— Dr Happy (@drhappy) March 18, 2014
Lorane Gordon
Lorane Gordon is a happiness coach who shares her thoughts about finding more happiness in your own life on her Twitter stream (@YourHappinesWay).

When you accept yourself you are free from the need for others to accept you. #Accept

— Lorane Gordon (@YourHappinesWay) March 19, 2014

Do you have a favorite motivational Twitter stream we should know about? Please share it in the comments.

Follow SparkPeople on Twitter: @SparkPeople



You will earn

5

SparkPoints

Like what you read? Learn more

about SparkPeople,

or

sign up

for your free account today!