10 Motivational Twitter Feeds to Follow Today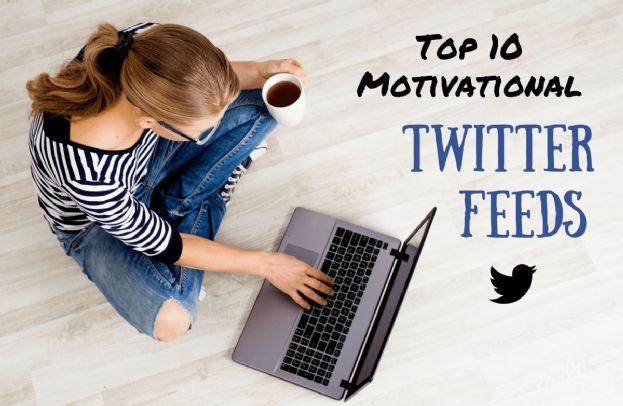 Looking for some extra motivation to keep your New Year's Resolutions afloat? Keep those goal fires burning by tapping into some of Twitter's most inspiring feeds. We've gone beyond the obvious and compiled a list of lesser-known deep thinkers, innovators and motivators. Follow these encouraging streams to ensure that your 2016 goals don't fizzle by February:

SparkPeople (SparkPeople)

If you like the articles on our site, follow our Twitter feed for a steady stream of recipes, exercise tips and daily motivations.

Walk, run, Rollerblade, ski, skip, jump--it doesn't matter just go the distance! #mondaymo… https://t.co/s6jMQAF98F pic.twitter.com/zTfPQJf2B2

— SparkPeople.com (@SparkPeople) January 5, 2016



Greatist (@Greatist)

Don't just live well—live great. Greatist is a prolific feed filled with healthy recipe ideas, effective exercises and other tips for achieving head-to-toe health.

The only motto you'll ever need pic.twitter.com/YZV1z2IMBw

— Greatist (@greatist) December 19, 2015



Fit Bottomed Girls (@FitBottomedGirl)

From inspiring quotes to workout soundtracks to drool-worthy gear, this fitness-focused feed is packed with motivating tidbits that will get you off the couch and to the gym, the sidewalk or wherever it is you like to sweat.

Something to keep in mind when setting a New Year's resolution ... pic.twitter.com/GDMupRGaNK

— FitBottomedGirl (@FitBottomedGirl) January 1, 2016



RunKeeper (@RunKeeper)

Whether you've been running for a day or a decade, Runkeeper's steady stream of tips, quotes and success stories will make you want to lace up and see just how far you can go. Discover running routes, informative articles, Q&A and more.

Failure isn't an option. pic.twitter.com/vEcG0xX8l9

— Runkeeper (@Runkeeper) January 5, 2016



Nia Shanks (@NiaShanks)

One of the co-founders of Girls Gone Strong, Nia Shanks is committed to empowering women to discover their inner badasses—not through self-starvation, fad diets or endless treadmill sessions, but through building strength, confidence and knowledge.

You can't be the best version of yourself if you're constantly tearing yourself down. https://t.co/kslwQNwrJJ pic.twitter.com/FnU9L1IVc0

— Nia Shanks (@NiaShanks) December 20, 2015



Kris Carr (@kris_carr)

Best known for her "CrazySexy" nutrition books, this New York-based wellness expert dishes out healthy eating tips, inspirational quotes and lighthearted humor. Positivity abounds in this uplifting stream.

I see great things happening for you this week, sweet friend. Happy Monday! xo pic.twitter.com/ZUaDdVxAms

— Kris_Carr (@Kris_Carr) December 21, 2015



Jeanette Jenkins (@Jeanette Jenkins)

Celebs pay her big bucks for personal training sessions, but you can get Jeanette's inspiring pep talks, nutrition tips and fitness routines for free on Twitter.

Successful people show up and get it done even when they don't feel like it. https://t.co/MUaMeUkOXj pic.twitter.com/V8h8qPlqRS

— Jeanette Jenkins (@JeanetteJenkins) December 8, 2015



Kid President (@IAmKidPresident)

Although this isn't a fitness-focused feed, everyone can benefit from 11-year-old Robby's daily doses of joy and insight. Laugh, cry and get inspired to make your world—and everyone else's—a better place.

Planning the good you want to make happen in the new year? Make sure you give the world a reason to dance. pic.twitter.com/Si5XU4ymMc

— Kid President (@iamkidpresident) December 26, 2015



Gabby Bernstein (@GabbyBernstein)

Dubbing herself "the Spirit Junkie," this best-selling author encourages her followers to chart their spiritual journeys and maximize their personal growth. Gabby also throws in the occasional fitness tweet.

When people ask "what do u do?" I say, "whatever it takes." @juneAmbrose pic.twitter.com/iFhwl9iys9

— Gabby Bernstein (@GabbyBernstein) December 30, 2015

Ruth Reichl (@RuthReichl)

This food writer's Twitter stream serves up plenty of cooking inspiration, sprinkled with poetic descriptions of her surroundings that will leave you feeling peaceful (and maybe a little hungry).

Pale morning. Frost-dusted lawn. No-color mountains, like a Japanese print. Light coffee. Butter-toasted oatmeal. Apricots. Splash of cream.

— ruthreichl (@ruthreichl) December 6, 2015


Do you have a favorite motivational Twitter stream we should know about? Please share it in the comments.
Follow SparkPeople on Twitter: @SparkPeople



You will earn

5

SparkPoints

Like what you read? Learn more

about SparkPeople,

or

sign up

for your free account today!
Got a story idea? Give us a shout!