10 Ways to De-Clutter Your Home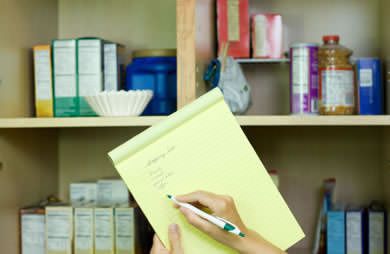 Follow these simple solutions for bringing order to your home.

Tip 1: Purge Perennially

To really stay on top of the organizing game, constantly get rid of your unwanteds.
In the living room and other high-traffic spaces, it's what you see first that counts. "Make sure the room's focal point, whether it's the fireplace mantel, a console or a coffee table, is the least cluttered area," says Jennifer Ford Berry, author of Organize Now! 12 Month Home & Activity Planner (Betterway Home). Keep surfaces pared down by limiting what you display to only a few items.
Make laundry day a time to discard stretched-out T-shirts, mismatched socks and threadbare linens.
Take stock of utensils and other kitchen paraphernalia each time you unload the dishwasher, Berry says. If you find you have multiples—more than two can openers or potato mashers, say—keep one on hand, store the duplicate and donate the rest.
Toss clothes you no longer want or that don't fit into a bin in the corner of your closet. "Do this on a regular basis," says organizing expert and founder of simplify101.com Aby Garvey. "When it's full, take the container to Goodwill."
Tip 2: Enforce Term Limits

If you haven't used it or seen it in a year, give it away.

Tip 3: Group Like Items

Storing similar objects in the same place eliminates the thinking part of tidying up. There's no more hunting for the perfect spot to put something—or racking your brain for where you stashed it the last time.
Arrange garments in your closet by type, fabric weight and color—you'll save time getting dressed in the morning and have a more accurate idea of what you need (and what you don't) the next time you're out shopping.
It's easy to lose track of what you don't use often. "Pick one central location for things like batteries, lightbulbs and candles," Garvey says. The same rule applies to cables, cords and attachments for your family's various electronic devices.
In the bathroom, divide products into categories—cosmetics, hairstyling tools, nail care and hygiene—so that you can easily grab the item you need.
Arrange your favorite things—a small cluster of vases or a short stack of art books—by kind or color.
Click here for more ways to de-clutter your home.

More From Family Circle:

How do you keep your home clutter-free?






You will earn

5

SparkPoints

Like what you read? Learn more

about SparkPeople,

or

sign up

for your free account today!
Got a story idea? Give us a shout!