15 Surprisingly Healthy Restaurant Dishes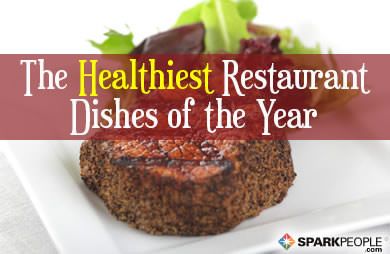 Just because you're trying to eat healthier this year, doesn't mean you can never go out to eat with your friends or family. Instead of getting frustrated and throwing caution to the wind, just do a little research ahead of time to identify healthy restaurants near you and menu options that fit in with your nutrition goals.

We've scoured popular restaurant menus to give you a head start with 15 healthy dishes that will fit into most eating plans. And don't worry, even if you do make a less-than-ideal choice at one meal, that doesn't mean you have to give up on healthy eating. Just go right back to your plan at the very next meal and don't waste time feeling guilty!

15 Best Restaurant Choices


Applebee's Tuscan Bean with Chicken & Sausage Soup bowl
(180 calories/7 g fat/800 mg sodium/16 g protein)
Soup can make a great lunch or light dinner option, and this one is packed with flavor but not calories. Add a side salad with low-fat dressing and you have a great low-fat, low-calorie and moderate-sodium option.


Arby's Roast Turkey Chopped Farmhouse Salad with Balsamic Vinaigrette Dressing
(370 calories/25 g fat/1,250 mg sodium/23 g protein)
This quick-serve restaurant salad option offers a nice variation with the roasted turkey. Because of the cheddar cheese and pepper bacon, the sodium and fat is on the higher side. Limiting both (by asking for them on the side or picking them out of the salad) can reduce the sodium and fat content.


Boston Market Rotisserie Chicken Market Bowl
(330 calories/12 g fat/830 mg sodium/30 g protein)
Enjoying an entire meal in a bowl has become a popular option. Having control of your meat and side selections allows you to make a healthy and tasty homestyle meal. By selecting skinned chicken breast with a double serving of steamed vegetables you can maximize your nutrition, while the Sweet Thai Chili Garlic sauce will maximize the taste, for one of the best meal options of the year.


Burger King BK®Breakfast Muffin Bacon, Egg and Cheese Sandwich
(300 calories/14 g fat/990 mg sodium/15 g protein)
If you thought watching your nutrition would mean you could never have bacon again, you're in luck. This new breakfast sandwich gives you a taste of bacon without totally giving up on healthier eating. (Pssst: the ham, egg and cheese option has 310 calories and 1,290 mg sodium!) Wise choices will still be necessary throughout the remainder of your day, but this quick option might make your breakfast on the run a little brighter.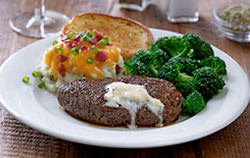 Chili's Classic 6 oz. Sirloin without Chili's Seasoning or Garlic Butter or Sides
(320 calories/20 g fat/750 mg sodium/34 g protein)
Order this steak without the steak seasoning or butter and ask for a double portion of steamed broccoli in place of the standard sides and you'll have a delicious steak dinner for less than 500 calories.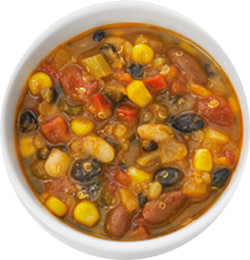 Einstein Bros Southwest Veggie with Quinoa Bowl of Soup
(320 calories/9 g fat/1,570 mg sodium/11 g protein)
Like most soups, this one is high in sodium, but if you have no medical reason you can't splurge on sodium a bit, this vegetarian meal provides a great hot option on a cold day. If you don't have that much room in your sodium budget, try a cup-size serving instead (200 calories/6 g fat/980 mg sodium/7 g protein).



IHOP Simple & Fit Super Fruit Oatmeal with Almonds & Walnuts
(330 calories/12 g fat/10 mg sodium/9 g protein)
When you're invited to eat out and need low-sodium options, consider this nutrient-packed oatmeal dish any time of the day.



Jamba Juice Brie, Apple & Sweet Fig Sandwich
(320 calories/9 g fat/440 mg sodium/11 g protein)
This grown up and healthier version of the beloved toasted cheese sandwich is worth checking out, especially when a protein-rich, lower-fat and -sodium sandwich is what you crave.



KFC Original Recipe Bites
(200 calories/9 g fat/660mg sodium/22 g protein)
Skinless chicken breasts can get really old when you're working toward a healthy living goal. This small serving of seasoned chicken breast bites can be a great way to enjoy a taste of that KFC "famous recipe" without blowing your calorie budget.


Outback Steakhouse Steamed 4oz. Lobster Tails and Tangy Tomato House Salad
(507 calories/15 g fat/1,077 mg sodium/53 g protein)
This is a great meal option even if it does come from a steakhouse. But if steak is more what you had in mind, give the Special 6 oz. Steak with Mixed Veggies and Light Balsamic Vinaigrette House Salad (543 calories/27 g fat/849 mg sodium/45 g protein) a try, especially if sodium content is of concern.


Panda Express Grilled Teriyaki Chicken and Mixed Veggies Panda Bowl
(370 calories/13 g fat/1,060 mg sodium/40 g protein)
This low-calorie, high-protein meal is still higher in sodium than you might like, but can make for a good option when Asian food is what you crave.






PF Chang's Philip's Better Lemon Chicken with White Rice Lunch portion
(1,090 calories/20 g fat/195 mg sodium/38 g protein)
This higher-calorie meal option is a great low-sodium choice for those that want to eat away from home and must watch sodium more than calories.


Starbucks Whole Grain Oatmeal
(150 calories/2.5 g fat/0 mg sodium/5 g sodium)
Starbucks updated their oatmeal to switch to a 100% whole grain option of steel cut oats with old-fashioned rolled oats. This might be the healthiest fast food breakfast option on the market. Additional toppings and options are also available. Top with fresh berries (20 calories/0 fat/0 mg sodium/0 protein), dried blueberries (100 calories/0 g fat/0 mg sodium/0 g protein) or a fruit, nut & seed medley (70 calories/3 g fat/0 mg sodium/2 g protein) with agave syrup (20 calories/0 fat/0 mg sodium/0 g protein). This very low-sodium, nutrient-rich cereal can be a healthy option any time of the day.


Steak and Shake Potato and Egg Breakfast Taco
(190 calories/10 g fat/460 mg sodium/5 g protein)
Although this unusual breakfast option is only available between midnight and 11 AM, it might be the perfect late night/early morning choice, especially for those with alternative work schedules.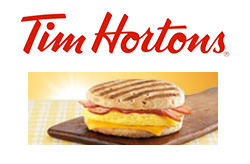 Tim Hortons Multigrain Flatbread, Egg White and Cheese Omelet Breakfast Panini
(210 calories/7 g fat/590 mg sodium/13 g protein)
If you're looking for a healthier option to grab and go with your coffee, this breakfast sandwich is a higher-protein, lower-calorie alternative to consider.


What are your favorite healthier restaurant options?




You will earn

5

SparkPoints

Like what you read? Learn more

about SparkPeople,

or

sign up

for your free account today!
Got a story idea? Give us a shout!