16 Seasonal Supermarket Treats Worth Trying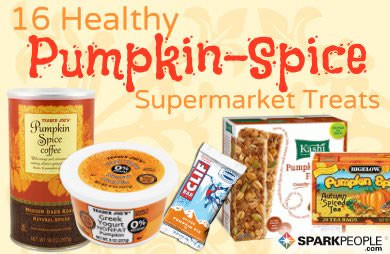 Which flavors come to mind when you think about fall? Apple, caramel, cinnamon, ginger? Probably no flavor is more popular or ubiquitous right now than pumpkin. While Starbucks is celebrating 10 years since they first offered their famous Pumpkin Spice Latte, it seems like every food company and restaurant under the sun is offers limited edition pumpkin delights these days—everything from yogurt to granola bars to tea.

But just like the aforementioned sugary latte, many pumpkin-flavored treats are high in calories, fat and sugar (or all three). (Check out our list of fall's most fattening foods here.) In many cases, you'd be better off having a slice of pumpkin pie, than that "innocent" impulse item tempting you from the checkout line!

So which pumpkin treats are worth trying this fall? We scoured supermarket shelves to discover seasonal offerings that will let you indulge—without breaking the calorie bank.

There are actually more supermarket options than you might think, some of which even contain real pumpkin (vs. just artificial flavorings). Pumpkin, along with the rest of the winter squash family, is packed with beta carotene, vitamin C, niacin, phosphorus, potassium and fiber.

Here are the top supermarket pumpkin treats worth trying!

Pumpkin-Flavored Drinks
While you won't find any actual pumpkin in most pumpkin-flavored drinks, they can still offer a low-calorie way to enjoy fall's most popular flavor.


Bigelow Pumpkin Spice Tea offers lots of flavor with zero calories. You can punch up the taste with a tiny bit of honey or other sweetener, if you'd like.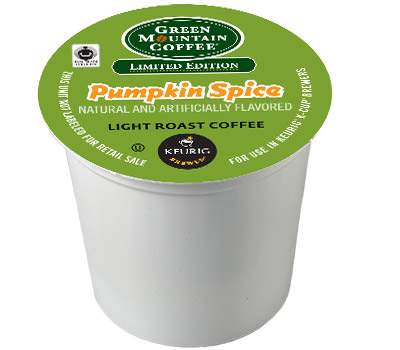 There are lots of pumpkin-flavored coffee options on store shelves for zero calories. If you have a Keurig brewer, you can try the Green Mountain Coffee Pumpkin Spice K-cup.



If you use a regular coffee machine, Trader Joe's offers a Pumpkin Spice Coffee (also calorie-free) that works in any brewer.







To punch up the flavor of pumpkin coffee or add it to regular, you can use Torani Sugar-Free Pumpkin Pie Syrup.








If you like your coffee with cream, Coffee Mate offers a Sugar-Free Pumpkin Spice non-dairy creamer. It's artificially sweetened and flavored, but calorie-free and big on flavor.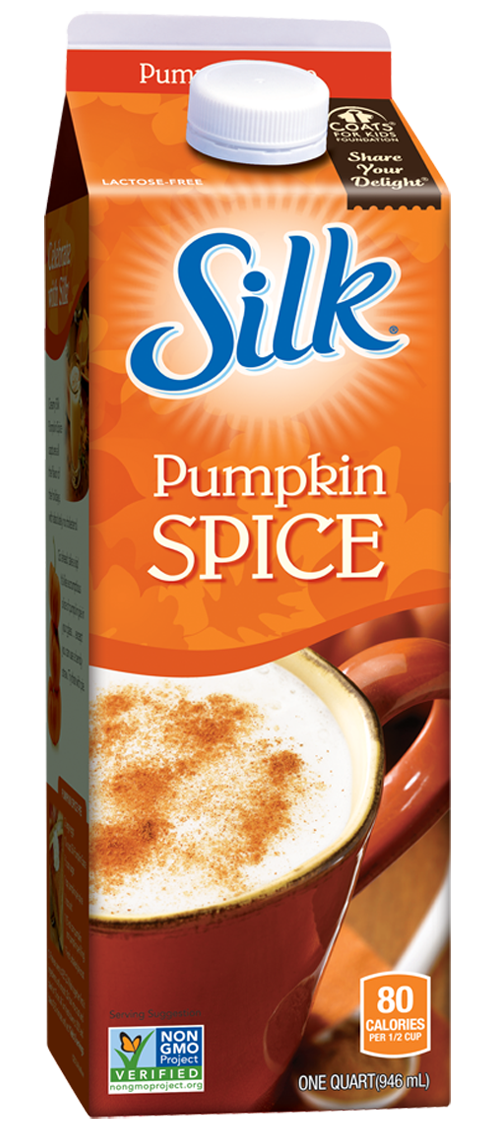 If you enjoy a little soy milk in your coffee or tea, try Silk Pumpkin Spice Soy Milk, but be aware that is has 12 grams of sugar per 1/2-cup serving (along with 3 grams of protein and only 2 grams of fat). This stands on its own, too—flavorful enough to drink by the cup!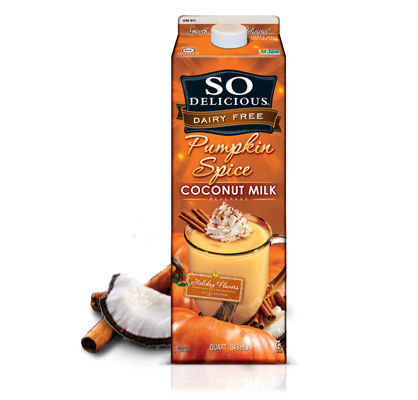 So Delicious Pumpkin Spice Coconut Milk has 14 grams of sugar per 1/2 cup serving, but it also contains some real pumpkin and only 1 gram of fat. It makes a delicious dairy-free option at just 70 calories per serving.


Pumpkin-Flavored Bars
You always have to be careful in this aisle, as snack and energy bars are often just candy bars wearing a "healthy" halo. But the right bars can be a convenient on-the-go choice when you're busy. Here are the top fall flavors worth trying.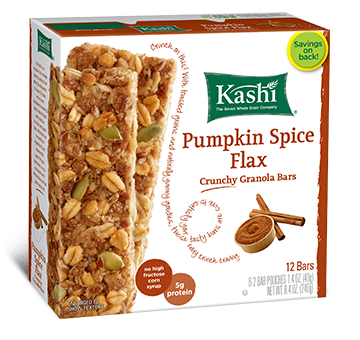 Kashi Crunchy Granola Bars in Pumpkin Spice Flax are 170 calories per serving (that's two bars per package). While they don't contain pumpkin puree, they do include the seeds and 5 grams of protein.



Clif Spiced Pumpkin Pie Bars would be appropriate before or after a strenuous workout since the calories (240 in one bar) are a little high for a daily snack. These bars do contain pumpkin along with 8 grams of soy protein.






LaraBar Alt Pumpkin Pie Bar is also a workout-worthy bar with 220 calories and 10 grams of soy-free protein (from peas) along with real pumpkin.



Pumpkin-Flavored Breakfast & Snacks
Pumpkin makes a great complement to many breakfast foods. It's easy to find pumpkin donuts and pastries at the grocery store, but there are low-calorie, high-flavor options, too. Here are some of our faves.


Philadelphia Pumpkin Spice Cream Cheese doesn't contain real pumpkin but it packs a lot of flavor in a 90-calorie 2 tablespoon serving. You can perk up a bagel or slice of toast instead of going for a pumpkin donut and save a lot of fat and calories.


Trader Joe's offers a Pumpkin Cream Cheese Spread as well; this one's made with real pumpkin and has only 70 calories in 2 tablespoons.


Either of the pumpkin cream cheese options would be amazing on top of a Thomas' Pumpkin Spice English Muffin, which is made with real pumpkin and has only 1 gram of fat and 150 calories per muffin.




For a protein-packed option, try Trader Joe's Greek Nonfat Pumpkin Yogurt with a whopping 19 grams of protein per serving, plus real pumpkin added to give it some real flavor.



Trader Joe's Pecan Pumpkin Instant Oatmeal is high in sugar at 14 grams per serving, but with only 180 calories, it's not a bad choice to satisfy a pumpkin craving without going for a pastry.







To add protein, healthy fat and some fun pumpkin flavor to yogurt or oatmeal, try Planters Pumpkin Spice Almonds. One 160-calorie serving offers 5 grams of protein. But be careful: These can be addictive!


See how all of these foods compare in the nutritional breakdown below.


More Food Ideas for Pumpkin Lovers
These sweet treats feature the goodness of real pumpkin, which adds moisture and flavor while lowering the fat in the recipes.
For a festive fall twist on hummus, try this pumpkin bean dip.
To warm up a fall evening, fill up a bowl with delicious spiced pumpkin soup (that can be made in just 20 minutes)!
What your favorite healthy way to enjoy fall's favorite flavors? Have you tried any of the fall foods above?



You will earn

5

SparkPoints

Like what you read? Learn more

about SparkPeople,

or

sign up

for your free account today!
Great Stories from around the Web