16 Seasonal Supermarket Treats Worth Trying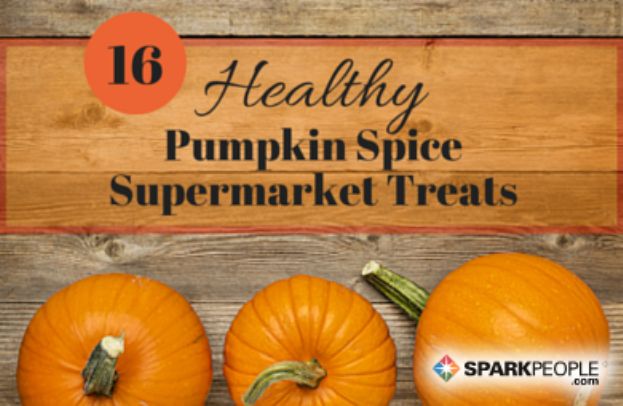 Which flavors come to mind when you think about fall? Apple, caramel, cinnamon, nutmeg and ginger? Probably no flavor is more closely associated with fall than pumpkin. It seems as though every food company and restaurant under the sun is offering limited edition pumpkin delights these days—you can find the flavor in just about everything from yogurt to granola bars to tea.

But just like a lot of the foods found year-round that may sound healthy, many pumpkin-flavored treats are high in calories, fat and sugar (or all three). (Check out our list of fall's most fattening foods here.) In many cases, you'd be better off having a slice of pumpkin pie, than that "innocent" impulse item tempting you from the checkout line!

So which pumpkin treats are worth trying this fall? We scoured supermarket shelves to discover seasonal offerings that will let you indulge—without breaking the calorie bank.

There are actually more supermarket options than you might think, some of which even contain real pumpkin (instead of artificial pumpkin flavor). Pumpkin, along with the rest of the winter squash family, is packed with beta carotene, vitamin C, niacin, phosphorus, potassium and fiber.

The top supermarket pumpkin treats worth trying fall into three categories:

Pumpkin-Flavored Drinks
While you won't find any actual pumpkin in most pumpkin-flavored drinks, they can still offer a low-calorie way to enjoy fall's most popular flavor.

Pumpkin-Flavored Bars
You always have to be careful in this aisle, as snack and energy bars are often just candy bars wearing a "healthy" halo. But the right bars can be a convenient, on-the-go choice when you're busy.

Pumpkin-Flavored Breakfast Foods and Snacks
Pumpkin makes a great complement to many breakfast foods. It's easy to find pumpkin donuts and pastries at the grocery store, but there are low-calorie, high-flavor options, too.














This tea offers lots of flavor with zero calories.

If you have a Keurig brewer, you can try this flavorful brew.

If you use a regular coffee machine, Trader Joe's offers this fall coffee flavor.


To punch up the flavor of pumpkin or regular coffee, use this syrup.


If you like your coffee with cream, International Delight offers this tasty creamer.


If you crave a cold, pumpkin-flavored drink this beverage could be just the thing to quench your thirst.


This coconut milk contains some real pumpkin and only 1 gram of fat.


These granola bars are 170 calories per serving (that's two bars per
package).


These nutrition bars would be appropriate before or after a strenuous workout.


This Alt bar is also workout-worthy with 220 calories and 10 grams of soy-free protein.


This cream cheese spread is offered every fall—and it's made with real pumpkin.


Pop two of these waffles into the toaster for a filling breakfast at home or on the go.

For a protein-packed option, this yogurt flavor comes with a whopping 14 grams of protein per serving.

These cereal bars are not a bad choice to satisfy a pumpkin craving without going for a pastry.

Swap out your usual breakfast cereal for one serving of these for a tasty choice to keep you full through the morning.

To add protein, healthy fat and some fun pumpkin flavor to yogurt or oatmeal, try these almonds.

More Food Ideas for Pumpkin Lovers

These sweet treats feature the goodness of real pumpkin, which adds moisture and flavor while lowering the fat in the recipes.
For a festive fall twist on hummus, try this pumpkin bean dip.
To warm up a fall evening, fill up a bowl with delicious spiced pumpkin soup (that can be made in just 20 minutes)!
What your favorite healthy way to enjoy fall's favorite flavors? Have you tried any of the fall foods above?



You will earn

5

SparkPoints

Like what you read? Learn more

about SparkPeople,

or

sign up

for your free account today!
Got a story idea? Give us a shout!