6 Reasons Why You Feel Exhausted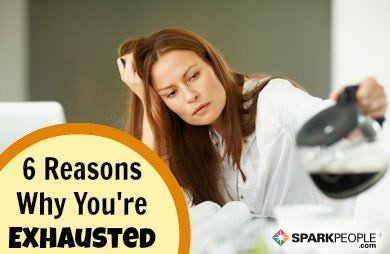 Some days you know exactly why you feel worn out: maybe a curfew-breaking teen kept you up past your bedtime or your coughing kid has you coming down with something. Other days it's a mystery. "So many of my patients come to me saying they're tired and they don't know why," says endocrinologist and metabolic specialist Eva Cwynar, M.D., author of The Fatigue Solution. The reason may be one (or more) of these six energy suckers. If they have you dragging your heels, we've got easy fixes for putting pep back in your step.

Drain #1: Skipping Sex
When patients go to Dr. Cwynar complaining of burnout, she always tells them: Have good sex. "Making love boosts your body's production of adrenaline and endorphins -- hormones that increase alertness and energy," says Dr. Cwynar. For a rarin' start to your day, set aside some time in the morning. "I know you're thinking that you have to prepare for work, make your kids their lunches, and it doesn't seem like you can find the time," says Dr. Cwynar. But a quickie before the children wake up can be just as satisfying as a longer session on date night, plus it'll give you the get-up-and-go you're seeking.

Drain #2: Creating Endless To-Do Lists

"Women, moms especially, often try to accomplish 100 things before lunch," says Allyson Lewis, time strategy expert and best-selling author of The 7 Minute Solution. The pressure we put on ourselves to do, do, do is so enormous that we often feel overwhelmed, paralyzed, and ultimately, bad about ourselves when we (inevitably) don't get it all done. Instead, she suggests switching to a "5 before 11 list" of five tasks you want to complete before 11 a.m. The chores can be as simple as whipping up a healthy meal, picking up poster board for your child's science project or even making the list. This strategy works because limiting the number of undertakings lets you commit to small daily activities that keep you motivated to continue working toward bigger goals, explains Lewis. "That feeling of accomplishment is so invigorating," she says.

Drain #3: Sugar Loading

Starting your day with a carb-packed breakfast -- bagel, muffin, doughnut -- can leave you worn out. "When your meal is high in sugar, your body responds by pumping out insulin," explains Dr. Cwynar. "The insulin overcompensates, lowering your blood sugar, and then you crash." This triggers your body to crave even more sugar to keep you going. Stop the vicious cycle by choosing protein from foods like eggs, lean meats, dairy and beans, which takes longer to digest than carbohydrates and helps maintain stable blood sugar levels. "We've become a carb society because it's so convenient and cheap, but I preach protein for breakfast," says Dr. Cwynar. You don't want to nix carbs completely (that's a different kind of power drain) -- your meals should be a mix of protein and carbs.

Click here for more information on why you feel exhausted from Family Circle.

More from Family Circle:
Tell us how you keep from feeling exhausted? What tips do you have to keep you energized?





You will earn

5

SparkPoints

Like what you read? Learn more

about SparkPeople,

or

sign up

for your free account today!
Got a story idea? Give us a shout!