75 Snacks Under 200 Calories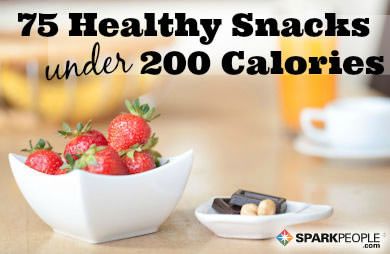 A round-up of the most interesting and thought-provoking stories of the week.

75 Snacks Under 200 Calories Self
Snacks are an important part of a healthy eating plan, but they can also lead to calorie overload. Here are 75 that will fill you up for 200 calories or less!

Food Firms Trim Trillions Of Calories From Packaged Treats NPR
Since 2007, major food companies have trimmed more than 6.4 trillion calories from packaged foods as a way to combat childhood obesity. But can it have any noticeable effect?

5 Fitness Feats that are Worth the Training Fit Bottomed Girls
The ever-positive Fit Bottomed Girls share five fitness goals that are within reach and worth setting for 2014.

How Being Heavy or Lean Shapes Our View of Exercise NYT Well blog
If you don't like exercise, it might not be your fault. Researchers found that when shown pictures of people working out, the brains of women who were overweight reacted differently from the brains of women who were leaner. The good news: By finding an activity you enjoy, you can change how your brain reacts!

Work Your Entire Body With This 40-Minute Workout Fit Sugar
We love multi-tasking workouts. This full-body session will leave you sweating and sore from head to toe.

Fall Asleep in a Flash Tonight Shape
Having trouble catching zzzs? Find out how these seven moves can help you sleep like a baby.

Study Ties Diabetic Crises to Dip in Food Budgets New York Times
According to a new study, people with diabetes who are financially struggling are more likely to go to the hospital for hypoglycemia at the end of the month, when food budgets are strained than at the beginning of the month.

Alkaline diet claims get sour response from doctors LA Times
Have you heard about the acid-alkaline diet that aims to alter your pH balance? According to doctors, you shouldn't bother trying it.

Which stories topped your "must-read" list this week?




You will earn

5

SparkPoints

Like what you read? Learn more

about SparkPeople,

or

sign up

for your free account today!
Got a story idea? Give us a shout!