Essential Weight-Loss Tools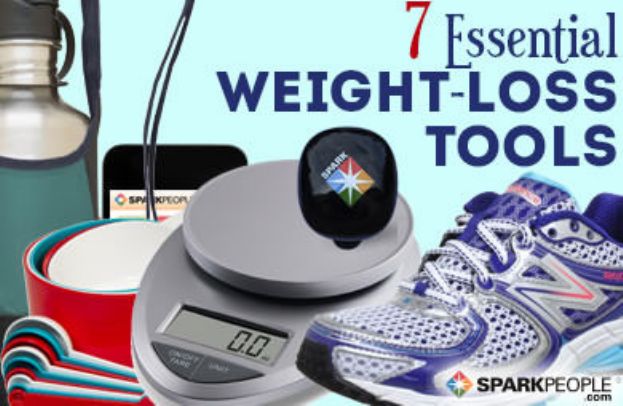 While it's true that all you really need to lose weight are good information and determination, there are plenty of helpful tools that will make the path to health and fitness a little easier and a lot more fun. I've gathered a list of the kinds of things that have helped me in my own weight-loss journey. You'll need different tools at different stages, but these are great when you're just getting started.


The EatSmart Precision Pro Digital Kitchen Scale is precise (down to the gram) and easy to use. The tare function allows you to delete the weight of the plate or bowl you're using and accurately measure just the food. No one wants to weigh everything they eat but it's essential when you're relearning what a normal portion actually looks like.




If you're planning to cook more as part of your weight loss journey, you'll also want to pick up an inexpensive set of measuring cups and spoons. This set includes 10 cups and 9 spoons in measurements from 1/32 teaspoon all the way to 2 cups! Is your serving of breakfast cereal really only 3/4 of a cup? Now you'll know for sure!


You probably already have more than one water bottle laying around your house. Great, start using it! To make sure I always have plenty of water handy, I like to use a ChicoBag Bottle Sling Bag. It lets you carry a large bottle easily without worrying about having your hands full. I always use the sling on long walks and even long shopping trips to make sure I stay hydrated.












Speaking of long walks, I've been using my Spark Activity Tracker for the last few months and it makes it super easy to keep track of steps and workout minutes whether I'm walking outside or on the treadmill (or using an elliptical machine or stationary bike). And I'm so much more motivated to get steps whenever I can. I love when all the lights glow in a complete circle to show me that I've met my 10,000 steps-a-day goal!



For food tracking on-the-go, there's nothing simpler than the $3.99 SparkPeople Diet and Fitness Tracker App (for both iPhone and Android devices). With over 2,000,000 foods in the database, it's easy to track exactly what--and how much-you're eating.








If you have a smart phone, there are literally thousands of health and fitness apps that you might find helpful depending on your goals and activities. The ones that I've used the most include Map My Walk (free), RunKeeper (free), C25K ($1.99) and Simple Interval Timer (free).





Finally, if walking or running are going to be part of your weight-loss strategy, you owe it to yourself to get the best shoes you can afford. After dealing with foot pain, hip pain and knee pain, I finally took a trip to my local running store to get fitted by a professional. The shoes I ended up with, New Balance 860v3, weren't any more expensive than what I might have bought at the mall, but they're the most comfortable pair I've ever owned!

What tools have you found to be the most essential to achieving your weight-loss goals?




You will earn

5

SparkPoints

Like what you read? Learn more

about SparkPeople,

or

sign up

for your free account today!
Got a story idea? Give us a shout!