From Size 22 to 6, Michelle Can Accomplish Anything Now!*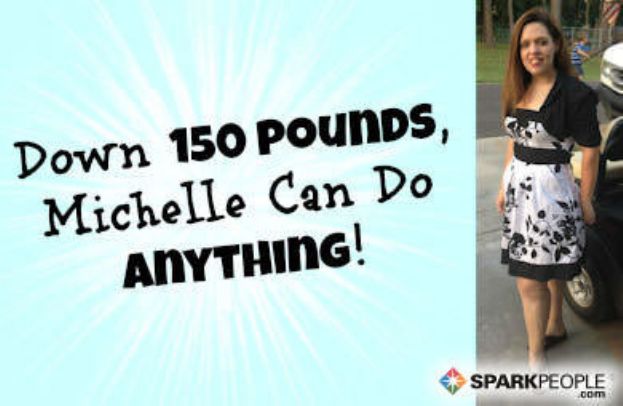 Michelle Miller (JUSTCHELLE75)
Weight Lost: 140 pounds
Hometown: Houston, TX
Occupation: Paralegal

What was life like before your weight loss?
My weight has had vast fluctuations my entire life. I maintained at 135 pounds for about three years and then I steadily went up. I gained the most recent weight when I was pregnant with my daughter. I gained about 100 pounds while pregnant with her and then had a C-section. I was so out of control I wouldn't even let the nurse tell me what I weighed. I didn't even realize how large I had gotten. I no longer looked at myself in the mirror and when I did, I didn't see what I was becoming. I got married and had a baby all in the span of one year while working full time and going to school. I had many changes and didn't know how to take care of myself. My husband and I were so busy that we turned to fast food or eating out much too much. I was winded to the point of thinking I had asthma just walking up the stairs. We would take my daughter out in her jogging stroller and I would hurt. My husband would tell me how beautiful I was but in my head I just didn't want to believe him. I didn't feel beautiful or secure.

What was your 'light bulb moment' that made you get serious about losing the weight?
I saw a picture of myself with my daughter in December 2010. It's the first time I really saw myself and how out of control I was. I decided I needed to lose weight and get healthy so my daughter would never have to go through what I did. I also wanted to feel comfortable taking pictures with her and our life. I had become happy with myself.

Tell us a bit about your weight loss journey:
I joined Weight Watchers and SparkPeople on the very same day. That day was January 17, 2011. That's the day I have dubbed my 'Healthiversary'. That's the day I stopped dieting and I started to just live healthy. We so often look for the 'get thin quick' scheme and go for the temporary results that we neglect to realize that if we want to be the best person we can be physically and mentally, it's a 365 day, 24 hour a day journey. I started my lifestyle change slowly by counting points, modifying the things I ate, reading articles on SparkPeople and getting support from the SparkPeople groups as well as my Weight Watchers meetings. I also started walking slowly. The weight came off and I became stronger and was doing more.




In May of 2011, I walked/ trotted my first 5K. I was dreadfully slow, but I felt so empowered because I did it and I had so much support. In June 2011, I saw a lottery for the Houston Aramco Half Marathon. My friends, who didn't really get how out of shape I had been, encouraged me to go for it. I asked my husband if he would do it with me and he agreed, so we began training. By September 2011, I had lost 60 pounds and was still overweight. I was obsessed with an infomercial for a workout called Insanity. I didn't think I could do it, so I didn't order it. One weekend my husband went to check the mail and came back with a box for me. He had ordered Insanity for me. It turned out that he had more faith in me than I had in myself, and we did the program together. I joined A Biggest Loser challenge at the same time. By December 2011, I lost 100 pounds. On January 13, 2012, I completed my first half marathon in three hours and nine minutes. This was probably the hardest thing I have ever done. It was physically straining and I was slow. I was down 112 pounds and I was happy. I mean I was truly happy. I felt better than I ever have in my entire life. I had everything I ever wanted. I had a husband and a beautiful baby girl and I was feeling strong mentally and physically.

However, my world came crashing down when my once-devoted and biggest supporter, my husband, left me at the end of April 2013. Overnight, I became a single mother with a long commute and was facing vast changes, adversity and challenges. I didn't quit on myself, though and over the past several months, I have risen to these challenges successfully.

I have utilized any and every resource I could to lose the weight. SparkPeople has provided me with a community that I can share my experiences with, blog, and join challenges. They are imperative to my success. During my weight loss journey, I have found strength and determination in myself that I never knew I had. I have met many new friends and have become a role model. I went from walking a 21-minute mile to now running a 9.33-11 minute mile. I have done 5Ks and a half marathon. I have done obstacle courses and all kinds of fitness programs that I can actually do that I never thought I would be able to do.

What is your typical exercise routine like?
Normally, I run three to four times a week, strength train three times a week and do cardio (like Insanity or Turbofire) three to four times a week. There are some weeks that I just walk daily but those are a rarity rather than the norm. I try to exercise six days per week and I am training for half marathons and marathons to keep me accountable to myself.

How would you describe your typical diet now as compared to before your weight loss?
I eat out at restaurants less often and fast food is a rarity. I am more creative now than I was before. If I want ice cream I'll make a Greek yogurt parfait or a smoothie. I am much more knowledge about the quality of food that I eat and the choices I make when eating. I weigh and track everything in some form or fashion. I would say that I am much more conscious about what, when and where I eat.




What advice would you give to someone just beginning a weight loss program?
Tip One: Commit to an eating plan that you plan to use for the rest of your life. No cheat day, no cheat meal (you can't cheat life) and just do it and track.

Tip Two: Commit to working out. In order to live a healthy life; you have to move your body and probably move it a lot. The bad news is that the more weight you lose the harder you have to work to get to your goal and the harder you have to work to maintain those results. Some days will be harder than others but I will move my body in some way.

Tip Three: Be honest with yourself. Losing weight is as much about the inside is it is about the outside. You have to do the work; soul search, get real about why you let yourself get out of control and get real about why you want to lose the weight. Let me assure you that no weight loss will be permanent if you do it because you think society and your family thinks it is best. You have to want it for yourself and you have to want it more than any bit of cake or ice cream that screams your name because it will scream loudly.

Tip Four: Ask for help. Scream yell, jump up and down. Don't be afraid.

Tip Five: It is fine to find motivations or encouragement from others. But no one can motivate you to get where you are going until you find it within yourself.

Tip Six: Leave your excuses at the door. Cake won't make you hurt less, not exercising won't make you not have a job or kids or make you feel better. If millions of other people can find the time, so can you and me.

Learn to love yourself and you are half way to being a success!

How has your life changed since losing weight and improving your health?
My life is so much better. I feel healthier, stronger and proud of all that I have accomplished. I have now completed two half marathons and I have never in my life felt the sense of accomplishment I did after finishing both races. It proved to me that if I can get past my mental roadblocks that I could accomplish anything!

Way to go, Michelle!

*Weight loss results will vary from person to person. No individual result should be seen as a typical result of following the SparkPeople program.

Have you lost weight and kept it off using SparkPeople.com? We'd love to share your story. Email us: sparkpeoplesuccess (at) gmail (dot) com




You will earn

5

SparkPoints

Like what you read? Learn more

about SparkPeople,

or

sign up

for your free account today!
Got a story idea? Give us a shout!