'I Started This for My Kids, But I'm Finishing It for Me''*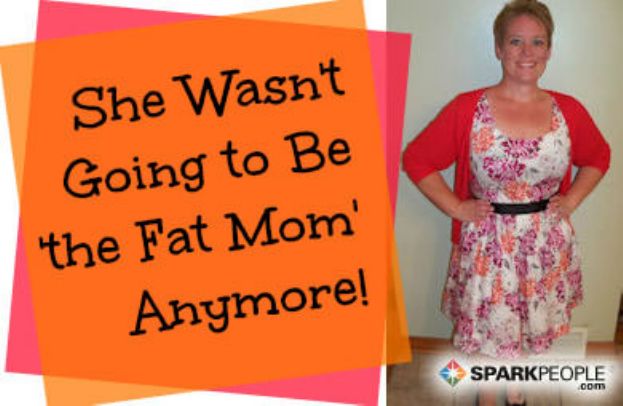 Holly Petras (HOLLYS_NEW_LIFE)
Weight Lost: 140 pounds
Hometown: Fairview, PA
Occupation: Patient Advocate

What was life like before your weight loss?
Other than my kindergarten picture, every picture I have of myself is of a chubby child, a fat teenager or an obese adult. As a kid, I used to play soccer, swim and dance, and I was always the biggest one. When I got to college, I gained even more weight with late night pizza and beer. Right out of college, I got married to a man who loved me so much, he thought catering to my every desire would make me happy. All it did was make me lazy and fatter. This was in no way his fault, but it wasn't helpful either. When I got pregnant with my kids, it was just another excuse to eat whatever I wanted. I craved French fries with my son and pizza with my daughter, and ate them most nights. I didn't know it at the time, but when I look back on things now, I was miserable. I didn't do anything with my kids or our friends. I stayed inside on the couch while my husband took the kids out to play. I hated doing anything that made me sweat, and at that size, everything made me sweat. I couldn't get on amusement park rides, I hated walking around the zoo, and I didn't want to leave the house. Physically, my back and feet hurt all the time. My asthma was out of control, and I never went to the doctor. I didn't want to be told I had high blood pressure, bad cholesterol, and diabetes. I especially didn't want to be told to lose weight. I am 5 feet tall and at my highest weight, my waist was 59 inches around. I was as wide as I was tall; it's not a surprise that I was miserable.

What was your 'light bulb moment' that made you get serious about losing the weight?
At the end of May 2010, I was volunteering in my son's class for his birthday. We were lining up to go outside and he introduced me to one of his friends. His friend looked at me, then looked at my son and said "your mom's fat." My son said nothing. What could he say? The little boy was right. It took everything I had not to break down and cry. The look on my son's face broke my heart. I knew right then, I HAD to change for my kids and for myself. I was NOT going to be "the fat mom." My children have been my biggest motivation since day one. I was going to get healthy for them because I didn't want them to grow up to be like me. I wasn't any kind of role model for them. That weekend, I Googled "counting calories" and that's how I found SparkPeople. That's when I began the journey that saved my life. Now as my journey is beginning its fourth year, I can say that getting to goal is a HUGE motivator for me. I started this for my kids, but I'm finishing it for me.

Tell us a bit about your weight loss journey:
I started this journey by watching portion sizes; I didn't really change what I ate. I also began walking around the block, maybe five minutes at a time. In the beginning, there were foods I couldn't have in the house, and I still struggle with them now, (pizza being the worst). Little by little, my exercise increased, but I was still mostly walking. After a while, I became more confident with what I was doing and knew that I was going to make it this time. About six months into my journey, my food choices had improved and I was eating a LOT more fruits and veggies. I was able to exercise more, and I decided I was going to walk my first 5k, the farthest I've ever gone. Over the last three years, I've adopted a pretty healthy way of eating and I exercise regularly. I've gotten my kids involved with grocery shopping and the whole family has done a few 5k races together. Over all, my journey has been a total roller coaster ride. There have been extreme highs, like making it to less than 200 pounds ("ONEderland"), and actually running my first 5k; but there have also been some very difficult times as well. I wasn't prepared for the emotional aspects of weight loss. There is so much more to it than eating right and exercising for 30 minutes a day. It's difficult to explain, but there were a lot of stages I've gone through emotionally, and I'm sure there are more to come.




SparkPeople has played a HUGE role in my weight loss. I've lost weight 20 different times, but I've never been given the tools to turn it into a lifestyle. I immediately started using the trackers for nutrition and exercise, and I gained a lot of knowledge from reading articles on fitness and nutrition. I also use the SparkPeople app for my phone, which so easy! When I'm out of town, I can still track my exercise. Or, if plans get changed and we go out to dinner, I can just plug in my food right at the table. But being a part of the online community is what SparkPeople is all about. From the teams and challenges, to posting on message boards, this site has been instrumental in my weight loss. In fact, I know I wouldn't have gotten this far without it.

What is your typical exercise routine like?
Currently, I'm working out six to seven days a week, no less than 30 minutes each day. I have a calendar that I schedule different workouts, because when I don't, I'm less likely to do anything. This is something else I've learned over the years. I've been running three miles per day three days a week, and on the other days, I'll do a 30 minute kickboxing video, intervals on my treadmill, or take a long walk or bike ride with my family. I also try to do strength training at least two days a week.

Do you have a personal mantra, inspirational quote or saying that you live by that you'd like to share?
"When you want something you've never had, you have to do something you've never done."
I ran across this quote very early on in my journey, and I believe it to be absolutely true. I knew that in order to change my life, I had to do things that I've never done like working out and eating right. This quote STILL gets me through difficult parts of my journey.

What advice would you give to someone just beginning a weight loss program?
The best piece of advice I can give is DON'T GIVE UP! I never thought I would ever make it this far. Stay involved with the SparkPeople community, because even when you think things are never going to work, there is ALWAYS someone who completely understands what you're going through. You are NOT alone in this.

How has your life changed since losing weight and improving your health?
My life has improved dramatically since I've lost weight. I used to take four medications daily to try to keep my asthma under control. Now I take two and it's been under control for two years. My doctors are very happy with my weight loss and exercise program. I have done so many things I never thought I'd ever do. I've run 5k races, climbed over rocks, and fit into amusement park rides. My relationship with my family is better because I'm not miserable all the time. Most importantly, though, my kids are happy and healthy because of the changes I've made.

Awesome job, Holly!

*Weight loss results will vary from person to person. No individual result should be seen as a typical result of following the SparkPeople program.

Have you lost weight and kept it off using SparkPeople.com? We'd love to share your story. Email us: sparkpeoplesuccess (at) gmail (dot) com




You will earn

5

SparkPoints

Like what you read? Learn more

about SparkPeople,

or

sign up

for your free account today!
Got a story idea? Give us a shout!