How to Protect Yourself from Arthritis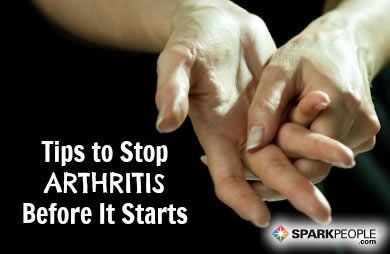 "I'm too young to feel this old," says Vicki Inman, 41. She's always been very active, but a few years ago this mom of two teen girls was diagnosed with arthritis. "The pain became so severe I felt as if my leg were going to give out." Thankfully, she found a solution in exercise: "I have to do gentle stretches and yoga regularly, otherwise it's painful to walk," says Inman, who's currently based at the U.S. Army Garrison Fort Benning, near Columbus, Georgia, with her husband.

So what exactly is this thief of mobility that can strike so early? Arthritis is that creaky feeling you get climbing bleachers to watch your kid's soccer game. It's the ache in your hands when you're holding the dog's leash. A group of more than 100 different rheumatic diseases, arthritis doesn't discriminate based on age. It's also very common, affecting some 50 million Americans and more women than men.

But here's what arthritis is not: a done deal. "You don't have to become a statistic," says Robin K. Dore, M.D., clinical professor of medicine at the David Geffen School of Medicine at UCLA. "There are steps you can take now to possibly prevent, delay and stop arthritis in its tracks." Halt its onset by learning the truth and regaining your freedom of movement.

Myth: "Everyone will eventually get arthritis."

Reality: Arthritis is not like gray hair or taxes. First and foremost, arthritis is a disease -- and not everyone gets it. Keep the condition from taking away your ability to do what you love by understanding what fuels it. Osteoarthritis (OA) occurs when the cartilage that cushions your bones at the joints breaks down, leading to fluid accumulation, bony overgrowth and pain around the joint. "What makes all this happen is a combination of factors, including heredity, weight and previous injury," says Marci Goolsby, M.D., a sports medicine specialist at the Women's Sports Medicine Center at the Hospital for Special Surgery in New York. Emerging research has also linked a woman's exposure to PFCs (chemicals often found in products such as nonstick cookware and stain-resistant carpets) to OA.

While you can't control factors such as your family history, you can address issues such as your weight. Likewise, though you can't erase old injuries (joints that have sustained trauma are more likely to develop OA eventually), you can focus on avoiding new ones. For example, lift heavy items correctly by engaging your abs, bending at the knees and lifting with your butt muscles.

Myth: "Arthritis is not really a serious disease."

Reality: Untreated, it can prevent you from doing basic everyday tasks. Not to mention that it can increase your risk of depression, osteoporosis and heart attack. Besides, you wouldn't want your husband or kids to tough out pain. So why should you, especially when there are so many effective management techniques to help you get through your jam-packed day? More important, "we have no way of knowing from person to person whose arthritis is going to get worse," says Jason Theodosakis, M.D., associate professor at the University of Arizona College of Medicine in Tucson. "Taking preventive measures now, such as strengthening muscles around the knee joint, may allow you to avoid serious repercussions later, like knee replacement surgery."

Myth: "A few extra pounds only affects my hips and knees."

Reality: Extra weight can affect even non-weight-bearing joints. Yes, excess pounds put stress on your joints and cause cartilage to wear out faster. But it's not just about the number on the scale. "We don't fully understand the process yet, but we know that fat releases chemicals throughout the body that may damage cartilage in both weight-bearing joints, such as hips and knees, and non-weight-bearing joints, such as hands," says Dr. Theodosakis.

Try to slim down or maintain a healthy weight. One study showed that overweight women who lost 11 pounds reduced their risk of developing knee OA by half. Another revealed that dropping 15 pounds decreased knee pain by 50%. Whatever you do, avoid gaining weight. "You can make the pain worse by giving up," says Dr. Theodosakis.

Click here for tips to prevent arthritis from Family Circle.

More from Family Circle:

What steps are you taking to protect yourself from Arthritis?



You will earn

5

SparkPoints

Like what you read? Learn more

about SparkPeople,

or

sign up

for your free account today!
Got a story idea? Give us a shout!