How to Read Food Labels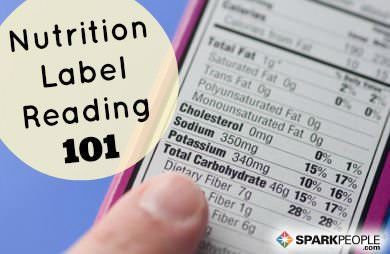 Picture this: You're standing in a grocery store aisle packed 7 feet high with cereal. As you try to compare the hyped-up claims, nutritional info and, oh yeah, prices of several brands, your kid rushes over, begging for some new sugary cereal he saw on TV. The checkout line is getting longer, your patience is getting shorter and you still have no idea what to toss into the cart. Fortunately, there's a solution: Become a nutrition sleuth and learn to ID the important facts on labels—fast.

Fifty-four percent of shoppers in the U.S. read food labels when purchasing a product for the first time. But whether they fully understand many of the terms used is another story entirely. "It's a huge problem because people are frequently blinded by a flashy

label

or vague claims—and they often don't look at packages closely," says Bonnie Taub-Dix, RDN, author of Read It Before You Eat It: How to Decode Food Labels and Make the Healthiest Choice Every Time. "If you put in the effort just once, you can develop a

list of foods

that are good for you, and then all you have to do is buy them in the future."

To help, here's a guide to exactly

what to look for

on a label, whether you're shopping for cereal, juice or organic chicken.

5 Ways They Try to Entice You

Don't fall for these pick-up lines on the front of the package.

Sugar-free: It means the food contains less than .5 grams of sugar per serving—but the serving size could be teeny, says Gayl Canfield, PhD, RD, director of nutrition at the Pritikin Longevity Center + Spa in Miami.

Gluten-free: If you or someone in your family is gluten intolerant or has

celiac disease

, you should definitely check for this term. Otherwise, don't assume such products are any healthier than their gluten-containing counterparts. In fact, they may be worse. "Often, these products have extra sugar or refined starches to compensate for not having gluten," says Judy Caplan, RDN, a Vienna, Virginia–based spokesperson for the Academy of Nutrition and Dietetics.

Natural: "This term has a positive perception but no formal definition when applied to products that don't contain meat or eggs," says Canfield. After all, sugar is natural. Other meaningless buzzwords to beware of: "simple" and "wholesome." Unless qualified or followed with specific nutritional data, they're all marketing-speak.

A green label: This color basks in the positive glow of its association with nature. So it's no surprise that a recent Cornell University study found people assume foods are healthier when the

label

is

green

as opposed to red or white. "Remember, we're not eating the package," says Taub-Dix. "We're eating what's inside." Don't fall for images of wheat stalks swaying in the wind, either.

Low-fat: Sure, a product may have 3 grams of fat or less per serving, but it could also be high in sugar, sodium and calories. "Very often when one ingredient is missing, manufacturers add something else to make up for it," says Taub-Dix.

Click here for more information on food labels from Family Circle.

More from Family Circle:
What tips help you read food labels and make informed choices when shopping?



You will earn

5

SparkPoints

Like what you read? Learn more

about SparkPeople,

or

sign up

for your free account today!
Got a story idea? Give us a shout!