Listen While You Spark with Our New Radio Show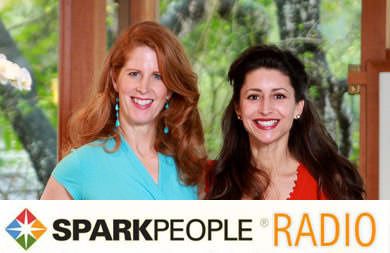 As you might have seen--or heard--by now, SparkPeople has launched our own radio show!

We're excited to share with you SparkPeople Radio, a premium on-demand radio show that lets you listen to our latest and greatest content anytime! This is unlike anything we've done before, though we have done radio interviews in the past. This time, we have our OWN SHOW, designed with you in mind! WooHoo!

Here's what people are saying so far:

"I listened yesterday and LOVED it. I am addicted to podcasts, so this one will definitely go on my playlist. Thanks."

"I'm excited about this! The SparkCoach videos have really been helping me to keep motivated every day and my daily work commute is just about an hour long. It'd be perfect to stick this broadcast on my iPod and listen on my way to work.
Cool idea! I look forward to the 10 minute segments (good call on that, I'd never be able to do the full hour at once)."

"I tried this last night. I love their upbeat talk and information! Thank you SP."

"I had never been very interested in talk radio as most "talk shows" cover very dull topics, are filled with trivial nonsense, or have such monotone, dry commentators that I can't keep the peepers open.

NOT SO WITH SPARKRADIO!!! I really enjoy listening to Lily and Karen - what great ladies!!! I have a little over an hour commute - just the perfect time to fit in a show (or most of one at least).

I love that the episodes are broken into smaller segments for the times that I don't get to hear the entire show, I can just pick up at the last segment. The downside, now I want more than once a week programming - the upside, at least as a digital version I won't be wearing out the tape re-listening to my favorites!! ;-)

Lily and Karen -- Welcome!!! Thanks for being so positive, energetic, sincere, and enthusiastic while presenting relevant, important topics!!

SparkPeople -- Thank you for adding such a wonderful element to your great program!!!"

About the Show
We have paired with some of the best in the business--this is a partnership with ERN (Entertainment Radio Network), where we are working with veteran TV and radio host Alan Taylor and the former head of ABC Radio, John McConnell, who launched ESPN radio! Plus, we have brought on two fantastic hosts who are also SparkPeople members.

Best friends, authors and empowerment experts Lily Hills (above, right) and Karen Hudson (above, left) are the energetic and inspiring hosts of SparkPeople Radio—and SparkPeople members. This lively duo delivers a weekly mental tune-up as they bring you an hour of SparkPeople Radio that is enlightening, empowering, and entertaining. Learn more about Lily and Karen (those links go to their SparkPages, so leave them some comments!). They are fun!

Here's a quick video that they taped to share with all of you:


What You'll Hear on SparkPeople Radio
Each week, listen to interviews with SparkPeople members and experts. Chris "SparkGuy" Downie is super pumped about this new radio show, and he's going to be on almost every episode, as his schedule allows.

We'll also have weekly interviews with members who have lost weight, gotten healthy and found happiness thanks to SparkPeople. The show will also be the best place to keep up with the latest happenings at SparkPeople, and you'll learn what SparkGuy has been up to each week.

We know that you might not have an hour free each week to listen to the entire show, but you likely have 10 minutes. That's why, in addition to sharing the shows in their entirety, we share the individual segments as well. (We apply the 10-minute rule to all healthy habits--not just workouts!)

The easiest way to tune in is to Listen While You Spark. Let the show play in one tab on your Internet browser while you log your fitness minutes, track your calories, and SparkMail your friends in another. You can also download the show and listen while you're on the elliptical, walking the dog, or driving to work.

You can listen in line at the DMV, while you're doing your strength training workouts, or as you cook dinner. Folding laundry is much more fun if you're listening to a SparkPeople Radio podcast, and you will no longer dread your morning commute if you have SparkGuy in your ear to motivate you to make today your healthiest day yet!

How to Listen:

Visit the SparkPeople Radio homepage and click "Listen Now" (we have four episodes on the site now and another will go up next week)
Click the "Listen on the Go" button to download entire episodes or individual segments.
You can even save these segments to listen whenever you need a pick-me-up!
And, of course, you'll get SparkPoints for listening: 3 points per day!

Don't worry about missing an episode. We will continue to host a FULL library of our shows! You can access them at any time: Bookmark this link or visit www.sparkpeople.com/radio

What's Coming Up on the Show:
Dani will talk about how losing weight helped her and her hubby grow closer.
Nell will share her best tips for teachers trying to get healthy.
Shelli will share the story behind the red cup song.
Coach Nicole will talk about her newest DVD.
SparkGuy will talk about how his family makes fitness a part of their lives.
Bob and Anne will talk about how they stay in shape and motivate others to learn to love running. They'll also discuss the big SparkPeople gathering in Cincinnati next May. (Sneak peek in December!
Tune in every Tuesday for a new show!
What do you think of the show so far?

Have questions about the show? Check out our FAQs.

Attention Apple users: You need to listen via iTunes, as our player is not supported by iPhone/iPad systems

Share your feedback here or email me: stepfanie (at) sparkpeople (dot) com. Subject line: radio feedback



You will earn

5

SparkPoints

Like what you read? Learn more

about SparkPeople,

or

sign up

for your free account today!
Got a story idea? Give us a shout!