The #1 Way to Feel, Eat and Sleep Better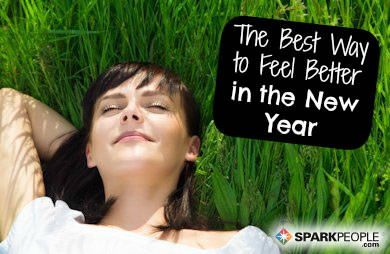 You don't have to think big to be healthier in 2014. In fact, you might want to think small. Researchers found that when people made one easy lifestyle change, they were more effective at pursuing their objectives than when attempting multiple adjustments. One little change, one giant reward? Count us in. Now, repeat after us for a brand-new you.

Resolution #1: "This year I'll beat stress by practicing my breathing."

There's never a week that won't bring on some kind of stress-inducing scenario. But when anxiety starts to set in, just remember to take a deep breath. Then go ahead and take a few more.

"Breathing is one of the most important connections between your mind and your body," says Keri Tuit, Psy.D., an assistant professor of psychiatry at Yale University. When the pressure starts mounting—your teen won't practice the piano or she gets a poor grade on an English test—you go into fight-or-flight mode, and your brain releases a cascade of tension- triggering hormones that cause the heart to race. But you can reverse that process by lengthening your inhales and exhales, which has a twofold outcome: Measured, deep breathing automatically slows down your heartbeat and relaxes your entire body, she explains.And as you concentrate on your breathing, you become less focused on your worries, making recovery from stress easier.

To practice this soothing strategy, start taking more measured breaths through your nose, inhaling for 5 seconds and exhaling for 5 seconds. Try this exercise at various intervals throughout the day—and whenever you feel stressed—for 2 or 3 minutes at a time, concentrating on filling and emptying your lungs completely. "Before long, you'll find that you don't become stressed as often, and when you do, you'll have an easier time managing the problem," says Tuit.

Resolution #2: "This year I'll lose weight by choosing balanced snacks."

All too often, we select snacks based on how easy they are to carry in a purse. But the truth is that the healthiest mini meals require a little bit of prep. "Many common options—pretzels, cereal, even fruit—are primarily carbohydrates," says Paul J. Arciero, a professor and director of the human nutrition and metabolism laboratory at Skidmore College. Problem is, filling up on only carbs can cause your blood sugar levels to soar—and eventually crash— which leaves you feeling hungry soon afterward.
Stop the noshing cycle with snacks that offer a balanced ratio of protein and
fat. Some protein can be hard to digest, which means your body works harder to burn more calories (about 25 per every 100 consumed, he says). And a little healthy fat, like the monounsaturated fats in nuts and avocados, can aid digestion and increase your body's absorption of nutrients.

First decide on a protein—which usually contains a little fat too—then add a carbohydrate. We asked Bonnie Taub-Dix, R.D.N., author of Read It Before You Eat It, for five options under 300 calories. Bonus: When you munch on a satisfying snack—as opposed to one that's just so-so—you're less likely to overeat.


Click here for more ways to feel, eat and sleep better in 2014.
More from Family Circle:
How will 2014 look for you? How will you feel, eat and sleep better?



You will earn

5

SparkPoints

Like what you read? Learn more

about SparkPeople,

or

sign up

for your free account today!
Got a story idea? Give us a shout!