The New Rise of Food Allergies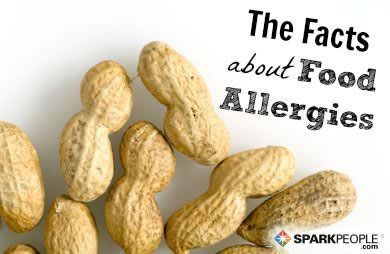 When Judi Zucker's son, Tanner, turned 14, he started getting daily headaches, rashes and acne breakouts. At first she chalked it up to puberty. But then the Santa Barbara–based writer was asked to pen a cookbook for people with food allergies and it occurred to her to have Tanner tested. Sure enough, blood work revealed that he was "off-the-charts" allergic to casein (a milk protein) and gluten. And he's not alone. These days, it seems like we're in the midst of an epidemic of food allergies. According to the Centers for Disease Control and Prevention, their prevalence among kids under 18 rose 50% between 1997 and 2011. While some food allergies (which usually emerge in childhood) can be outgrown, others are lifelong and require permanent dietary shifts. "Within 24 hours of going gluten- and casein-free, Tanner had no more headaches, and gradually his skin cleared up," says Zucker, 52, who went on to co-author The Ultimate Allergy-Free Snack Cookbook.

Because he'd had a few symptoms when younger, Zucker notes, "I wish I'd had him tested earlier." Protect your loved ones by getting the facts and recognizing the signs.

Celiac Disease vs. Gluten Sensitivity

Celiac Disease

What it is: While you can be allergic to gluten, celiac disease is not a food allergy. "It's a hereditary autoimmune disease that damages the small intestine and interferes with the absorption of nutrients from food," notes Scott Sicherer, M.D., a professor of pediatrics and a researcher at the Jaffe Food Allergy Institute at the Icahn School of Medicine at Mount Sinai in New York City. Left untreated, it can increase the risk of lymphoma and other types of cancer.

Symptoms: Abdominal cramping and bloating; anemia; constipation; diarrhea; fatigue; joint pain; mouth ulcers; weight loss.

How it's identified: Blood tests for gluten autoantibodies, followed by an endoscopy with a biopsy to look for damage to the small intestine.

Non-Celiac Gluten Sensitivity

What it is: A condition in which you cannot tolerate gluten and have symptoms similar to those of celiac disease, but don't have the autoantibodies or damage to the small intestine that characterize the disease.

Symptoms: Bloating; diarrhea; fatigue; headache; brain fog; joint pain; numbness in the legs, arms or fingers.

How it's identified: A blood test comes up negative for celiac disease, but following a gluten-free diet leads to improved health.

Food Allergy vs. Food Intolerance

Food Allergy

What it is: The immune system produces large amounts of antibodies called immunoglobulin E (IgE) in response to a protein in a particular food, triggering allergy cells to produce chemicals (such as histamine) that cause allergic symptoms.

Symptoms: Hives, itching and/or eczema; nausea, vomiting and/or diarrhea; respiratory and cardiovascular symptoms.

Severity: It can be life-threatening even when a small amount of the offending food is eaten.

Food Intolerance

What it is: A reaction in the digestive (not the immune) system when your body is unable to properly break down certain sugars in a particular food (such as lactose in milk) due to enzyme deficiencies or sensitivity to a naturally occurring chemical in that food.

Symptoms: Bloating; gas; diarrhea; other forms of gastrointestinal discomfort.

Severity: "A food intolerance is unpleasant but not life-threatening," says Dr. Sicherer, author of Food Allergies: A Complete Guide for Eating When Your Life Depends on It. "It affects adults more than kids."

Click here for more information on food allergies from Family Circle.


More from Family Circle:


Tell us what your experience is with food allergies.




You will earn

5

SparkPoints

Like what you read? Learn more

about SparkPeople,

or

sign up

for your free account today!
Got a story idea? Give us a shout!