We Tried It: 'The WAVE' Home Workout System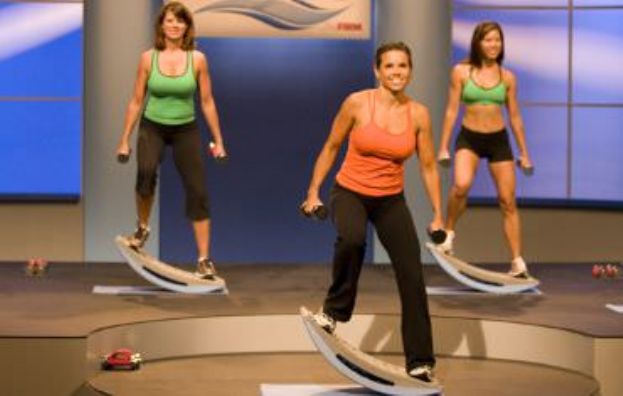 Almost every woman has heard of The FIRM, a brand of at-home workout equipment and videos that has sold over 10 million workout videos. I remember watching the infomercials for their version of the step (and its accompanying workout videos) as a teenager; today, the FIRM continues to come up with new workout DVDs and products that are available online and in stores.

More recently, I started seeing ads for The FIRM's newest product, The WAVE. Its unique design, with two usable sides—one for stepping and one for rocking and balance training—looked fun and interesting, so I was very excited to test it out when they sent the whole package directly to SparkPeople.

The WAVE comes with a lot of stuff: the WAVE itself (that's the rounded 'step'), 4 DVDs to use with your WAVE, a small mat for your WAVE (to prevent your WAVE from sliding around on the floor), a poster of exercises you can do on the WAVE (complete with photos and instructions), and more. I tried all 4 DVDs to test out the WAVE, and I enlisted the help of two of my friends, both of whom enjoy step aerobics and own a standard aerobics step at home. I thought they'd have unique perspectives for how the WAVE compares with a regular step. Want to hear what we thought about it?

To see the WAVE in action, check out this short video. (If you have trouble viewing the video, click here to see it on YouTube.com.)



The WAVE Itself
Basically, the WAVE is a small, two-sided step with a rounded edge that can be placed up (for a stable, but unique stepping surface) or down (for an unstable surface that requires more balance). In this sense, the WAVE is very similar to a BOSU ball, which can be used in those same ways. However, I liked that the WAVE was smaller, lightweight, and very easy to move around and store. It's much smaller and less cumbersome than a traditional aerobics step with risers, too. And unlike a BOSU, it's not bulky OR quite as hard to balance on. According to the makers of the WAVE, "When using the WAVE as a rocker, your core muscles—your abs, lower back and hips—are constantly engaged. And the included DVD's help you get amazing results through your mid-section while sculpting your upper and lower body."

It's true that standing or working out on an unstable surface uses more muscle fibers than standing on a flat surface. To stay balanced, you'll use more muscles in your legs and abs the whole time you're on the rocking surface. However, compared to other balance training devices like balance boards, balance discs or the BOSU, the WAVE is not as challenging, in my opinion. I don't consider that to be a con, though—quite the opposite! I think it's a great way for people to incorporate a safer form of balance training into their workouts. "It did seem to me that, over time, doing exercises with the wave would improve your core better than using a traditional step," said one of our step-loving testers. She went on to say that, "The wave and mat seemed sturdy and good quality. I liked that is was small-ish and easy to store."

The WAVE DVDs
The WAVE comes with 4 DVDs. I tried all of them. Here's a short recap of each one.

"Ride the WAVE" (10 minutes): This is an introduction to the WAVE—not a real workout. It gives safety cues, helps you practice and learn the moves that you'll encounter in the workouts, and teaches you how to use the WAVE for best results and minimized risk. I thought it was very thorough.


The two main workout DVDs, "Speed Slimming SCULPT" (30 minutes) and "Rock it OFF" (40 minutes) were very similar. Both combined "step" aerobics (on both sides of the WAVE) with full-body strengthening exercises using dumbbells, which means you get cardio and strength training done in a single workout. Each workout had its own unique combinations and exercises. Both were enjoyable and got our heart rates up! "I really liked the mix of cardio and strength," said one tester. "I felt it was a good use of my time." The other tester tried Rock it OFF and thought it was, "the perfect length for a home video workout. It was intense and got my heart rate up!"


"Express ABS" (10 minutes): This short workout shows a variety of abs and core moves you can do on the WAVE, but I wasn't a big fan of it. I was very uncomfortable lying and leaning on the hard surface of the WAVE. One tester agreed, saying, "I felt that some of the core exercises using the wave were awkward. The WAVE is not comfortable to lean against like a stability ball." However, not all were bad, and the discomfort of these exercises could be remedied if you had a nice, cushy mat to place on the floor around or on the WAVE (depending on the exercise).


Overall, I think the WAVE has a lot of potential. If you enjoy step aerobics or choreography-based routines, you'll like these workouts for sure. They're fun, different and packed with variety. I wasn't bored AT ALL when I tried each DVD. A word of caution: The beat in these workouts is pretty fast and the choreography, although well explained, moves quickly. Exercisers who are less coordinated or have troubling picking up the steps in routines would struggle with this, but with practice, it would get easier. "Mentally I felt challenged to keep up with the workout's choreography. I've been doing step-aerobics for years, and I had to really focus to learn the moves," a tester said. She continued, "A novice might have more of a learning curve, but once you get the hang of it, you'll be glad the video jumps right in, and doesn't spend more time on teaching the basics."

You'll need your own dumbbells, and I'd recommend both a medium and a heavier set. The instructors did a good job letting you know how heavy of a weight to pick up for each exercise (they called them light, medium or heavy), but even if you don't have a variety of weights, you can still follow along and modify as needed. The first time I tried the workouts, I used 10 pounds, which was way too heavy to keep up with the pace of the exercises. The second time, I used 6-pound weights, and it wasn't challenging enough. For me, 8 pounds might have been perfect. With my heavy weights, I was very sore the next day—in a good way! One of our testers had a similar experience. "I was sore in my legs, arms and sides, which indicates that I worked my muscles differently than usual," she said.

"I liked the frequent reminders to roll your shoulders back," a tester said. I have to agree! I thought the instruction and cuing was very good in all of the workouts. They provided good instructions on form as well as safety and posture cues. Each workout had one participant showing modified moves for beginners, too. Our second tester was on the same page. "I liked the instructor's energy and style. She was professional and energetic, yet not obnoxious like some fitness instructors can be."

Should You Buy It?
The whole WAVE package—the WAVE, 4 DVDs and more—will run you about $90 (plus shipping). You can buy it (or learn more) at www.TheFirmWave.com. That's pricey for at-home equipment, but I have to say that I think it's a good value and an effective workout system. Aerobics steps alone often cost about the same amount, and then you still need to buy workout DVDs for them (or design your own workouts). I feel that the WAVE is very versatile. You'll learn many ideas from the workouts that you can use on your own. Plus, virtually ANY step aerobics workout or exercise could be done on the WAVE, as could many BOSU exercises for that matter. I think the WAVE itself is well built, easy to use and worth the dough if you've got money to spend.




THIS CONTEST IS NOW CLOSED

Fortunately for you, we are GIVING AWAY the WAVE—the entire set, worth $90—to one lucky dailySpark reader! All you have to do is comment below, answering the question, "What is your favorite way to work out at home?" One winner will be selected at random. As always, the dailySpark rules apply. The contest will end next Friday. June 12, at 6 a.m. EST. (Please just leave one comment!)

THIS CONTEST IS NOW CLOSED

Photos courtesy of TheFIRM and Gaiam.com



You will earn

5

SparkPoints

Like what you read? Learn more

about SparkPeople,

or

sign up

for your free account today!
Got a story idea? Give us a shout!