We Ate It: Amy's Single Serve Pizzas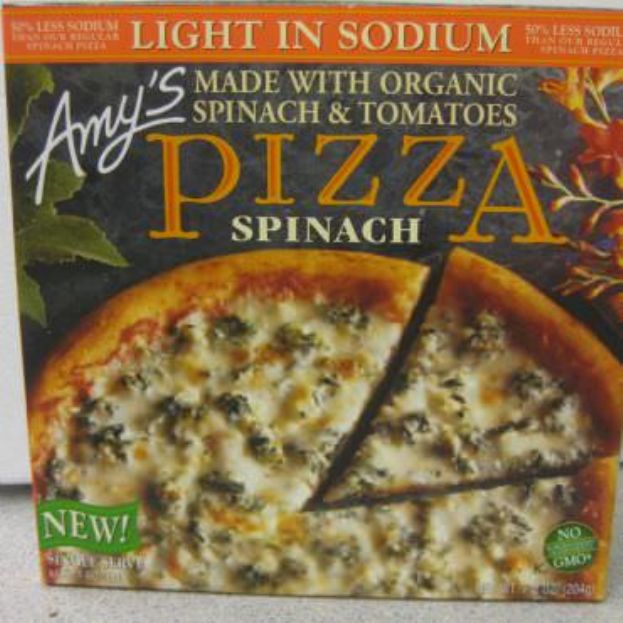 The day we decided to test Amy's single-serve pizzas, a long line for the microwave and toaster oven formed in the office kitchen. Luckily, these pizzas were such a hit that we didn't mind waiting our turn! Update: Read on to find out where and how to buy Amy's products!
















Amy's Single-Serve Margherita Pizza $4.59 - $5.29
Serving size: 1 pizza
Calories: 360
Fat: 17 g (5 g saturated)
Fiber: 3 g
Carbs: 47 g
Protein: 16 g
Sodium: 720 mg
It was so good! I was a little skeptical because the chunks of mozzarella don't flatten out as much as I expected, but it had a great flavor. I really tasted the basil and the crust had a nice flavor and texture--chewy and slightly crispy. I cooked it with the quick-cook toaster oven method on the box (30 seconds in the microwave and 7 minutes in the toaster oven), and it turned out very well (unlike microwaved frozen pizza). I was skeptical that this tiny pizza would be very filling, but it was more filling than I expected.
Amy's Non-Dairy Rice Crust Cheeze Pizza $5.29 - $6.29 (vegan)
Serving size: 1 pizza
Calories: 460
Fat: 28 g (3 g saturated)
Fiber: 4 g
Carbs: 46 g
Protein: 10 g
Sodium: 680 mg

I can pass by most junk foods and comfort foods, but pizza is my Achilles heel, my Kryptonite. I melt at the site of melted cheese and crispy crust! Microwave pizza and frozen pizza in general tend to be soggy in the middle. Not so with the Amy's pizza. The rice crust stayed crispier than a traditional crust, and it was quite flavorful. The cheese melts well, and it's vegan! (I barely noticed it wasn't real cheese.) The sauce is quite sweet and delicious. I was definitely full, but I didn't feel guilty (or bloated) as I usually do when I eat pizza. I'm stocking up on these for the times I'm tempted to order (and eat) a whole pizza!
Amy's Light in Sodium Spinach Pizza $3.79 - $4.39
Serving size: 1 pizza
Calories: 440
Fat: 18 g (6 g saturated)
Fiber: 3 g
Carbs: 54 g
Protein: 19 g
Sodium: 390 mg
I really enjoyed this pizza.

The basil, spinach, and feta taste fresh, and the single serving was more than enough for lunch. I recommend using the toaster-oven preparation directions. When toasted, the crust is crispy and little chewy (in a good way), while the mozzarella on top gets golden brown. I'll have this one again! I didn't even notice it was light in sodium!

Find out how to buy Amy's via their online store and store locator.

How many Sparks would you give Amy's Single Serve Pizzas?



You will earn

5

SparkPoints

Like what you read? Learn more

about SparkPeople,

or

sign up

for your free account today!
Got a story idea? Give us a shout!