We Tried It: The TRX Workout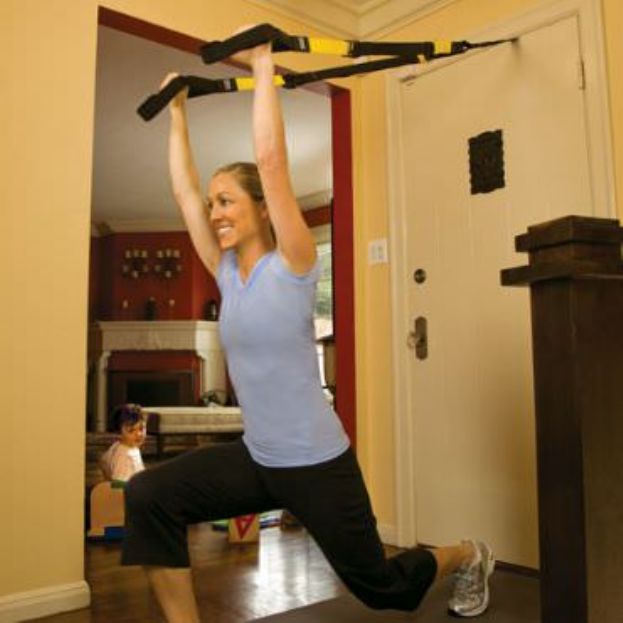 I can't remember how I first heard about the TRX suspension trainer, but this portable piece of workout equipment caught my eye a few years ago. I continued to see it make appearances on shows like "The Biggest Loser" and in my fitness magazines, so I figured it was time to give it a try. When I contacted the company about receiving a product to review, they were happy to indulge us. (Hey, this job does have a few perks!)

It's difficult to describe the TRX to someone who has never seen it in action. It look like nothing more than a big band with handles and loops on the ends. So what's the big deal—and how do you use it?

Well, the TRX is a unique product if you ask me. If you're not familiar with it, I liken it to a resistance band in the sense that you can do some very similar movements, hook it to a closed door (via a door anchor), and strengthen every muscle in your body with a wide variety of exercises and body positions. But at the same time, it's quite different. Unlike a resistance band, which provides resistance when you shorten and lengthen it, the TRX itself does not stretch. It allows you to move your body as resistance, but to do so in ways that you can't do on your own. And unlike some body-weight training (you know, traditional squats, lunges, pushups and crunches), the same types of movements become more challenging when you add the TRX into the mix. Another cool thing is that you can "adjust" your own body's resistance by changing positions, which makes the TRX a great piece of equipment that you can grow into as you get fitter. To see what it's like, check out this video from their website.



Every movement you do with the TRX is also challenging your core strength and balance the entire time, which is multitasking at its best! Here's an example to help illustrate this. You probably know that using strength-training machines at the gym is good for beginners because the machine supports your body, helping to ensure proper form. Machines help you isolate the one muscle you want to work. The next step up would be moving to free weights (or bands), which require more coordination and control because you have to maintain your own posture and body positioning to do the exercise. This also engages more muscle fibers than machines do. From there, you can add more challenge with stability balls, BOSU balls or compound movements that target specific muscles you want to work while also training your core, balance and coordination a bit more. The TRX works much in the same way, although I found the chest presses and hamstring bridges using the TRX to be even more challenging than with stability devices like exercise balls. It's something you have to experience to fully understand!

After using my fancy new TRX equipment at home a few times (following along with its DVDs and workout cards), I was invited to try a TRX class at a local women's-only gym called Keep It Tight. What great timing! I brought along two other SparkPeople employees (fellow blogger, Stepfanie and co-worker, Beth who works in marketing) with me to try the equipment for the first time—and in a class setting no less! We had fun at Keep It Tight and loved the women's-only atmosphere and high-end feel at this gym, but that didn't mean the workout was easy—far from it!

TRX classes are popping up in many gyms these days and you may have even seen the equipment at your own gym. Several trainers where I teach use the TRX with some of their clients, too. Often, the TRX hangs from wall or ceiling mounts or big metal contraptions that resemble swing sets. The class we tried at Keep It Tight was an hour long and included a treadmill warm up, TRX exercises for most of our major muscle groups, and a treadmill cool down, but formats vary from gym to gym. We did a variety of squats, single-leg squats, hamstring bridges, plank-style core exercises, and upper body moves (various triceps presses, biceps curls, and rows). It definitely wasn't easy, especially with 30+ reps of each exercise—ouch!

Whether you're interested in trying the TRX at home or at the gym, here are some things you'll need to know about this strength-training regimen.

What We Like About It
A large variety of exercise options to try


Ability to strengthen every major muscle group with one piece of equipment. "Overall, I think it was a great workout but definitely challenging for a first-timer," one of my fellow testers said. "The exercises really made me focus on muscles that I have not worked as much in other strength training classes and exercises. So for that reason, I would try the class again and feel that over time I would become more comfortable with the format of the class and exercises overall. "


Pretty easy to use at home and during class, thanks to good guides that accompany it and a simple design


Doesn't take up much space at home; generally lightweight and portable for easy travel or storing


Every move challenges your core and coordination—seriously. Every. Single. One.


You can easily progress with this system. The more you "lean" during exercises, the more body-weight resistance you use and the more you stand upright, the less body-weight resistance you employ. This means you can work out at a variety of intensity levels, depending on your fitness level over time.
What We Didn't Like About It
At first, it's difficult to use it at home. You have to have a door that closes and you have to stand on the side of the door that pulls the door closed. (Think about that for a minute.) Most doors open into rooms, which, in my house, left only one option: exercising in the hallway upstairs so that I would "pull" the door closed while I leaned and used the TRX. This is a safety precaution and in theory, you could probably work out on the other side of a door (all videos on the TRX website actually show people doing that), but you'd be doing so at your own risk at against the advice of the instructions that come with the product. "At home, it's just not practical because I don't have space near a door that meets the system's requirements," one of our testers said.


Hard to follow along with the DVDs. This is related to the point above. Once you find that odd spot where you can work on the correct side of the door, provided there is enough space, you need to also find a way to watch the DVDs if you plan to follow them. I brought my laptop upstairs, but had to constantly move my laptop during a single workout so I could see it while standing, facing the door, facing away from the door, lying on my back and doing plank-style exercises facing the floor. It was a little bit annoying. That said, DVDs are not a must, although I do think they are helpful for learning to use the equipment.


Even though you can adjust the amount of body weight you use, these exercises would be difficult for beginners. I would consider this equipment to be good for experienced exercisers who have done strength training, have decent coordination, balance and core strength, and have done some balance and stability work. But even if you're not there yet, you could be in the future!


It can be awkward for some people. "I liked trying the TRX class, and would try it again, but I wouldn't use this as a regular exercise routine. Many of the exercises felt contrived and unnatural," said one tester. I don't personally agree with this standpoint, but I have also tried a wide variety of exercises and formats, so perhaps some of it just seemed more familiar to me.
While I thought the TRX was made well and will probably last a long time, it can be expensive depending on your perspective. It's about $190 for the smallest package and that doesn't include the door anchor, which is a necessity for almost everyone using it at home (unless you want to work out under a tree branch or the like). But if you consider what you might spend on home equipment or a gym membership, it's not a bad investment, especially considering that you can "grow" into the exercises as you get stronger and fitter. The TRX is definitely not for beginners, in my professional opinion, but it could be just the ticket to change up your workouts and continue challenging yourself if you've been strength training for a while and are looking for something new. Before you buy, perhaps you can find a TRX class near you to try as we did!

Special thanks to Keep It Tight in Cincinnati for showing us the ropes with our first TRX class! You can learn more about this gym and see their training schedule by visiting their website.

Does the TRX intrigue you? Have you ever tried it? Would you want to?

Photo courtesy of the TRX website, www.fitnessanywhere.com.



You will earn

5

SparkPoints

Like what you read? Learn more

about SparkPeople,

or

sign up

for your free account today!
Got a story idea? Give us a shout!