All Entries For
Pump It Up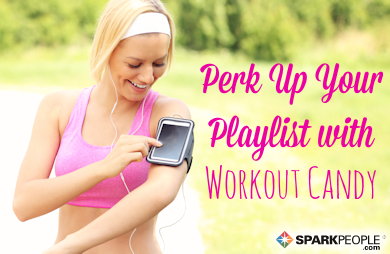 There is a delicate art to creating the perfect exercise playlist. The beats need to keep you motivated, the lyrics should make you happy and the pace should be upbeat. A well-crafted playlist has the power to propel your workout to the next level, and that's something worth celebrating!
Lucky for you, we teamed up with the folks at Yes! Fitness Music to take some of the guesswork out of the elusive perfect playlist. This mix of familiar pop favorites and bumping house music is as entertaining as it is motivating--the playlist includes over an hour's worth of music at 135 beats per minute to help you really maximize your workouts.
Read More ›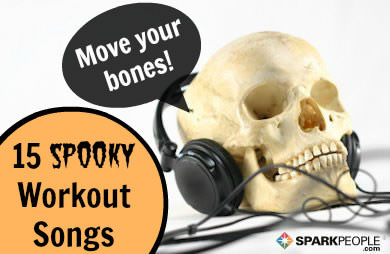 A few years ago, the night I taught Spinning happened to land on Halloween—not once, but two years in a row. I figured that anyone willing to show up on Halloween night to work out is pretty dedicated (or childless?), but either way, I wanted to make the workout festive and fun. I created a healthy Halloween workout mix for the class, dimmed the lights, and handed out my
homemade granola bar treats
when the ride was over.
It may be silly to some, but creating your own Halloween-themed workout playlist could motivate you to work out on Halloween (a must if you're going to be dipping into the candy jar that day), and it's one of few ways to have fun that doesn't involve eating candy!
So here is my healthy Halloween playlist: 15 spooky songs to help you to burn off those candy calories—and have fun doing it.
Read More ›
I think most exercisers agree that listening to some
great music goes a long way when you're working out
. It helps increase your energy and motivates you to work harder. In many ways, it even distracts you from the discomfort of exercise so that you'll keep going even when it's tough.
However, not just any music will do. We all have our own tastes and preferences for what we like to listen to when we exercise: pop, dance, techno, rock, metal, hip hop (Coach Jen's favorite), or all of the above. Sometimes, it's not the genre that matters; it's the pace (or beat). Others like inspirational lyrics. Personally, I think the beat matters. It has to match the pace of my workout—something I can't listen to and sit still. At the very least, I want to know (or be familiar with) the song that's playing. When I go to Spinning class, for example, and I encounter music that's too slow for the tempo of the workout, or too obscure for me to "escape" by singing along with the song in my head, I am not a happy exerciser.
Recently, I've been thinking about song
length
. Most radio hits are around 3 minutes long—you'd have to listen to 10 songs to get through a 30-minute workout—make that 20 for a full hour! I don't know about you, but my mind perceives that as a long time. So I've started to incorporate some longer songs into my playlists. Think of it this way: Would you rather know you have to exercise through 20 songs or 12? I pick 12. So I've gathered some of my favorite 5-minute workout songs to share with you! By selecting any 6-12 of them, you'll have a 30-60 minute workout playlist that's upbeat and motivating. As each song passes, you'll know you've hit a 5-minute milestone in your workout.
Stop watching the clock and start working out with these songs!
Read More ›
It's been far too long since I've shared some new music ideas for you to update your workout playlists, but reading the New York Times Well blog recently reminded me just how important music is during exercise.
Recapping several studies
about music's affects on exercise intensity and perceived exertion,
one in particular
caught my eye. In a small study, male college students pedaled stationary bicycles while listening to popular music that the researchers secretly either slowed down or sped up at random, without the knowledge of the participants. When the music was faster, they pedaled faster, liked the music better, and elevated their heart rates more, yet
perceived
their workouts as less intense than they actually were. When the music slowed down, exactly the opposite happened.
We all know that some good booty-shaking tunes can make our workouts more fun, which is why I prefer to go for beat and music tempo over "motivation" factor, like how the song makes me feel or whether the actual lyrics are particularly inspiring.
If you want to boost the intensity of your workouts and make them feel easier at the same time, try update your workout playlist with one of these upbeat workout songs.
Read More ›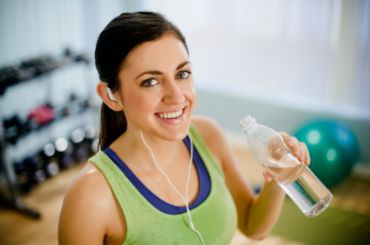 It's the third full week in January. Is your motivation to exercise still going strong? If you feel yourself starting to slip, maybe it's time to refresh your workouts—or your approach to them. One of my favorite things to do when I'm feeling blah about being active is to update my iPod with some fresh new songs. It makes "just another run" seem new and interesting, and when I find the right songs, I couldn't even sit still while listening to them if I tried!
So here are 10 workout songs that I am completely obsessed with lately. When I hear these, it's get-up-and-go-time! Hopefully you'll find a few new favorites from this list, too.
Read More ›
Even though I've been
enjoying some music-free workouts
lately, I still love an upbeat music playlist—especially if I'm stuck indoors or going out for an extra long run on the weekends. I'm always updating my iPod with new tunes to keep things fresh and prevent boredom, and you've told me that you do the same. Since music is an important part of a solid fitness routine, I thought it was time to share some of the new songs I've been exercising to. Then I want you to tell me what's playing in your earbuds during your latest workouts!
Here are eight of my favorite workout songs of the moment. There's a little bit of everything here, from pop to hip hop to alternative rock.
Read More ›
As a fitness instructor, I spend a lot of time listening to music, searching for new (and old) songs I can add to my Spinning classes or listen to while I run. I can't emphasize enough how important music is to my workouts—it really motivates me to get started, and to keep going when I'm feeling tired. So I'm going to share with you some of the newest tunes on my workout playlist. Then I want you to tell me what you're listening to!
Read More ›
If you're like me, then you need a good soundtrack if you're going to work out. So I'm going to share with you some of the newest tunes on my workout playlist. Then I want to hear from YOU!
Here are five of my new favorite workout songs. Click on each link to listen to a preview (or purchase the mp3) at amazon.com.
Read More ›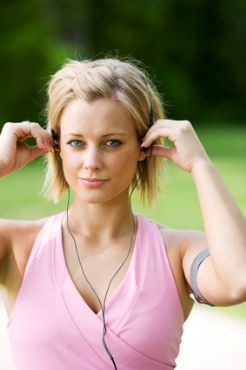 The January 2009 issue of
Fitness
magazine recently named their top 100 workout tunes of 2008. I was so excited to see this list, because I'm always looking for new songs to add to my iPod and use in my classes. Find out if your favorites made the list!
Fitness
breaks the 100 songs into five categories, which each include 20 of the best songs for Spinning, running, walking, weight training and even yoga. I have to admit that I hadn't heard most of the songs on this list, but here are the ones that I do like from their list:
Read More ›
If you're like me, then you need a good soundtrack if you're going to work out. So I'm going to share with you some of the newest tunes on my workout playlist. Then I want to hear from YOU!
Read More ›
Music goes a long way with motivating me to work out. I can't imagine running, teaching
Spinning class
or even lifting weights without some good tunes to keep my mood and energy levels high.
When I teach classes, music takes center stage. I take a lot of time to create a good playlist and craft a class that follows the speed, beat and mood of the music itself. And now, I'm going to share one of my new playlists with you, along with the great cardio workout that goes with it.
Read More ›