All Entries For
announcements
Good morning, SparkFriends!
This morning we launched a brand new
Welcome Guide
on your SparkPeople
Start page
today. You'll find it just below the section for Step 1 on your Start page. Check out the screen shot below to see where it is.
Read More ›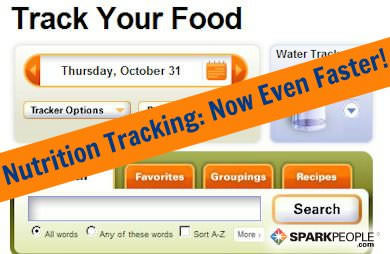 People who keep a detailed food diary (like the
SparkPeople Nutrition Tracker
)
lose twice as much weight
as people who don't track what they eat. Are you using your Nutrition Tracker every day? Are you recording everything you eat and drink? Are you measuring your portions for accuracy? If you've gotten stuck on your weight-loss journey, this is the best place to start looking for small changes you can make to your eating habits.
Update 10/21/13 9:55 a.m.: SparkPeople's new Start page is now live! Read below for details and a video showing you how to use your new page. Thanks!
Good morning, everyone!
Today we are very excited to announce the launch of a big enhancement to your SparkPeople experience. We know, we know: Change is often viewed as a dirty word. It's something people don't always like, especially from a website that you are used to using a certain way. But this change has been
many
months in the making and has even been tested and approved by a group of SparkPeople members who got a sneak-peek! We wanted to get it just right—and we are confident that YOU are going to love what you see, too!
Read More ›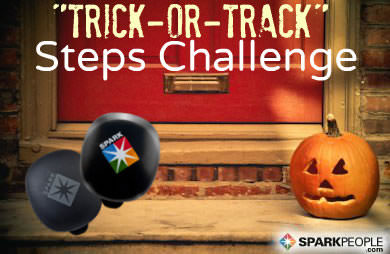 We're taking a big step in helping you get fit! SparkPeople has just released the
Spark
, our very own activity tracker that integrates perfectly with the rest of SparkPeople's online tools. The
Spark Activity Tracker
requires no charging, determines the specific type of workout you're doing (walking vs. running vs. elliptical) and automatically logs your fitness minutes directly to your SparkPeople Fitness Tracker!
The new Spark Activity Tracker is just one more way to get you motivated and moving toward your goals—and we're here to help you along the way. Everyone who uses a Spark is eligible to participate in monthly fitness challenges that will motivate you to get out there and walk, run or bike your way to reaching your goals each month. Our very first challenge, the
Trick or Track Halloween Challenge
, starts on
October 1
and offers some BIG prizes!
It's an exciting time here at SparkPeople.com! After 12 years of helping people reach health, fitness and weight-loss goals with our free online programs and trackers, we have a new innovation that's been many months in the making. (Do you know how hard it is to keep something like that a secret for so long?)
Today, we are thrilled to announce the release of the
Spark Activity Tracker
, a tiny (and fun!) little reminder to fit more fitness into your day. About the size of a quarter, it's the first—and only—activity tracker that fully integrates with your SparkPeople.com experience.
If you need a little extra motivation to be active each day
(and really, who doesn't?), then keep reading to find out what it is and how it can help you achieve your goals.
Read More ›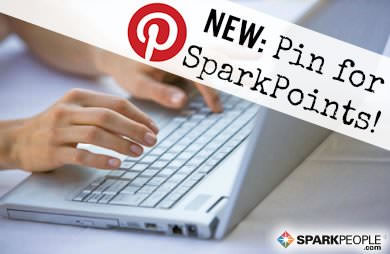 You might have already known that by "liking" a SparkPeople article or tweeting it, you could get up to three points per day. Now, we are offering the option of "pinning" for those points. If you click the "Pin It" button on any piece of SparkPeople content (still up to three per day), you will be awarded one SparkPoint. (See all eligible
SparkPoints
tasks here.) To receive your points, be sure to click the "Pin It" button on the share bar at the left of any page.
We think that sharing your favorite SparkPeople content on social media is one of the best ways to "Spread the Spark" and help us help you get healthy for free!
Thanks for your support, and let's start pinning! (And don't forget that the healthy living inspiration doesn't stop here--
join us on Pinterest
for more free support and inspiration!)
Read More ›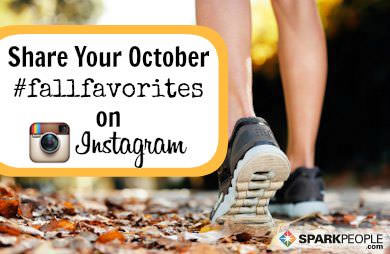 As you know, we're now on Instagram, the photo and video sharing app! We love how easy Instagram is to use and that it allows us to share fun, healthy tidbits from behind the scenes at SparkPeople every day. While we do love writing about healthy living, it's true that a picture is worth a thousand words.
Over the last few months, we've loved seeing your photos documenting your healthy living habits. From your daily lunch photos to selfies after the gym, we love witnessing the proof that healthy living is possible--and fun!
You know how much SparkPeople likes challenges. We had such fun with our
#backontrack consistency challenge in August
that we're doing another one--on Instagram this time!
Fall is a time when many people, well,
fall
off the healthy living wagon. Days are shorter, nights are longer, and the air is colder. Snuggling up on the couch or staying in bed becomes that much more appealing. We're hoping that by getting you excited about all things autumnal. From the first signs of the changing leaves to pumpkin-flavored everything, from fall sports to Halloween costumes, we want proof that you're making every day healthier and happier. Our staff will be sharing their own proof on the SparkPeople Instagram account.
The challenge is simple: Take a look at the graphic below, which shares the day-by-day themes for the challenge, starting with October 1. Share your photos every day (or most days), making sure to tag them #sparkpeople and #fallfavorites to join in the challenge and give us permission to repost them. (And don't forget to start following us to get the inside scoop on healthy living.)
Read More ›
UPDATE 8/13/13 5:00 p.m.:
The live online hangout we first announced is now complete but you can access the video anytime by clicking the link above. We have also embedded a recorded video of this event in the blog post below. Questions discussed and answered by Coach Nicole and the panel of fitness experts included:

- Is Crossfit safe for the average person?
- What should you eat before a long run or race?
- Is water the best way to hydrate during a workout?
- What is best for weight loss: intermittent fasting or eating more frequent meals?
- Is long endurance exercise better for weight loss than shorter, high intensity exercise?
- Why is cross-training important and how should I do it?
- And so much more!
Read More ›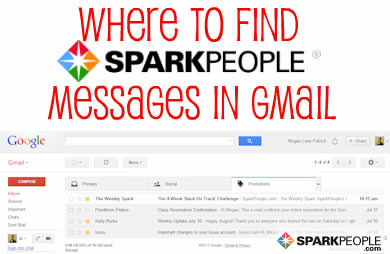 Google has recently changed the structure of Gmail so that newsletters and other messages from businesses are being filtered under a special tab called Promotions.
If you want to continue receiving your SparkPeople newsletters in your regular Inbox, you have two choices:
Read More ›
Are you looking for a new way to stay motivated and connect with SparkPeople? You're in luck!
We're now on Instagram
, the photo and video sharing app! We love how easy Instagram is to use and that it allows us to share fun, healthy tidbits from behind the scenes at SparkPeople every day. While we do love writing about healthy living, it's true that a picture is worth a thousand words. Here's proof:
Come find us on Instagram (and read the stories behind the photos).
Tag your photos #sparkpeople to give us permission to repost them
, and start following us to get the inside scoop on healthy living. Recently, we've shared pics showing how SparkPeople's experts stay fit (while having fun), snapshots into what really goes on at our offices, and our favorite words of wisdom.
Please
share your Instagram username in the comments below
, or follow us and we'll follow you back. Help us spread the word that #healthyliving is all about living! (Don't forget to give us a shoutout and use the hashtag #sparkpeople!)
If you don't have an Instagram account, take a sneak peek at
our feed here
.
Are you on Instagram? What types of photos would you like us to share?
Read More ›
UPDATE 7/15/13: All members can now switch between either calorie calculation option at any time. Here is a link that will help you determine which option is right for you and how to tell which setting is currently active for you.

UPDATE 7/15/13: Today we launched this change as optional for all new and existing members. You can switch between either calorie option at any time using your Account Preferences page. We'll update this blog with more information on those details in the coming days. But for those asking, YES, it is now optional!

UPDATE 7/12/13: We hear you! We are currently working on changes to make this new feature OPTIONAL for all current and future members. With this change (coming soon), ALL members will have the option to turn this feature on or off at any time! Stay tuned. We will update everyone as soon as that goes into effect.
This morning (7/10/13), we launched a much-requested change to your
Fitness
and
Nutrition Trackers
that may interest a large percentage of our members, especially those with active jobs or lifestyles—and people currently in
weight-maintenance
mode.
Until now, our Fitness and Nutrition Trackers didn't really communicate with each other. Your daily calorie range assumed you were generally sedentary, and even if you tracked exercise, your Nutrition Tracker didn't take all of those calories burned into account when creating your calorie range. SparkPeople believes so much in the power of even small amounts of consistent exercise that we decided to do more to integrate fitness into our calorie equation. Now we have updated how the Trackers "talk" to one another so that your calorie range will automatically adjust (increase) on the days that you track exercise (calories burned)—IF you adjust your settings to allow for this communication (details on that below).
If you don't want this change, there's nothing you need to do. If you are interested in learning more or putting this new feature into action, keep reading. (Note that all new members who create SparkPeople accounts after today (7/10/13) will be in this program by default and cannot switch out of it.
Read More ›
Good morning, SparkPeople!
Our team has been hard at work on several site improvements that will roll out in the next few months. We are always looking for ways to improve your SparkPeople experience as well as make the site
simpler and easier
for people to use so that they can continue reaching their goals.
Yesterday and today, you may have noticed a few small changes to your
SparkPoints page
as well as your
Start page
that we think you'll be happy about. (Sometimes change can be a good thing!)
Read More ›
Hey, everyone!
As you may have noticed,
SparkPeople.com
and
SparkRecipes.com
were down for a bit last night, and we apologize for the inconvenience. Unfortunately, there was a fire near our server facility, which shut everything down temporarily. We're happy to say that we are officially back up and running now, and nobody was hurt in the fire.
If you were unable to log in yesterday to get your daily SparkPoints, you can click here to get credit for the day you missed.
We know how important consistency is to you all, and we'd hate to mess up your streak because of a technical difficulty on our end!
If you have any questions, please don't hesitate to ask--we'll answer them the best we can!
SparkCheers!
The SparkPeople Team
Read More ›
You might have noticed that something's different on your favorite healthy living blog this morning. As of today, the DailySpark is now The SparkPeople Blog. You'll get the same everyday tips on healthy living from the same SparkPeople's experts. It's just in a new place, with a slightly different, easier-to-remember name. And, yes, you'll still get your SparkPoints for reading.
The SparkPeople Blog now lives on SparkPeople.com, rather than on a separate website. Not to worry--you will still be able to find all your favorite DailySpark blog posts both via the SparkPeople Blog and any favorites you might have saved. And you'll continue to see SparkPeople Blog posts in our daily emails and elsewhere across the site.
Read More ›
We have some great news, and it could lead to even better news if we can enlist your help!
SparkPeople has been named a finalist in the
OMMA Awards
(Online Media, Marketing & Advertising). Winning would bring great national exposure among key influencers in the media and therefore be a terrific way to Spread the Spark and help more people get healthy and happy and reach their goals.
We are a finalist in the Website Excellence Group within the "Social Networking (excluding Facebook and MySpace)" category. The winner of that category will be chosen by judges, but there's a much bigger prize at stake that we hope will be chosen by YOU: a Members' Choice Award, which is decided by voters who are fans of finalists' sites.
If SparkPeople is sparking YOU to lead a healthier, happier life and reach your goals, or generally brightening your days, we would love for you to express your support by voting to make SparkPeople a Members' Choice Award winner!
Read More ›
Read More Entries ›