Whether it's the holiday season sneaking around the corner, summer activities, school functions or the busy time at work, schedules become a carefully balanced juggling act. As a result, getting a healthy dinner on the table often takes a back seat to social events, the kids' extracurricular activities, shopping or baking. With the help of a trusty slow cooker and a long list of recipes, though, healthy meals can still be incorporated into your evening plans in almost no time and with very little effort. Slow cooker recipes require only a few minutes of your attention—just prep, go about your day and come home to a finished, nutritious meal.

Salsa Chicken
Dice a few veggies, pop open some salsa and tomatoes and you've got a meal your family will love.
178 Calories, 4g Fat, 27g Protein



Marinara Chicken & Vegetables
Throw your ingredients together in the slow cooker first thing in the morning. A hearty, healthy dinner will be waiting when you get home!
177 Calories, 4g Fat, 27g ProteinCreamy Italian Chicken
With its creamy base and just a touch of zesty flavor, this chicken dish is one your family will request by name.
385 Calories, 13g Fat, 41g ProteinSpanish Chicken
Don't think you can create a gourmet meal in a slow cooker? This roasted pepper and almond recipe begs to differ.
322 Calories, 6g Fat, 31g Protein


Buffalo Chicken
Not only is this four-ingredient chicken lighter than traditional Buffalo wings, it's also more versatile.
115 Calories, 5g Fat, 16g ProteinChicken Tortilla Soup
This flavorful soup will make you rethink how you enjoy Taco Tuesday.
89 Calories, 2g Fat, 8g ProteinChicken Stew
This hearty stew is brimming with both flavor and veggies.
203 Calories, 4g Fat, 21g ProteinOrange Chicken
The ingredients might not sound like they go together--orange marmalade, soy sauce and barbecue sauce--but trust us, you're going to flip for this unique mix of flavors.
318 Calories, 5g Fat, 46g ProteinChicken & Veggie Mac & Cheese
This recipe contains cheesy goodness for the kids and veggies in every bite for you.
464 Calories, 15g Fat, 26g ProteinRotisserie Chicken
Supermarket rotisserie chickens are a busy cook's best friend. When you have time to plan ahead, make your own—right in your slow cooker!
278 Calories, 12g Fat, 42g ProteinHoney Mustard Chicken
A homemade honey mustard sauce takes this tender chicken recipe to the next level of deliciousness.
200 Calories, 5g Fat, 25g ProteinBourbon Street Chicken
If the idea of shredded dark meat in a sweet sauce isn't enough to convince you to make this, will the fact that the recipe has been shared more than 136,000 times help?
168 Calories, 4g Fat, 20g Protein
Click here
for more healthy slow cooker chicken ideas.
How often do you use your slow cooker? What healthy slow cooker chicken recipes will you be trying?
Read More ›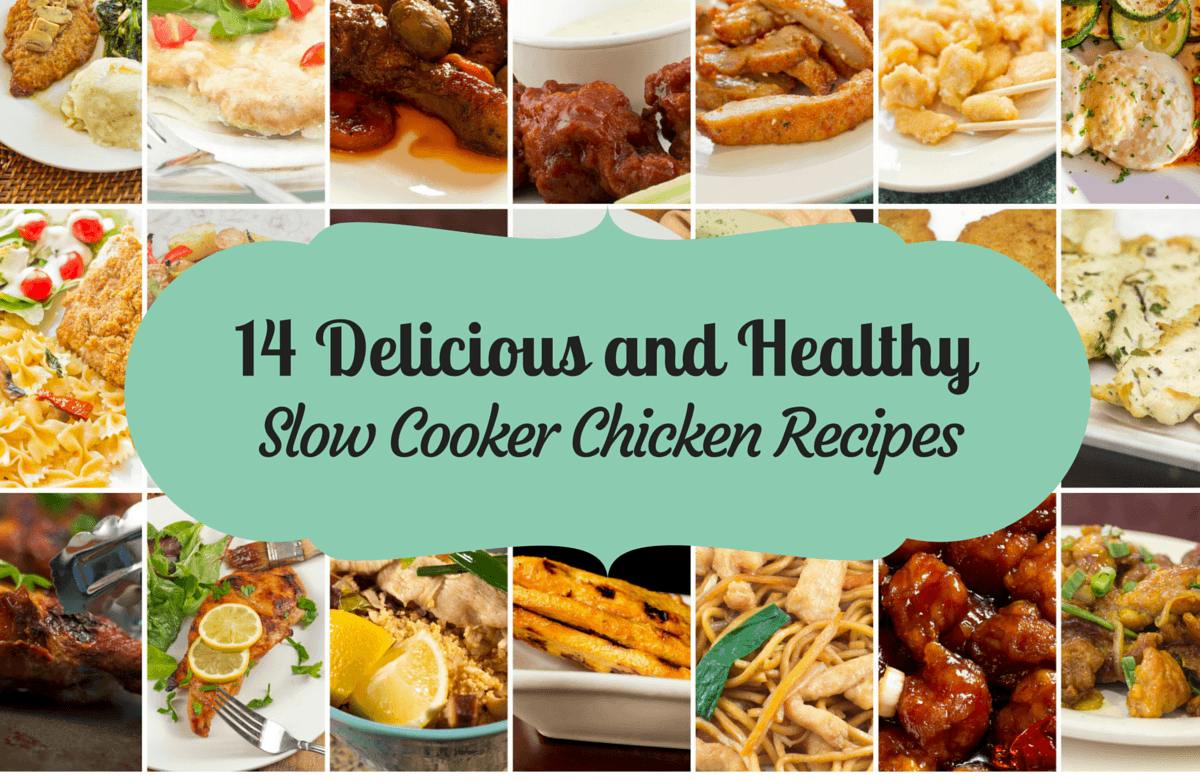 Using a slow cooker is like magic: pour in the ingredients, set the heat level, and then shift focus to your to do list, all the while your slow cooker does the heavy lifting. Chicken is one of my favorite ingredients to use in a slow cooker, since it's a flavorful source of lean protein and it requires little effort to cook. These are some of SparkPeople's favorite slow cooker chicken recipes.

Slow Cooker Marinara Chicken and Vegetables (Chef Meg's Makeover)
Read More ›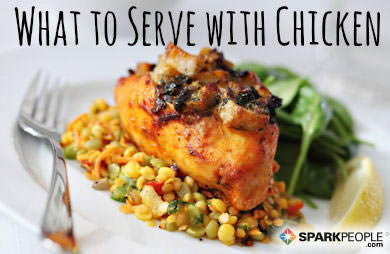 When it comes to the protein portion of a healthy diet, boneless, skinless chicken is a hero. It's versatile, easy to prepare and naturally lower in fat and calories than many other meat options. But by itself, chicken can be, well, a little boring.
Baked, grilled or roasted chicken is probably a regular part of your dinner rotation. So you'll need some great side dishes for chicken that add a little spark to the plate. We've gathered 10 side dish recipes to help you bring new life to that chicken dinner.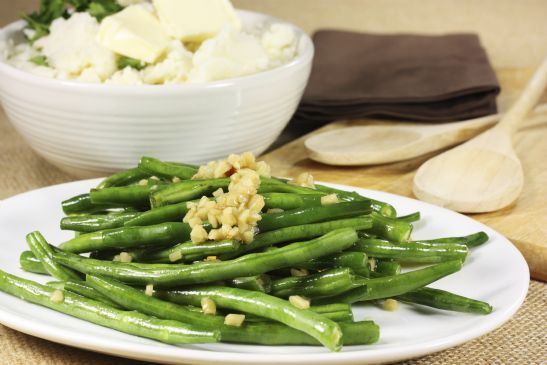 Green Beans with Miso and Almonds
If you haven't tried miso, the flavorful, fermented Asian ingredient made from soy, then you should. Miso adds
umami
, or savory flavor, to any dish. Serve this recipe as a side dish for grilled chicken marinated in soy sauce, fresh ginger, garlic and lime.
Read More ›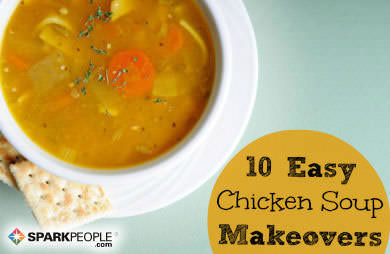 Chicken soup has seemingly mystical properties; moms swear by its ability to cure anything that ails you.
While its medicinal attributes are still being tested,
the Mayo Clinic does report
that chicken soup can reduce inflammation and speed up the loosening of mucus in the nose and sinuses, which makes it a good-for-you remedy when you're not feeling well. Add in some spice (like ginger or chile), for more relief of that stuffed-up feeling that comes with a cold. Plus, a batch of homemade chicken soup tastes a whole lot better than over-the-counter cold medicines.
Try these alternatives to classic chicken-noodle soup next time you're under the weather—or you just want something to eat that's warm, comforting and delicious.
Chicken Stock
Any good homemade chicken soup starts with good stock. For store-bought chicken stock, we recommend Swanson's low-sodium organic chicken broth. But really, it's so easy to make your own homemade stock that you should try this recipe—make a big batch and store it (in 3- or 4-cup containers) in the freezer for soup-making.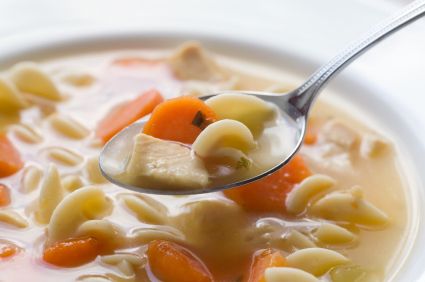 Basic Chicken Noodle Soup
We'll start with this simple recipe for chicken noodle soup. It has everything you want: chunks of chicken, carrots, celery and slurp-able noodles.
Read More ›
That lovely, roasty aroma hits you when you walk into the grocery on your way home from work and you spy a display case of rotisserie chickens near the checkout aisle. Of all the convenience foods on the store shelves, this one's a good choice—a simple roast chicken, a good tossed salad and a loaf of whole-grain bread can make a satisfying, healthful and easy dinner.
A store-bought roast chicken can easily feed a family of four—and there's more you can do with it than simply slicing and serving. Shredded or diced roast chicken can star in all kinds of easy meals.
For these meal ideas, start with a store-bought chicken, or try
this slow cooker version
.
Read More ›
Chicken
is the go-to protein for a light and healthy meal, but when you announce that you're having grilled chicken breasts for dinner, does anyone applaud or yell "great, I can't wait"?
What if you said you were having Grilled Chicken Breasts… with a
Citrus-Infused Sauce
?
And the crowd goes wild!
Read More ›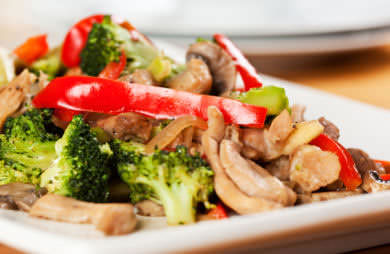 Chicken breasts are the little black dress of the protein group. Dress them up, dress them down--they're great with any meal. Here are a week's worth of healthy, new-to-you recipes!
Read More ›
"Always cook extra" is a standard practice in the Galvin kitchen. You never know when 3 extra teenage boys will arrive just as dinner is served or the coaches will schedule a make-up game at the last minute. Whether I have extra mouths to feed or suddenly no time to make dinner, I lean on leftovers--especially big batches of basic cooked chicken (and turkey).
It's helpful and easy to place a couple of extra chicken breasts on the grill, in the slow cooker, or in the oven. The same holds true for a turkey breast in the smoker or oven. Both lean proteins can be transformed into something new and special, days or even months down the road if you freeze the extras.
Your premade cooked chicken will be much cheaper than the rotisserie bird you'll pick up at the checkout line, and because you are cooking it alongside another meal no extra cooking time will be involved. If you're heating up the oven (especially in summertime), you might as well fill it up!
Read More ›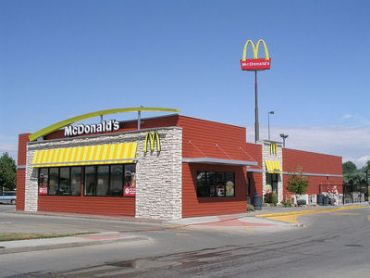 You're strapped for time and decide to hit the McDonald's drive-thru for a quick afternoon snack. How about some Chicken McNuggets®? They're small, portable, and surely fewer calories than a sandwich. You could go with the tried-and-true 6-piece chicken nugget box, or… wait a minute! There's a new item on the menu: the Chicken McBites Snack Size™. It's only 3 ounces, whereas the 6-piece box of nuggets weighs in at 3.4 ounces. The bites may weigh less than the nuggets, but does a lower weight indicate a lower calorie count?
Quick, you're almost to the drive-thru window-- which chicken snack is better for your waistline?
Read More ›
Take control of your nutrition in 2012 by preparing healthy dishes in your own kitchen. Each week I will be posting meal ideas from SparkRecipes that are useful for eating-in or carrying-out or energy boosting snacks. This week, we'll start with chicken. According to the SparkPeople Nutrition Tracker, one serving of boneless, skinless chicken breast has 20g. of protein, 94 calories and only 1g of fat. With help from SparkRecipes, your chicken will turn out tasty and nutritious, giving you a fantastic start to the new year. Read More ›