We assembled an A-team of mom bloggers to share their top organizing tips and tricks. Try one each day to transform your home.
Day 1: Declutter Your Calendar
Holly Bohn-Weiss of SeeJaneWork.com recommends using colorful binder clips to secure the family calendar to the front of a wall pocket. After jotting down events, she drops backup info—invitations, directions, the list of items needed for an upcoming school field trip—in the pocket. This way it's a snap to stay on top of appointments and activities. She recommends
Magnetic Wall Pocket, containerstore.com, $20. Read More ›
Keep countertops free of items that don't belong there. Sort and file mail every day and hang up garments after taking them off. Encourage your kids to do the same with their clothes and toys, says Regina Leeds, author of
One Year to an Organized Life
.
Spend Just a Few Minutes a Day Decluttering
Brooks Palmer, author of
Clutter Busting
, suggests setting a timer for at least 15 minutes to help you keep disorder in check. "Start small and do it on a regular basis," he says. For example, sift through a stack of papers on your desk for recycling or deep-six that jumble of expired spices. And if you have to stop mid-project, go back to it the next day.
Read More ›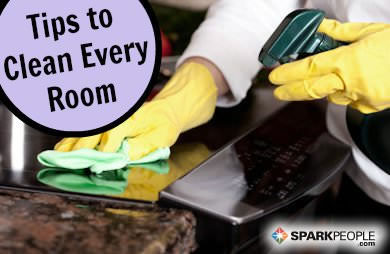 Spray, swipe and sponge your way to a spotless house in no time with these helpful strategies.
SCOUR POWEROven:
Tackle those charred drips and baked-on blobs.
Racks:
Lay them down on newspaper or, even better, place racks inside a large plastic garbage bag and spray with a nontoxic oven cleaner. Let sit, then scrub with a scouring pad, rinse well and dry.
Interior:
Zap splatters by running your oven's self-cleaning cycle. If you don't have the feature, Debra Johnson, training manager at Merry Maids, suggests applying a fume-free oven cleaner (like Easy-Off). Give the solution about two hours to do its job, then wipe away the greasy debris with rags or paper towels. Follow with a scouring pad, if needed, and a once-over with a microfiber cloth.
Read More ›
Think your kitchen is squeaky clean? Not so fast. "Moisture and food particles make it the perfect environment for growing germs that can make you sick," says Kelly A. Reynolds, PhD, an environmental microbiologist at the University of Arizona's Zuckerman College of Public Health in Tucson. "If you're not killing them, you can go from 10 microbes to millions within 24 hours." And the more germs there are, the more likely you are to get sick from one. Here's where they're hiding and what you can do about it.
Read More ›
Family Room5-Minute Cheat:
Toss out-of-place items—magazines, sneakers and video games—into a laundry basket and stash in the closet for the time being. Run a microfiber duster across coffee and side tables. Straighten and fluff sofa cushions and pillows.
15-Minute Spiff-Up:
Give floor and rugs a once-over with a vacuum. Dust the shelves and the flatscreen. A damp eraser pad takes care of any noticeable scuffs or fingerprints on walls. Quickly put DVDs and video games back where they belong.
Read More ›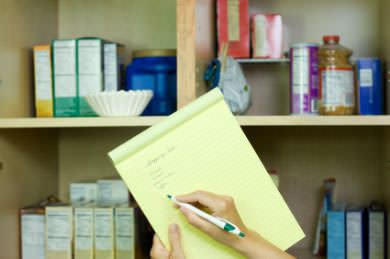 It's the most wonderful time of the year...
I've been softly singing that tune for the past two weeks in anticipation of my three teenage sons and me going back to school. Yes, I love my boys and have loads of fun home with them in the summer, but it's time. I look forward to the weeknights that everyone is home by 9 p.m. (no more late baseball games!) and fast asleep before 11--mom, too. My days will soon be filled with bright-eyed budding chefs to be learning how to hold a knife properly, fillet a fish, and shop for the best quality foods.
With school just around the corner, my family, much like yours, needs to get its act together. Early fall is a perfect time of year to get organized for school and home. Even if you are not sending anyone off to school this list will help you gain control of your home before the holidays are upon us and it really gets crazy.
Read More ›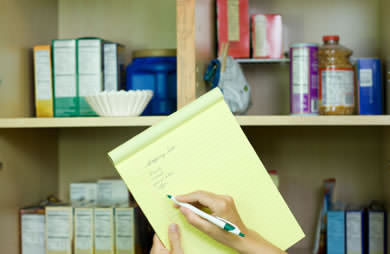 Follow these simple solutions for bringing order to your home.
Tip 1: Purge Perennially
To really stay on top of the organizing game, constantly get rid of your unwanteds.
In the living room and other high-traffic spaces, it's what you see first that counts. "Make sure the room's focal point, whether it's the fireplace mantel, a console or a coffee table, is the least cluttered area," says Jennifer Ford Berry, author of Organize Now! 12 Month Home & Activity Planner (Betterway Home). Keep surfaces pared down by limiting what you display to only a few items.
Make laundry day a time to discard stretched-out T-shirts, mismatched socks and threadbare linens.
Take stock of utensils and other kitchen paraphernalia each time you unload the dishwasher, Berry says. If you find you have multiples—more than two can openers or potato mashers, say—keep one on hand, store the duplicate and donate the rest.
Toss clothes you no longer want or that don't fit into a bin in the corner of your closet. "Do this on a regular basis," says organizing expert and founder of simplify101.com Aby Garvey. "When it's full, take the container to Goodwill." Read More ›
Whether you telecommute or just need an organized space to pay bills and answer e-mails, a home office should feel as stylish and inviting as any other room in the house. New York City interior designer John Loecke, who transformed this attic nook into a brilliant workplace for New Jersey mom and graphic designer Andrea Amadio, suggests thinking big, even in a Post-it-size space. Here he incorporated an outsize desk and bulletin board that encourage spreading out, bold colors and patterns, and storage galore, including a cubby unit roomy enough for Andrea and daughters Ella, 8, and Kate, 5, to share. What was once a blank (albeit cluttered) slate is now a cheerful space that gets the job done.
Short & Upbeat
Curtains can be a fun touch and less costly than customized shades for irregular-size windows. Loecke chose panels that extend only to the sill, which are less formal than longer styles. To make a squat window appear taller, mount drapes a few inches above the frame.
DIY:
Create no-sew curtains using iron-on adhesive like Stitch Witchery.
Bright Spots
A tangerine chair that Andrea fell in love with at a garage sale inspired the vivid color scheme. "All the white keeps it from looking clownish," she says. To balance the chair's playful shape Loecke added bold, geometric touches like the carpet, lamp shade and curtains.
DIY:
Try modular carpet tiles in high-traffic areas. Opt for a pattern or dark color to camouflage stains and keep extra squares on hand so you can replace one if necessary.
Read More ›
Clean up your act by getting tough with excess possessions. We found the best places for responsibly casting off clothing, books, furniture, electronics, and more. (You may even earn some extra money!)
Where to Sell Items
According to Cari Cucksey, who organizes estate sales on HGTV's
Cash & Cari
, "The average family has several thousand dollars' worth of stuff lying around." Check out how to find the right market:
Yard Sale
If you're looking to unload a bunch of goods that don't have a high intrinsic value, a yard sale is the way to go. Price items at 50 to 75 percent off the store price, and keep everything under $50. "People who go to garage sales are looking for the ultimate bargain," says Cucksey. "Higher-end items I would put online." First find out if your city or town requires a permit to hold a sale. Events are best held on a Saturday, when most people have time to shop. Then advertise like crazy a week ahead. Cucksey recommends taking an ad out in local papers; posting on Facebook and Twitter, as well as free sites like craigslist.org and yardsalesearch.com; and hanging poster-size signs on the street to direct customers to your home.
Read More ›
With a title like "Use It or Lose It," I could be discussing anything from fitness, brain power, or your health spending account. Rest easy, I talking about food and your pantry. According to the U.S. Bureau of Labor and Statistics the average American spends more than $6,000 on food each year. Do you know how much food the average American throws in the garbage due to spoilage?
We waste 27% of food fit for consumption
! That's a lot!
My goal for 2012 is to make small changes in my pantry and ingredients that I buy so that I pitch less food this year. After taking an inventory of my
pantry
,
refrigerator
and
freezer
, my creative cooking juices started flowing. I've come up with these "livable and lovable" tips to help you use up your food.
Read More ›
These eco-friendly tips (and some elbow grease) will help you clean your home inexpensively.
For fresh-smelling clothes, hang laundry on an outdoor clothesline and let the sunshine dry it. (To prevent fading, turn garments inside out.)
There's no need to polish wood furniture every week, says Ellen Sandbeck, author of Organic Housekeeping(Scribner). Dusting with a dry, lint-free cloth will do. Polish with butcher's wax once or twice a year. Read More ›