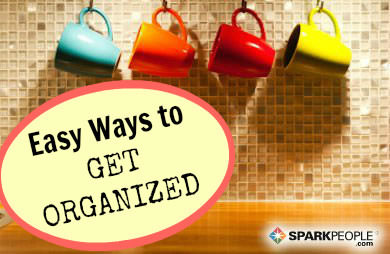 Post simple-to-ship castoffs, like that multispeed juice extractor you never use, online to reach the biggest audience of potential buyers.
TIP:
In-season clothes and accessories are easiest to sell. Also, don't try to list what's stained or torn -- discard them instead.
Clothes, Household Goods, Electronics
Skip McGrath, Web marketing expert and author of
The Complete eBay Marketing System
(
skipmcgrath.com
), suggests
eBay
for selling everything from popular brand names (Xbox, KitchenAid) to collectibles (silver tea sets, Barbie dolls). The site offers an auction format and fixed-price sales, which may be easier for first-timers who don't want to deal with the bidding process.
Cost: McGrath estimates fees to be about 12.5 percent of your selling price, including PayPal charges.
Fashion retail sites like
poshmark.com
let you download an app to conduct transactions from your tablet or smartphone.
Cost: 20 percent of each sale, but listing and shipping items is fee-free. Read More ›
We assembled an A-team of mom bloggers to share their top organizing tips and tricks. Try one each day to transform your home.
Day 1: Declutter Your Calendar
Holly Bohn-Weiss of SeeJaneWork.com recommends using colorful binder clips to secure the family calendar to the front of a wall pocket. After jotting down events, she drops backup info—invitations, directions, the list of items needed for an upcoming school field trip—in the pocket. This way it's a snap to stay on top of appointments and activities. She recommends
Magnetic Wall Pocket, containerstore.com, $20. Read More ›
Keep countertops free of items that don't belong there. Sort and file mail every day and hang up garments after taking them off. Encourage your kids to do the same with their clothes and toys, says Regina Leeds, author of
One Year to an Organized Life
.
Spend Just a Few Minutes a Day Decluttering
Brooks Palmer, author of
Clutter Busting
, suggests setting a timer for at least 15 minutes to help you keep disorder in check. "Start small and do it on a regular basis," he says. For example, sift through a stack of papers on your desk for recycling or deep-six that jumble of expired spices. And if you have to stop mid-project, go back to it the next day.
Read More ›
Problem: Kitchen
"I'm a good mother, cook and entertainer, but organizing eludes me," says Jen. The entire family—Jen, her husband, Rich, and their two sons—dump everything on the kitchen counter, including phones, iPads, keys and papers. "When guests are coming over, I just throw it all in what I call 'the party bag' and shove it out of sight," she says. "Problem is, later nobody can find their stuff." Jen also uses the area to display snapshots and post notes, but the jumble created visual clutter and got in the way of the cookbooks she refers to on a regular basis.
Pro organizer Julie Morgenstern, author of
Shed Your Stuff, Change Your Life
(Touchstone), suggests a number of simple storage systems. Shallow bins, situated beneath an outlet, provide a place to charge electronics, deposit mail and empty pockets without junking up the area. A sleek metal organizer strip displays photos and papers. Bins in the cabinets below can corral chargers and kitchen items, as well as handbags, hats, gloves and anything else that doesn't make it into the main closet, located a few rooms away. "The key to containing clutter is to catch it where it lands," says Morgenstern.
Read More ›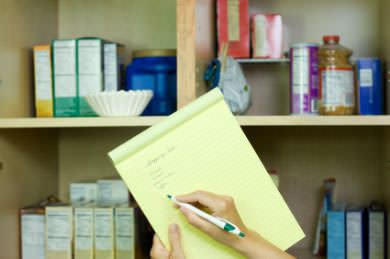 It's the most wonderful time of the year...
I've been softly singing that tune for the past two weeks in anticipation of my three teenage sons and me going back to school. Yes, I love my boys and have loads of fun home with them in the summer, but it's time. I look forward to the weeknights that everyone is home by 9 p.m. (no more late baseball games!) and fast asleep before 11--mom, too. My days will soon be filled with bright-eyed budding chefs to be learning how to hold a knife properly, fillet a fish, and shop for the best quality foods.
With school just around the corner, my family, much like yours, needs to get its act together. Early fall is a perfect time of year to get organized for school and home. Even if you are not sending anyone off to school this list will help you gain control of your home before the holidays are upon us and it really gets crazy.
Read More ›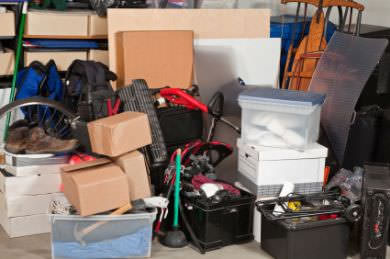 KITCHEN
Small Appliances
Get rid of anything needing repair—that toaster that only heats one side of the bread—or impulse items you never use, like a yogurt maker.

Plastic Containers
"Don't hang on to spare lids or tubs without tops," says Andrew J. Mellen, author of Unstuff Your Life! And pare down to five or six basic pieces. For recycling information, check online at 1800recycling.com.
HOME OFFICE
Papers
Recycle what you don't need to file long-term: expired coupons, old party invitations, out-of-date school activity calendars.

Odds and Ends
Weed out dead batteries and dried-up markers. Take empty printer cartridges to any Staples store for credit. Toss or recycle things you don't use regularly, like old notepads, stray Post-its and rubber bands. Read More ›
Follow these easy tips to de-clutter your kitchen pantry, linen closet and mudroom.
Pantry
Free up cluttered kitchen cupboards by creating a storage area in a nearby hall closet with adjustable shelves.
Transfer foods like rice, flour and sugar from bags or boxes into see-through canisters that won't leak or be knocked over easily.
End needless hunting by grouping together ingredients like dried pasta and tomato sauce or teas and honey.
Decant nuts and snacks into airtight containers that stack to maximize space.
Canvas bins on the floor keep bulk purchases handy.
Move fancy serving pieces (and anything else that you don't use frequently) to the topmost shelves.
Pour pet food from oversize bags, which are prone to spills, into supersize bins.
Read More ›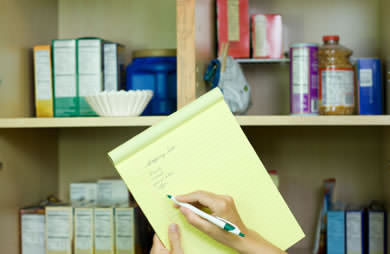 Follow these simple solutions for bringing order to your home.
Tip 1: Purge Perennially
To really stay on top of the organizing game, constantly get rid of your unwanteds.
In the living room and other high-traffic spaces, it's what you see first that counts. "Make sure the room's focal point, whether it's the fireplace mantel, a console or a coffee table, is the least cluttered area," says Jennifer Ford Berry, author of Organize Now! 12 Month Home & Activity Planner (Betterway Home). Keep surfaces pared down by limiting what you display to only a few items.
Make laundry day a time to discard stretched-out T-shirts, mismatched socks and threadbare linens.
Take stock of utensils and other kitchen paraphernalia each time you unload the dishwasher, Berry says. If you find you have multiples—more than two can openers or potato mashers, say—keep one on hand, store the duplicate and donate the rest.
Toss clothes you no longer want or that don't fit into a bin in the corner of your closet. "Do this on a regular basis," says organizing expert and founder of simplify101.com Aby Garvey. "When it's full, take the container to Goodwill." Read More ›
Whether you telecommute or just need an organized space to pay bills and answer e-mails, a home office should feel as stylish and inviting as any other room in the house. New York City interior designer John Loecke, who transformed this attic nook into a brilliant workplace for New Jersey mom and graphic designer Andrea Amadio, suggests thinking big, even in a Post-it-size space. Here he incorporated an outsize desk and bulletin board that encourage spreading out, bold colors and patterns, and storage galore, including a cubby unit roomy enough for Andrea and daughters Ella, 8, and Kate, 5, to share. What was once a blank (albeit cluttered) slate is now a cheerful space that gets the job done.
Short & Upbeat
Curtains can be a fun touch and less costly than customized shades for irregular-size windows. Loecke chose panels that extend only to the sill, which are less formal than longer styles. To make a squat window appear taller, mount drapes a few inches above the frame.
DIY:
Create no-sew curtains using iron-on adhesive like Stitch Witchery.
Bright Spots
A tangerine chair that Andrea fell in love with at a garage sale inspired the vivid color scheme. "All the white keeps it from looking clownish," she says. To balance the chair's playful shape Loecke added bold, geometric touches like the carpet, lamp shade and curtains.
DIY:
Try modular carpet tiles in high-traffic areas. Opt for a pattern or dark color to camouflage stains and keep extra squares on hand so you can replace one if necessary.
Read More ›
Clean up your act by getting tough with excess possessions. We found the best places for responsibly casting off clothing, books, furniture, electronics, and more. (You may even earn some extra money!)
Where to Sell Items
According to Cari Cucksey, who organizes estate sales on HGTV's
Cash & Cari
, "The average family has several thousand dollars' worth of stuff lying around." Check out how to find the right market:
Yard Sale
If you're looking to unload a bunch of goods that don't have a high intrinsic value, a yard sale is the way to go. Price items at 50 to 75 percent off the store price, and keep everything under $50. "People who go to garage sales are looking for the ultimate bargain," says Cucksey. "Higher-end items I would put online." First find out if your city or town requires a permit to hold a sale. Events are best held on a Saturday, when most people have time to shop. Then advertise like crazy a week ahead. Cucksey recommends taking an ad out in local papers; posting on Facebook and Twitter, as well as free sites like craigslist.org and yardsalesearch.com; and hanging poster-size signs on the street to direct customers to your home.
Read More ›