All Entries For
exercises
Forget the treadmill and that complete set of dumbells—getting in a good, heart-pumping workout can be as easy as 52 cards and a bit of floor space.
Read More ›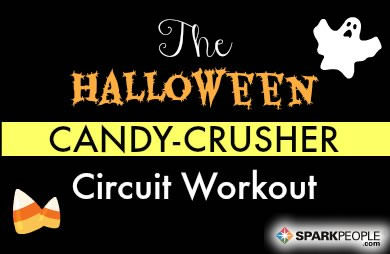 Boo! Don't be scared of Halloween candy calories! Burn them off the fun way with this fast Halloween-themed cardio circuit workout. Perform each movement in the circuit for one minute straight before moving on to the next move. (If you need a demo for any of the movements, scroll down and click on its corresponding link below the image.) There are a total of ten moves, so the whole workout should take you exactly ten minutes. If you want an extra challenge, you can do the circuit 2-3 times through for a real calorie-scorching session! You can make this as low-intensity or high-intensity as you want, depending on how quickly you move during each exercise. Bonus: There is no equipment required, and it's great for small spaces!
Note:
For the single-leg movements ("Boo-ty Blaster" and "Spooky Side Kick"), work one leg for 30 seconds and switch to the other leg for the remaining 30 seconds.
Read More ›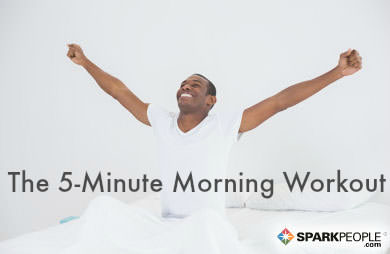 Exercise isn't just about burning calories and building strength. It's also about improving productivity and quality of life. But when is
the best time to exercise
? The answer is whenever it best fits into your schedule. One problem with afternoon or evening workouts is that they are often put off by other conflicting responsibilities. In addition, if you exercise too late in the day, it can be hard to "wind down" and fall asleep.
Early morning can be a great time to get some exercise in as long as it doesn't make you late for the rest of your day. As a spine surgeon I have to be "ready to go" with a high energy level by 6 a.m. This doesn't leave time for a lengthy morning workout so we at
MDFitness
came up with a 5-minute workout that you can do right out of bed without disrupting your morning routine. In the time it takes to brew your coffee you can have your metabolism revved up to full throttle and ready for whatever the day throws at you. It works for me and I know it will work for you. We use the same easy-to-follow exercises you will find in our DVD
The Doctors Workout
.
Read More ›
Starting to think about your summer vacation plans? Let's talk about how you might be able to keep your workouts from falling by the wayside.
As a profesional and Olympic soccer player, you'd think that I work out all the time but the fact is, it's not that easy. I'm on the road about 15 nights each month. Often we go from the airport to practice to bed to the game to the airport. Gym? When's that supposed to happen? I've had to figure out how to get my workouts in any time, anywhere. No space? No time? No excuse in my book! It's really not as daunting as you think.
Here are some of my favorite exercises that can be done without any equipment—right from a hotel room!
Read More ›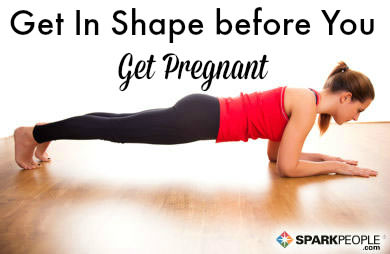 What's the best way to stay in shape during your pregnancy—and beyond? Get in the best shape of your life before you get pregnant! Here are my top six exercise recommendations for preparing your body for a strong and healthy pregnancy and postpartum recovery. Read More ›
One of the best ways to start your day in a healthy way is to take a moment to ground your thoughts by stretching and intentionally breathing. It's amazing what you can accomplish in less than seven minutes to set your day on the right path.
When you stretch deeply, you should always be warm. So performing this series after a morning workout or after a hot shower is optimal. If you do it right out of bed, make sure you stretch more gently.
Here are eight stretches to add to your morning routine to feel strong, flexible and grounded. These exercises cover all your major muscle groups and can be followed any time of day, including after your workouts.
Read More ›
Tired of the same old exercises? Are curls, raises, rows and squats no longer doing it for you? Fret not, fearless exerciser, for we have a fun workout that will change all of that!
These seven exercises require a little imagination but otherwise no equipment at all. You can do them outdoors, inside a tiny apartment or even on an empty soccer field. As a bonus, this is a workout that your kids will LOVE to do with you—because it feels more like play than exercise. So if you're a mom or dad who needs to squeeze in exercise on top of childcare responsibilities, this is a win-win-win. (The extra "win" is because your little one will become your accountability partner and will ask to do the whole routine with you again and again!)
Read More ›
It might seem intuitive to avoid exercising your joints when they're causing you pain. But, like many aspects of the human body, what seems to make sense isn't necessarily what's good for you! When you're suffering from arthritis, one of the
best
things you can do for yourself is to exercise. However, you must learn the right exercises to strengthen the muscles around your joints, and the best stretches to gain and maintain flexibility.
Here are the exercises that I prescribe for my patients with knee and hip arthritis. My patients have had great success with them, and I hope you do, too.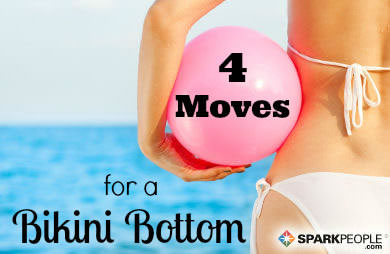 Whether you are curvy, muscular, or slim, chances are you want to have a swimsuit-ready backside, especially in the area where the buttocks meet the upper thigh (called the gluteal fold). Strengthening this area can help lift, tighten and tone our bottoms. But despite endless repetitions and time spent on toning this area, many women aren't getting the results they want. Why is it so difficult to strengthen and tone this key area? And what are the secrets to getting a strong and sculpted bottom?
For better or worse, I have become an expert on getting toned buttocks— mainly because my own backside needs constant toning to stay lifted and firm. Many fitness experts and trainers seem to be born with airbrushed bodies. On the other hand, I tell my clients I probably had cellulite when I was in diapers! Even at my thinnest throughout my teens and 20's my thighs were riddled with
stubborn cellulite
no matter how many
butt toning exercises
I did. And believe me; I did every single one I could find
every day
. It wasn't until I started working out smarter, not harder that I finally saw the results. Now I use
Pilates
and (ballet)
barre
techniques and each year, I get a little more lifted and toned. You can't ask for better than that, right? I love sharing these tightening and toning techniques with other women—and hearing about your results!
Read More ›
Love handles, the spare tire, the middle age spread: Call it what you will, but nobody likes having excess flab around the waistline (not even when we name it cute things like "muffin" top). And while you can target the oblique muscles located on the sides of your waist by doing specific toning exercises, doing tons of abs moves alone isn't enough to shrink your waistline. Your best love handle melting strategy involves the same principles for losing weight anywhere on the body: eating better foods (and less in general), and performing both
fat-burning cardio
along with muscle-toning strength training.
But like any exercise program, you should cater your exercises to your specific goals. And if whittling your waistline is one of your goals, you should be doing exercises to help you reach it.
I designed this workout circuit to help you target your waistline in a smart way: by keeping your heart rate elevated to burn more calories than you would simply lying on the floor and doing crunches. You'll alternate a cardio move that also targets your core with a traditional oblique toner for maximum benefit.
Read More ›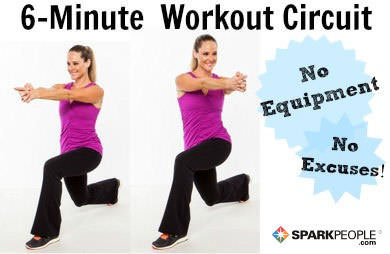 Hey, we're all busy. But that's no reason to let your workouts get away from you. Next time you feel like skimping on exercise to watch TV or meet your friends for Happy Hour remember this: It doesn't take much to get a great workout.
That's why I designed this excuse-proof workout. You can do this simple, 6-minute circuit anytime (it's whisper quiet), anywhere (no gym required) and without any equipment. All that and it'll sculpt your body from head to toe, too.
Read More ›
There's no need for special equipment for a great workout! A good old beach towel can be just as effective at working your muscles as dumbbells, resistance bands or expensive machines. Want proof? Meet "The Towel Workout."
All of these moves can be done with just a towel, which is great because you'll probably need it to wipe up your sweat after you are done.
Read More ›
Just like fashion trends come and go, same can be said about workout trends. Hundreds of years ago Russian bodybuilders were using cannonball-like equipment for strength training. Little did they know then that their workouts would be turned into classes in gyms across the globe 300 years later. The reason
kettlebell workouts
are so popular is they provide strength training, cardio, balance and flexibility all in one short workout.
In the January 2011 issue of
Fitness magazine
, John Porcari, PhD, an exercise researcher at the University of Wisconsin-La Crosse, stated that "an intense 20-minute workout with kettlebells burned on average, an astonishing 400 calories, or 20 calories a minute."
Read More ›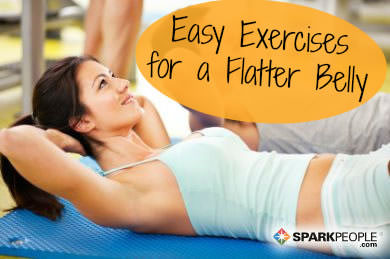 Many people want to have flat abs, but have trouble getting them. Attaining visible abdominal definition depends on a low body fat percentage that isn't realistic for many and your genetics plays a part of it as well, but that doesn't mean you can't work towards a goal of having a slimmer tummy. While you can't spot train or target where you lose fat, you can work on those muscles to help you achieve flatter abs and a strong core overall.
Read More ›
For some people, safety and form during a workout is a huge priority. For others, it's an afterthought. If you work out without the careful eyes of a trainer or instructor watching your every move, it can be difficult to know if you are exercising with proper form—even when you're really trying to.
Learning how to move with correct alignment isn't just about looking good; it can mean the difference between muscle activation and joint strain—or even injury.
Here are five exercises that are common—and may even seem simple—but are most often performed incorrectly by people of all fitness levels.
Read More ›
Read More Entries ›