You're probably in full-on holiday shopping mode by now, but don't forget yourself during this busy season. Take a few seconds to enter this week's giveaway from our friends at
Live Well 360
. One winner will get to choose from their three popular gym bags, which are all amazing and sure to make taking your workout gear with you so much easier!
As a trainer, I'm a huge fan of squats and lunges, but I know that joint issues can make these common lower-body exercises pretty painful to do. The good news is that there are plenty of other exercises that can help shape up your lower half!
Whether you need to modify for your knees or simply want to try adding a few new leg moves to your repertoire, join me for this low impact, Pilates-inspired, lower body workout that doesn't require much space and zero equipment. It's just over 15 minutes, so it's also a great option for when you're short on time! (Oh, and feel free to kick off your shoes to further engage the muscles in your feet and ankles.) Check it out
on YouTube
, or watch via the embedded video below!
Read More ›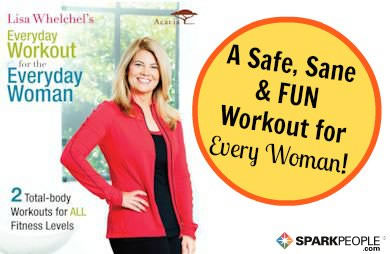 Is it just us, or are workouts getting more and more intense lately? It seems like you can't turn on the TV or open a magazine without hearing about the latest ''extreme'' workout fad that promises to get you six-pack abs and boundless energy. Although those type of workouts might appeal to some people, they're definitely not for everyone. What ever happened to sane, safe exercise programs for the average person just trying to stay healthy and fit?
Enter
Lisa Whelchel's Everyday Workout for the Everyday Woman
. Lisa Whelchel is a busy mom of three, an author, motivational speaker, and former TV star from
The Facts of Life.
As an average woman who struggles to fit exercise into her busy days, Lisa's DVD is a breath of fresh air for any woman trying to start a reasonable and sustainable fitness routine—or for any woman who just wants to mix things up a bit! You can learn more about what to expect from the DVD in the YouTube video below:
Read More ›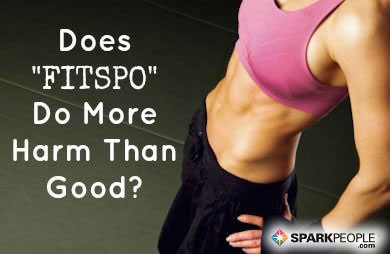 Warning:
The images and words in this post could be triggering to anyone who has had an eating disorder. "Strong is the new skinny." "When I exercise, I wear all black because it's like a funeral for my fat.""Skinny is not sexy. Healthy is."
You've probably heard or read the quotes listed above at some point. They're known as "fitspiration" or "fitspo" for short. Fitspo pictures and posters are typically images of extremely fit, lean, and muscular women, with motivational quotes on them like the ones displayed above.
Fitspo is
supposed
to be a healthy alternative "thinspo" (short for thinspiration). Thinspiration images typically display extremely thin women with motivational quotes regarding getting and staying thin. In general, these were first created by online users who wanted to inspire and support women with eating disorders to continue with their disorders and stay as thin as possible.
Yikes.
Good thing fitspo became popular, huh? At least now we have lots of healthy images floating around the web inspiring women to be healthy and strong instead of
skinny
, right?
Maybe not.
Read More ›
Forget about all the food for a minute. Let's talk about the
fitness
. Holiday weight gain is a concern for many, but it's not just because of the food. Sure, we eat more rich foods than we probably should this time of year, but we also let our workouts go by the wayside. We're stressed out and busier than ever with mile-long to do lists. The uncooperative weather doesn't help—dark mornings and evenings make you want to curl up in bed—not to biceps curls. So how is it that we can manage to do
everything else
but not squeeze in a workout? And what does that say about our priorities (and our commitments to ourselves)?
Let's do things differently this year, starting with Thanksgiving. The solution really is simple. We know what causes weight gain and we know how to maintain and lose weight, too. So for the next few weeks, I propose a new philosophy that will keep winter weight gain at bay:
Burn it to earn it
.
Read More ›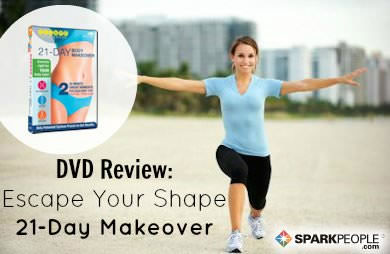 Is your fitness routine feeling a little "blah"? Are you looking for a customized full-body workout that incorporates both cardio and strength training in 20 minutes tops? Look no further than
Escape Your Shape: 21-Day Body Makeover.
This easy-to-follow DVD comes jam-packed with three different fun and encouraging workouts to try for every body type.
Read More ›
High intensity interval training
(aka H.I.I.T.) doesn't always have to be high impact! This workout is perfect for maximizing your cardio time--without pounding your joints. (Oh, and did I mention it's free of both burpees and squat thrusts? Score!)
Join me for this
low-impact
, high-intensity cardio routine that can be done easily in a small space with zero equipment. (No jumping means it's perfect for hotel rooms and apartments, too!)
Read More ›
I'm not much of a "gadgets" person, but I am a
results
person. While I don't go for every trend or spend a lot of money on the latest technology, I will invest in things that have a big benefit to me. If that means a premium iPhone app, an amazingly accurate GPS watch (love my
Garmin Forerunner
), or a simple activity tracker, I'm generally skeptical at first, but very loyal once I find something that works.
Many of you know that I've been a Fitbit fan for many years. I still love the Fitbit and think it's a great device. It happened to be the tracker that really resonated with me, but that's not necessarily because the Fitbit is better or more accurate than anything else. From my perspective, any activity tracker that has the basic features you need and is easy to use can work wonders even if it's not the best or the most impressive. Regardless of the brand or type of device, the biggest benefit you'll get from any activity tracker is that wearing it each day as
motivation
to set and reach new goals. For me, that's why I love certain gadgets and data.
I'm proud to have been involved in the testing and developing of the
Spark Activity Tracker
's online features. After years of using an activity tracker, I had more than a few ideas on how to make our tracker great. For people who don't already have an activity tracking device—or for those who simply want a more streamlined experience—the Spark is an affordable gadget worth checking out. I love it for all the reasons I fell in love with my Fitbit years ago—but as loyal as I've been to the Fitbit, I have to admit that The Spark has several more perks that you won't find in other activity trackers.
Here are six reasons why I think you'll love the Spark as much as I do.
Read More ›
Tired of the same old exercises? Are curls, raises, rows and squats no longer doing it for you? Fret not, fearless exerciser, for we have a fun workout that will change all of that!
These seven exercises require a little imagination but otherwise no equipment at all. You can do them outdoors, inside a tiny apartment or even on an empty soccer field. As a bonus, this is a workout that your kids will LOVE to do with you—because it feels more like play than exercise. So if you're a mom or dad who needs to squeeze in exercise on top of childcare responsibilities, this is a win-win-win. (The extra "win" is because your little one will become your accountability partner and will ask to do the whole routine with you again and again!)
Read More ›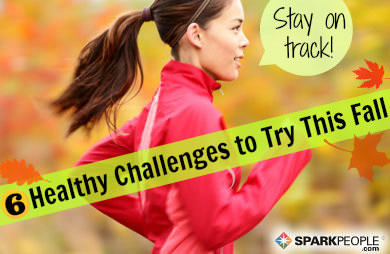 The days are shorter, the weather is colder, and the couch is looking a whole lot comfier. This time of year, attendance at the gym drops and our desires to exercise and eat right fall lower on our priority list. Between back to school, tailgating, Halloween, Thanksgiving, Hanukkah, the year-end frenzy at work, Christmas, New Year's and everything in between, it's no wonder we need to "restart" again on January 1.
As fall morphs into the busy holiday season, let's choose to make this year different. Let's commit ourselves to
just one simple goal
to stay on track. You might not be able to do everything perfectly between Halloween and New Year's Eve, but you
can
do
something.
SparkPeople has a lot of fun, simple and effective challenges that are the perfect pick-me-up for your program. I would recommend choosing ONE program listed below to focus your efforts. These are all great ways to re-commit this fall and hit the ground running this holiday season!
Read More ›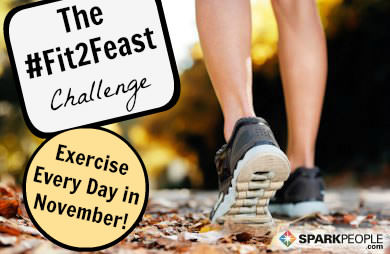 Halloween is just one week from today, and we all know what that means—the holiday season will be upon us before we know it. Unfortunately, the "most wonderful time of the year" also tends to be the most stressful time of the year for a lot of people; especially for those who are striving to lose weight or get fit. How do you avoid falling off the wagon during such a busy time full of food, friends and family obligations? Read More ›
As much as
I love fall
, I don't love the darkness that comes with it. It's already getting darker earlier each night, and it's staying dark even when I wake up in the morning. I am not a fan of that!
It's hard enough to
be a morning person
and wake up to work out, but when the moon is still out when your alarm goes off, forget about it! Then again, if you hit snooze and wait to work out after work, you might be faced with the same problem.
I will admit that it's not easy for me to get up and be gung ho for a workout session. I am not and never will be a morning person. It's hard for me to wake up just about every day. But I do manage to stick to my morning workouts (most days anyway). And no, I don't have super human powers …which means you can do it, too. Here's how.
Read More ›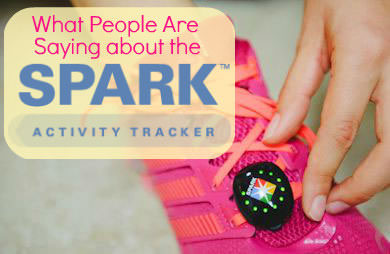 Everyone in the SparkPeople office has been wearing and using the
Spark Activity Tracker
during the beta testing phase so we were very excited for it to finally release on October 1. While we love its small size, fun light-up display and ease of use, we were anxious to hear what SparkPeople members would think about this tiny tool that tracks steps, miles and fitness minutes (and automatically syncs the data with your SparkPeople Fitness Tracker). We're finding new reviews from members daily, and we're delighted to see how much they're enjoying the Spark! (Learn more about exactly what the
Spark Activity Tracker
can do for you.)
Read More ›
Pregnancy can bring on all kinds of aches and pains in a woman's body.
Exercising throughout pregnancy
can help with some of these aches and pains, but sometimes it is hard to find a safe and effective pregnancy workout. Hilaria Baldwin, certified yoga instructor and wife of actor Alec Baldwin, has come out with one of the best prenatal yoga workouts that I have seen, so there is no need to keep looking! With this DVD, Hilaria guides you through a challenging series of yoga poses that provide a great yoga workout while also helping your body and mind feel better. Talk about a win-win situation!
Read More ›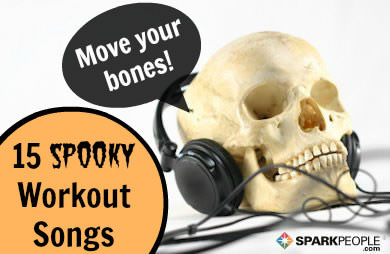 A few years ago, the night I taught Spinning happened to land on Halloween—not once, but two years in a row. I figured that anyone willing to show up on Halloween night to work out is pretty dedicated (or childless?), but either way, I wanted to make the workout festive and fun. I created a healthy Halloween workout mix for the class, dimmed the lights, and handed out my
homemade granola bar treats
when the ride was over.
It may be silly to some, but creating your own Halloween-themed workout playlist could motivate you to work out on Halloween (a must if you're going to be dipping into the candy jar that day), and it's one of few ways to have fun that doesn't involve eating candy!
So here is my healthy Halloween playlist: 15 spooky songs to help you to burn off those candy calories—and have fun doing it.
Read More ›
Read More Entries ›