It seems like almost every time you turn on the TV there is another award show coming. In January alone, there are the Golden Globes, People's Choice, Critic's Choice, Grammy's (this weekend!) and Screen Actors Guild (SAG) Awards. Later in winter, the always-hilarious Golden Raspberry (Razzes) Awards take place around the same time as the more serious Academy Awards. And throughout the year, there's a host of music related award shows (like the Country Music Awards) and even MTV has their own Video Music Awards and Movie Awards shows. I'm sure I haven't even listed them all...
If you love fashion, celebrity news, or simply think of yourself as a music or movie buff, you'll probably catch at least one of these shows. The performances are entertaining, the jokes and hosts often funny, and the fashion is usually worth seeing.
Many people have dress-up parties or get-togethers to watch these shows with friends, often with lots of drinks and appetizers. But you can enjoy the show—and work toward your healthy goals, too—by incorporating SparkPeople's "Award Show Workout Game" at home or with your friends. This workout plan works with any televised award show! It allows you to watch and enjoy the show while also fitting in a serious workout!
Read More ›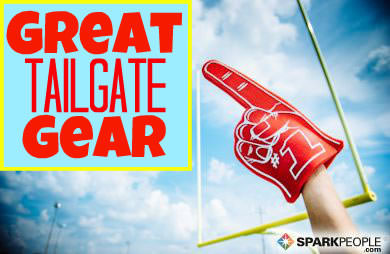 Once you've planned the perfect
tailgate party
, you'll want to stock up on gear to help you celebrate your favorite team and serve up delicious snacks in style.
We've rounded up 10 of our favorite products to make your party even more fun.
(We're showcasing Bengals gear here, since SparkPeople's hometown is Cincinnati, but all the team products listed are available for your favorite NFL teams.)
Read More ›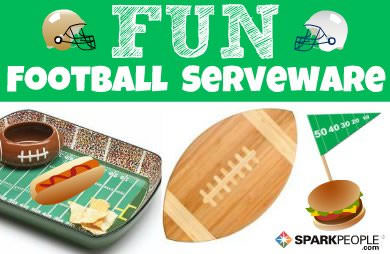 Whether you're having a get together to watch the big game, a Super Bowl bash or a party for your kid's football team, there are tons of great themed accessories available to help bring your
appetizers
to life.
Read More ›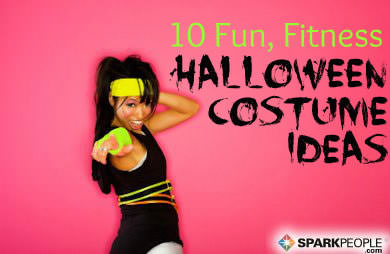 Since your closet is full of workout clothes anyway, why not use this Halloween as an excuse to celebrate your healthy lifestyle by dressing as your favorite fitness personality? There are tons of possibilities, but here are 10 that are pretty easy to pull off.
Read More ›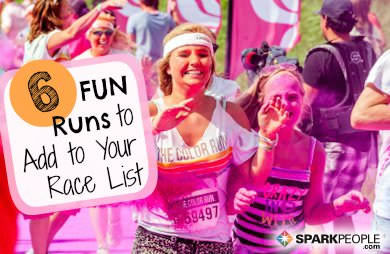 Perhaps you've considered training for a 5K, but the idea of running or walking a traditional race just isn't motivating enough to get you off the couch and out the door. These days, there are a wide variety of races to participate in, from the local run through your neighborhood to some of the more entertaining (and crazy!) runs popping up across the country. Have you ever thought about running from zombies, crawling through mud or sprinting through glowing trees and tunnels?
Fun runs like these can break up the monotony of traditional races, and can also be motivation to pick up the running habit even if you're not that into it. Here's a guide to some of the races gaining popularity as people look for fun ways to get up and moving.
Read More ›
In 1958 WHAM-O introduced the world to a new toy after Arthur Melin and Richard Knerr observed children in Australia playing with bamboo hoops in their exercise class. Upon their return to the States they took what they had seen and invented the plastic hoop, what we now know as the Hula Hoop. What started out as a fad in the late 1950's for kids has now turned into a fitness frenzy 53 years later. And if you don't believe swirling your hips can burn calories and tone your body, think again.
Researchers at the Exercise and Health Program at University of Wisconsin, La Crosse led by Jordan Holthusen, M.S. and John Porcari, Ph.D conducted a
study
of 16 advanced to intermediate female hoopers. And to their amazement, hula hooping expended similar calorie rates and raised heart rates similar to cardio kickboxing, step aerobics and boot camp classes. Although the researchers state that more studies need to be done to determine what the long-term fitness benefits to hooping will bring, one thing is for certain, when we have
fun doing an activity
we are more likely to participate in it. I always say something always trumps nothing, especially when it comes to exercise.
Read More ›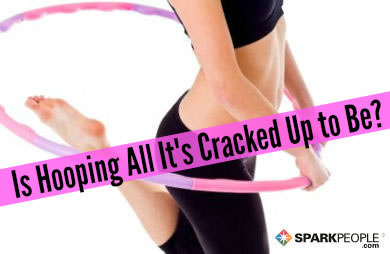 More and more people these days are turning to workouts that feel less like work and more like play. Dodge ball leagues for adults are increasingly popular, and out-of-the-box exercise classes like aerial yoga, circus arts and trampolining (rebounding) are almost as commonplace as kickboxing. Another fun pursuit on the list of fun fitness trends is hooping—as in hula hooping—which you probably used to do as a kid.
SparkPeople alone has almost 600 hoopers in one
SparkTeam
, and the website hooping.org has nearly 8,000
registered members
. Celebrities rave about the benefits of hooping workouts, and actress Marissa Tomei even released a series of
hooping workout DVDs
through Gaiam in 2010.
With the popularity of hooping on the rise, we've received a lot of questions about how many calories it burns and whether hooping can actually take the place of more traditional workouts. There has been very little scientific research on this subject, but I always find that it's best to answer these questions not just with the research available, but also personal experience.
So I gathered several of my SparkPeople co-workers to investigate hooping firsthand. We took a class at
Shine Yoga Center
in Cincinnati, led by hooping instructor
Leslie Kreines
, and were joined by SparkPeople's most famous hooper, member Shelli (MOSTMOM1), who regularly
blogs about her hooping adventures
.
What did we discover?
Read More ›