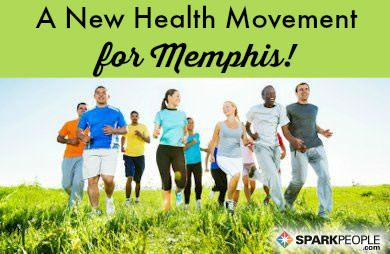 Here at SparkPeople, we love seeing other companies help communities reach healthy, positive goals—and Meta is doing just that! This summer, Metamucil® underwent an evolution to become part of a full line of wellness products called Meta, which aims to give people simple solutions to help them live their best, healthiest lives. The folks at Meta believe that making small, everyday changes can lead to long-term health and wellness results (a philosophy that mirrors our own). Now, Meta is challenging Americans in Memphis, TN—which is currently ranked as the unhealthiest city in the United States*--to make strides toward more healthful living, one step at a time. Memphis is up for the challenge, and the city is making better health more attainable for everyone with a year-long partnership with Meta and national sweepstakes** hosted on the
Meta Facebook page
.
Read More ›
Editor's Note: We had a chance to sit down and chat with former NFL football player and current television star, Michael Strahan, who was kind enough to share with us his tips on balancing fitness, nutrition and motivation while leading a busy life. We'll be sharing his best tips in this ongoing series, ''A Minute with Michael.''
Getting and staying motivated to reach goals, whether health-focused or otherwise, is a struggle for almost everyone. It can be all too easy to choose instant gratification and immediate comfort (like relaxing on the couch) over the choice that will make us happier in the long run (like hitting the gym). But guess what? You're not alone! Even the people who seem to have it all figured out have difficulty mustering up the motivation to stick to their long-term goals. The only difference is that they've found a system that works for them—and they make it a priority to stick to their own rules. Michael Strahan, television star and Pro Football Hall-of-Famer, knows all about keeping the eye on the prize in the face of temptation. Read on for Michael's advice on how to stay motivated when life has every intention of getting in the way.
Read More ›
These days, getting and staying healthy is becoming a bigger concern with diseases like obesity, diabetes and heart disease on the rise. But it can be hard to know where to start or who to ask for help beyond your primary care physician. Where do you turn when you just want someone to help you put together a plan to help you reach basic healthy lifestyle goals?
This is where Health Coaches come in! These professionals are fairly new faces in the healthcare world, but their impact has been growing rapidly.
Health Coaches
can help tailor a plan specific to your goals, whether you would like to lose weight or simply start building healthier habits. We've interviewed two Humana Health Coaches, Melina and Kristina, to give you a peek into the world of these professionals--and why you should consider giving Health Coaching a try to take your healthy lifestyle commitment to the next level.
Read More ›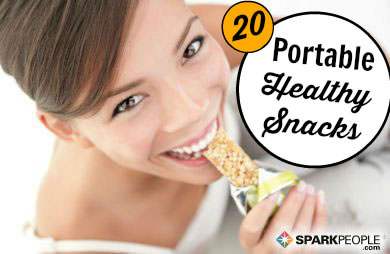 Editor's Note: We had a chance to sit down and chat with former NFL football player and current television star, Michael Strahan, who was kind enough to share with us his tips on balancing fitness, nutrition and motivation while leading a busy life. We'll be sharing his best tips in this ongoing series, "A Minute with Michael."
At SparkPeople, we believe that it's important to
keep healthy eating a priority
, especially if you're constantly on the go. Healthy food helps give you the boost of energy you need to help you feel your best and get through a demanding day. You might think you're too busy to consistently eat well, but it really is possible to fit in positive, impactful habits in minimal time. Take it from Michael Strahan, who always tries to make nutrition a priority--even in between endless travel and television appearances. When it comes to eating right, Michael says, "Preparation is key. Don't let yourself get caught without a healthy snack on hand. You never know when you might be stuck in traffic or held up at a meeting. When you're hungry, your mind is not in the mood to make good decisions. It wants to make the easy decision—and a lot of times, it ends up being something that's not great for you."
So, how do you avoid making that "easy" decision? Simple: Make eating healthy the easy decision! When you arm yourself with good-for-you snacks at all times, there's never an excuse to hit the drive-thru or office vending machine.
Read More ›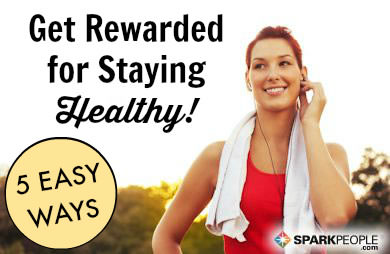 You know how health insurance works: You pay a premium, you pay a deductible and sometimes you also pay a copay. It can feel like a lot of paying, all told. But health insurance doesn't just have to cost you money. Health insurance companies have an interest in you staying healthy and preventing chronic illness, too. After all, someone who is healthy will end up living a longer, happier life--and spending much less on medical expenses.
While yesterday's insurers took a here-and-now approach, today's companies are offering a host of
health-promoting incentive programs
to help their members prevent and manage health conditions. These programs are painless and powerful motivators to keep up healthy habits. Every insurance company is different, but most of the time, all it takes is a quick, baseline assessment in which you create personal, measurable goals (like getting a check-up or tracking workouts), and you'll soon be earning rewards. These rewards most often consist of discounts or points toward the purchase of items or services (like exercise equipment, movie tickets, hotel stays and more) simply for doing basic health-related tasks. Here are some of the ways you could reap rewards from your insurance company (many of which you would probably do anyway!).
Read More ›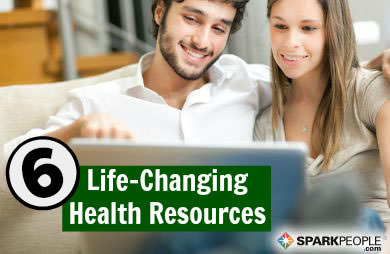 Getting motivated is tough, and staying motivated is health's million dollar question. You might be able to muster up the will to get to the gym a few times a week for a few weeks and then… nothing. Working out starts to feel like a slog. You fall back into your old TV habit and the next thing you know, you're back on the couch instead of taking that after-dinner walk or meeting a friend for tennis. Inspiration can be especially sparse if you're balancing a crazy work schedule, kids, aging parents, and everyday chores. But the good news is, there are now more motivational tools out there than ever to help you get (and stay) inspired to live a healthier life. One of the following helpful resources is bound to help you stick with your goals for the long haul!
Read More ›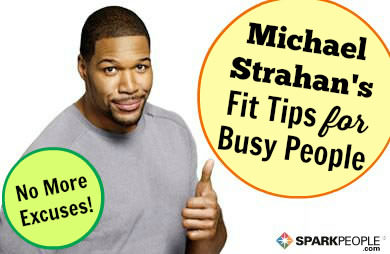 Editor's Note: We had a chance to sit down and chat with former NFL football player and current television star, Michael Strahan, who was kind enough to share with us his tips on balancing fitness, nutrition and motivation while leading a busy life. We'll be sharing his best tips in this ongoing series, "A Minute with Michael."
Between television appearances, media events, constant travel and time with his kids, Michael Strahan has a lot going on (to put it lightly!). But despite a jam-packed daily schedule, Michael knows that it's important to maintain a healthy lifestyle in order to keep up with it all. When we asked Michael how he manages to fit exercise into his full days, he had some great advice for us.
Read More ›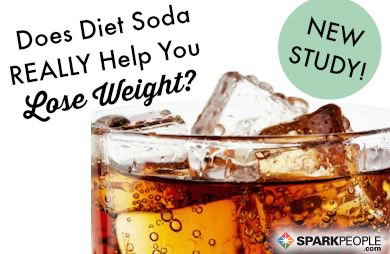 One of the questions that I am often asked by my patients at the Anschutz Center for Health and Wellness is this: ''Can I drink diet soda and still lose weight?'' The follow-up question is usually: ''Is it true that diet beverages can make me feel hungrier?''
That's when I know that they are seeing some of the same confusing headlines about diet beverages that I often see in the local and national news media, and even more frequently on the web.
What I love about my job is that I get to try to find answers to some of these puzzling nutrition questions. To that end, my colleagues and I just completed a study that asked the question: what effect do diet beverages have on weight loss? We were surprised by the answers, which makes me think that you may be, too.
Read More ›
If you've been in touch with diet trends over the past few years, chances are that you've heard of the Paleo diet. When you Google the word "Paleo" or "Paleo diet," you'll find thousands of blogs, recipes, articles and
best-selling nutrition books
. But what exactly is Paleo—and is its popularity warranted? Is it all hype and marketing, or is this truly the best diet to adopt for optimal human health? Let's take a look at what the evidence says.
Read More ›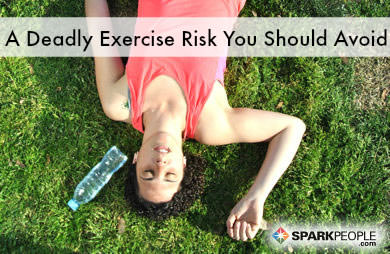 I thought I knew a thing or two about diet and exercise. For example, I knew how to do a squat, and that avoiding carbs altogether wasn't necessarily a wise thing to do.
Then I enrolled in personal training school and realized just how much I
didn't
know.
To be perfectly honest, I had never really given any thought to the subject of exercise
safety
– and it took getting a formal education to bring it to my awareness.
When you want to lose weight and get in shape, you focus on the important things: what foods to eat, which fitness program to follow and how to balance your calories in vs. calories out. Of course these factors are normal and helpful, but when it comes to exercise—an activity designed to bring you optimal health and well-being—there are hidden dangers lurking beneath the surface if you aren't paying attention.
Read More ›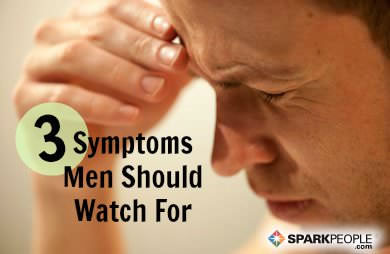 Your husband says he has a nagging pain below his ribs, chest tightness that won't quit or has simply been feeling sluggish lately, but doesn't feel like calling his doctor (or doesn't have one). Here are three symptoms he (and you) should take seriously.
Read More ›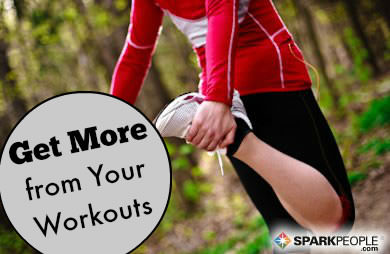 Whether you're a casual exerciser or an elite athlete, we've all been through workouts when our minds begin to interfere, preventing us from achieving our daily goals. In fact, research has proven that it's usually the mind—not the body—that fatigues first and stops us from reaching our full physical potential.
Even top Olympic athletes deal with mental distraction and fatigue during their training sessions. It is in these moments that they must learn how to effectively master their minds in order to sustain motivation, confidence, intensity, focus, and emotional control so that they can follow through on their pre-planned workouts and prepare for competition.
Read More ›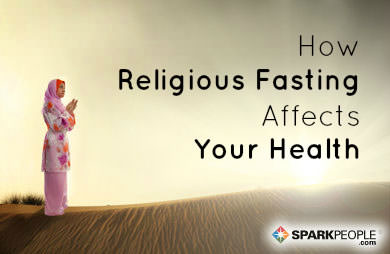 Many religions recommend fasting for both spiritual and/or health benefits. All religious fasts are different: Some restrict certain foods, while others only restrict the times of day in which one can eat. Few religious fasts involve a long-term or complete abstinence from food, but no matter what the nature of the fast is, you may wonder just how it really impacts your health.
Three religious fasts have been studied the most:
Islamic Ramadan: During the holy month of Ramadan, which varies according to the lunar calendar, Muslims abstain from eating or drinking from sunrise to sunset.
The 3 annual fasting periods for Greek Orthodox Christians: The Nativity Fast (40 days prior to Christmas), Lent (48 days prior to Easter), and The Assumption (15 days in August).
Biblical-Based Daniel Fast: This fast typically incorporates a 21-day fasting period.
Read on to find out how these fasts impact your health and weight-loss efforts.
Read More ›
For a healthy adult, eating more protein than
your recommended daily range
once a week or so won't have any major impact on your long-term health or weight loss (assuming you still eat approximately the same amount of calories for the day). Based on your food selections for that day, if you consume a larger-than-normal amount of protein you may notice:
A change in bowel habits in the next 24-48 hours (due to a lower fiber intake)
A sluggish or light-headed feeling (if you also ate very few carbs)
Some abdominal discomfort if your fat intake sky-rocketed
No noticeable changes at all
However, you may be wondering how a long-term high-protein diet affects your health in the long run...
Read More ›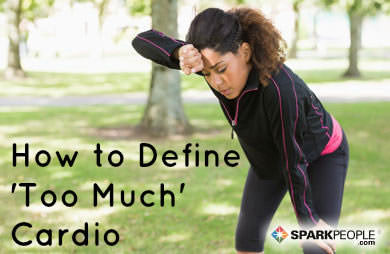 Aerobic exercise (think running, biking, and jumping rope) is good for your health, helps with weight loss and generally makes you feel good. But believe it or not, you can have too much of a good thing—even exercise. It's important to find the balance between challenging yourself, making exercise a regular part of your daily routine, and doing more harm than good. But where exactly is the line where a healthy amount becomes too much?
Read More ›
Read More Entries ›