Father's Day is quickly approaching, so you might be thinking about ways to recognize the special dad in your life. Fitness-related gifts can be a unique option to the traditional tie or coffee mug. Whether you have $1 or $100 (or more) to spend this year, consider getting dad something that he can enjoy while benefitting his health at the same time!
Read More ›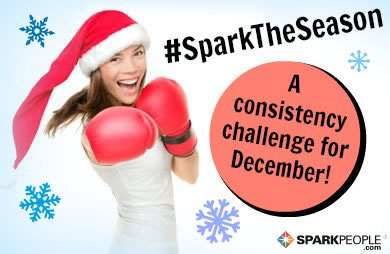 Thanksgiving is coming up in just a few short days, and you might still be participating in our November
#Fit2Feast challenge
(WooHoo!). We know that it's tough to stay motivated leading up to the holiday season, so congratulations for participating and making it this far already!
You might have made some good strides (hah!) with our November challenge, but we recognize that you're probably going to need some motivation to stay on track through the busy month of December—which can easily be the hardest month of the year to stick with a healthy eating and exercise program. There always seems to be an endless barrage of feasts, family gatherings and work parties to attend! However, we've seen time and again how just a little bit of accountability can go a long way, no matter what the time of year (yes, even in December). And that's why, by popular demand, we're hosting a challenge to get you through the bulk of the winter holiday season. Welcome to our
#SparkTheSeason
challenge!
Read More ›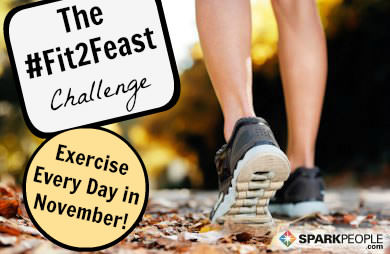 Halloween is just one week from today, and we all know what that means—the holiday season will be upon us before we know it. Unfortunately, the "most wonderful time of the year" also tends to be the most stressful time of the year for a lot of people; especially for those who are striving to lose weight or get fit. How do you avoid falling off the wagon during such a busy time full of food, friends and family obligations? Read More ›
July 4th may be synonymous with vacation, family time and cookouts, but one thing you should also squeeze in to your patriotic celebrations is a little exercise. Most of us have the day off from work, so take advantage of that extra time!
Here are some upbeat tunes that will fit into your workout playlist (or backyard party) on the Fourth.
Read More ›
As a chef, I love to entertain in our home--especially around the holidays when the house is decorated and we want to spend time with our family and friends.
As part of my schooling, we were taught how to entertain as part of our hospitality training. We learned to plan and pull off magnificent events without a drop of sweat.
You don't need to go to culinary school to learn the same skills. Go ahead and set the date--you'll be prepared! Just follow my tips below for a well-planned event, and you'll still be smiling at the end of the night while saying (and believing), "Well, that was fun. Let's do it again next year."
Make a party plan
!
Read More ›
For many of us, Christmas morning is a time to indulge in a big, leisurely breakfast that we normally wouldn't partake in on most other days of the year. But if you're not careful, a festive a.m. meal could cause you to blow through a day's worth of calories and fat before Christmas dinner! If you were to choose a special and indulgent holiday breakfast to keep you satisfied without stuffing you silly, which would you pick:
One medium-size iced cinnamon roll
, or a plate of
two fried eggs and two strips of bacon
?
Read More ›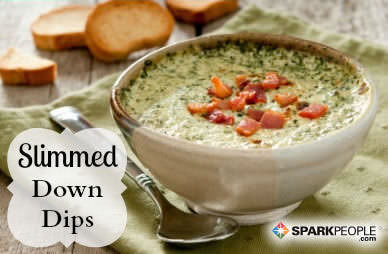 The holiday season has started and so have many fun gatherings and parties. Holiday festivities can be a time of nutritional temptation. Dips are an outstanding way to spice up a party. The bold flavors, creamy textures, and endless choices draw family and friends together for fun and conversation. At the same time, they are typically loaded with hidden calories, abundant sodium and saturated fat that are too difficult to resist and track. To prove that dips can be fun and flavor rich, we've chosen the top dips from SparkRecipes that substitute unhealthy ingredients with nutritional alternatives. Cut some fresh vegetables or whole-grain baked goods and bring one of these dips to your next party.
Read More ›
Thinking back to your childhood, what part of the holidays do you remember the most? Seeing people kiss under the mistletoe, sipping hot chocolate after an afternoon of sledding, or opening presents under a real tree? Heck no! It's the cookies your mom or grandmother made. The baked treats were so much a part of the holiday that my siblings actually bickered over who would get my mom's tins that she stored the baked goods in before the holiday.
Let's face it. The winter holidays are so stressful and busy. If we make a commitment to bake cookies we want it to be fun, we need the recipes to be simple, and most importantly outcomes to be successful. When you invest time and money into baking supplies for cookies, you want them to come out perfect, right?
Stress no more. I've answered all your baking questions below, pondered all the "what-ifs" when it comes to making cookies, and even provided you with a brand-new, healthier, no-fail holiday cookie recipe, too!
Read This before You Bake:
Read More ›
The holiday season has officially started, and you may have already noticed your fitness routine start to slip a little. To keep your motivation high in the crazy days ahead, we've created this fun, calorie-blasting cardio and strength circuit workout. The 12 moves in this routine don't require any sort of equipment, so you can do them anywhere. (No more excuses for skipping out on exercise during holiday travels!) Plus, did we mention that it's FUN? This workout constantly switches from one move to the next, so you never have time to get bored.
Read More ›
Now that the
Pumpkin Spice Latte
craze has passed, Starbucks has rolled out a new set of
hot drinks for the winter season
. With enticing names like
Gingerbread, Eggnog, Caramel Brulee
, and
Peppermint Mocha
, these sweet sips sound like a fun way to kick off the holidays. But not so fast! If you're going to indulge,
which one of these drinks should you choose to avoid extra pounds
?
Read More ›
Thanksgiving is a time for family, gratitude, and, of course, food. According to the
Calorie Control Council
, the average American eats more than 4,500 calories and 229 grams of fat on Thanksgiving Day. This includes nearly 1,500 calories consumed from appetizers, chips and dip, and drinks before sitting down to the dinner table for the annual feast.
If you're trying to lead a healthier lifestyle during this time of year, those statistics can be a little hard to swallow. But don't panic! We have plenty of
holiday survival strategies
to keep you on track with your health goals. Here are some useful tips and ideas to help you enjoy a full Thanksgiving that's trim--but not missing any of the trimmings.
Read More ›
Thanksgiving is a time to follow family traditions, from baking Grandma's classic pie recipe to watching the Macy's Thanksgiving Day Parade. Unfortunately though, those traditions often revolve a lot around food--and not at all around being active. I know that was the case for me as I grew up, and I've seen the same trend with other families as well. Over the years, I have tossed out some of those old and unhealthy traditions that I grew up with and have started up healthier traditions with my own family. It's completely possible to still be festive while making healthier choices—plus, I don't regret my decisions later!
One of my favorite traditions that I have adopted in recent years is Coach Nicole's idea of ''
moving my feet before I eat
.'' Whether it is getting out for a walk or playing with my dogs, I make sure to get some physical activity in during the big day. This is not only a great way for me to stay on track with my fitness goals during the holiday, but it's also a wonderful way to spend time with my family--and include them in my healthy lifestyle!
This year, I encourage you to take the spotlight off the fattening feast, and focus on what
really
matters--bonding with your family. Create your own healthier holiday traditions with these ideas.
Read More ›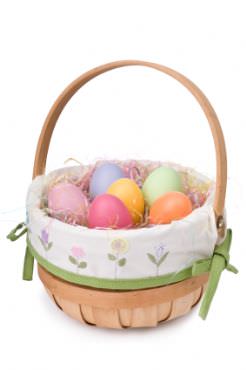 I know. My headline was a slightly cheesy (eggy?).
Still, are you up to your eyeballs with extra eggs? Does your egg cup runneth over?
If you've a dozen dolled-up eggs in the fridge, do you know what you're going to do with them? Egg salad and deviled eggs are tasty but mundane.
I've compiled an egg-cellent (sorry, last lame pun, I promise!) list of egg resources, with everything from recipes to egg carton decoders and even how to tell if you're eggs have gone bad.
Read More ›
Why not give the gift of fitness this year? Here are my top 10 picks for every budget. Whether you need ideas for friends and loved ones or want to add to your own wish list, there is something for every exercise enthusiast!
Read More ›