All Entries For
holiday giveaway
This giveaway is now closed. The winners are:
TANSYGAL
HEATHERSTHPW68
DERBENZAC
It's a brand new year and there's no time like the present to get started on your health and fitness goals for 2014! This giveaway is designed to help you do just that with books, DVDs and a T-shirt from SparkPeople to inspire you. There will be three lucky winners this week.
Read More ›
This giveaway is now closed. The winners are:
MUFFY57
ANDREAXKIEFER
ELDORADO2
Now that the holidays are starting to wind down, everybody's thinking about making more time for exercise. But since the weather is only getting colder, an indoor workout is a must. Which brings us to this week's giveaway: an awesome DVD kit featuring fast, effective workouts from
10 Minute Solution
. We'll be choosing THREE winners this week!
The winners are:
GABY1948
CLAYRATHKE
MARYBETH4884

This giveaway is now closed.
We're choosing three winners for this week's giveaway from
Me & The Girls
. Their organic beauty products are the perfect way to protect your skin from the harsh winter weather. Don't miss this opportunity to pamper yourself!
This giveaway is now closed. The winners are:
GREENIEONE
333333333
BS76058
Have the holiday parties started yet? I've already got a couple of invites and I'm looking forward to celebrating with my friends and family. But I know if I want to have a few extra treats this season, I'll need to make sure to keep up with my normal exercise routine. Even if you don't have time to make it to the gym, you can torch major calories with this week's DVD giveaway from
Billy Blanks
, which will have THREE winners!
The winner is KAMCCLARY. This giveaway is now closed.
You're probably in full-on holiday shopping mode by now, but don't forget yourself during this busy season. Take a few seconds to enter this week's giveaway from our friends at
Live Well 360
. One winner will get to choose from their three popular gym bags, which are all amazing and sure to make taking your workout gear with you so much easier!
This giveaway is now closed. The winners are:

GBPIANO8
DALADYD
DRSTACY2016

Congratulations!
Can you believe the holidays are here again? We're already getting a little excited at the SparkPeople offices. (I've been listening to Christmas music since November 1. Don't judge!) The holidays are a really fun time around here—we usually have a ''Secret Santa'' exchange, informal get-togethers and a hefty dose of holiday pranks. This year, we want to share our joy of the season with YOU by hosting a special 8-week holiday giveaway series! Every Friday for the next eight weeks, we will be giving away a product to help support you on your journey to a healthier life. Consider it our holiday gift to you!
Read More ›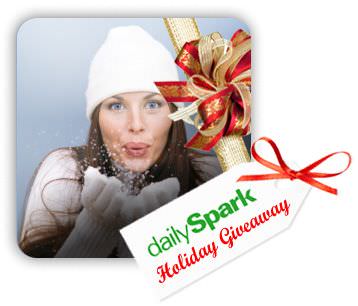 Greetings, dailySpark readers new and old. It's January 4, which means that the Resolutioners have arrived. Welcome, fledgling SparkPeople members!
To celebrate this first week of 2010 and the successful, healthy end of 2009, we're pleased to host one final contest as part of the
dailySpark Holiday Giveaway
. Since November, we have given away prizes to help you along your journey to a healthier you!
This week's prize is definitely the best one, in my opinion. In fact, I wish I could keep it for myself! I'll just have to put on my birthday or holiday wish list for next year.
It's THE hottest gift in the running and walking world, and the gift of the season for healthy people. It will help you when you're lost, keep you on the right path and track your pace. It's…
Read More ›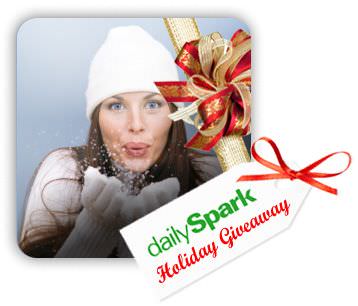 Welcome to week 5 of the SparkPeople Holiday Giveaway! Music
makes exercise more pleasurable
. For most of us, a long run, a Spinning class or a Pilates workout wouldn't be complete without a soundtrack.
That's why we're giving away three iPod Nanos! But, wait, there's more…
Read More ›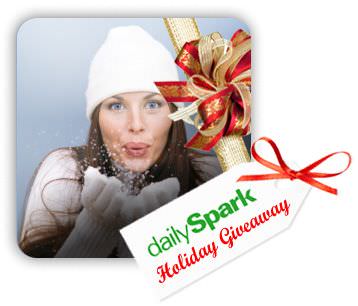 Today we kick off week 3 of the dailySpark Holiday Giveaway. We've already given away two great prizes:
customized cereal capsules
from [me] & goji and
SparkPeople apparel
.
This week we're giving away
3 Timex T5G971 Unisex Sports Personal Heart Rate Monitor Watches
!
Heart-rate monitors
are like a speedometer for your heart. They'll help you know when you're speeding and when you need to give it some gas during a workout. Touted by Consumer Reports as a great buy, this model is pretty slick. We're giving away three of them!
Read More ›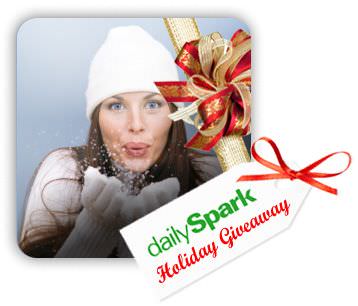 Last Monday,
we kicked off
the second-annual
dailySpark Holiday Giveaway
.
Our first prize was a set of 5 customized cereal capsules from
[me] & goji
. Last week, our prize got you off to a good start, with a hearty and healthy breakfast. This week, our
FOUR
prizes will keep you warm and toasty, and cool and happy during and after your workouts.
Keep reading for more info!
Read More ›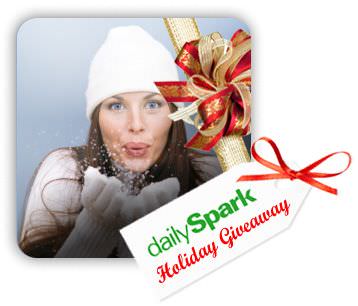 This job comes with many cool perks: not getting in trouble at work for spending time on SparkPeople, doing the Hundred Pushups Challenge during breaks (yep, we're doing it. I'll let you know how it goes), and sharing the inspirational Success Stories of our members.
But this time of year, I have another perk:
organizing the dailySpark Holiday Giveaway.
Without you, there would be no dailySpark, so as a way to say thank you for all of your support and encouragement, we're proudly announcing our second-annual dailySpark Holiday Giveaway. What are we giving away? That's a surprise! But I can tell you the prizes are pretty awesome. (Want to know what we gave away last year? Click
here
.)
Today marks the first giveaway. Each Monday from now until Jan. 4, 2010, we will be giving away various prizes to help you along your journey to a healthier you.
So what is the first prize? I'll give you a hint: It's crunchy, chewy, sweet and tasty, comes in a canister and is quite fond of cold milk! Give up? Then keep reading to find out.
Read More ›
This contest has closed, and the winner has been contacted. Thank you for entering!
Last Friday, we ended our dailySpark Holiday Giveaway after seven weeks, 20 winners and tens of thousands of entries.
Well, guess what? To celebrate the healthy lifestyles that so many SparkPeople members are adopting and maintaining in '09, Santa emptied out his bag and found one more gift package: A
Sony
camcorder package valued at $1,250!
Read More ›
Happy New Year, dailySpark readers! Thanks so much for making our Hoiday Giveaway a huge success. We had 8,348 valid entries, and plenty of great tips on how your combine fun and fitness.
So who won the grand prize, a Nintendo Wii and Wii Fit?
Read More ›
Thank you for entering the dailySpark Holiday Giveaway. The contests are now closed.
Read More ›
Good morning, dailySpark readers! Thank you so much for entering this week's contest. We had 2,939 valid entries!
And now...
Read More ›
Read More Entries ›