All Entries For
home workouts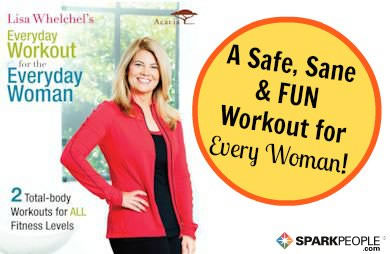 Is it just us, or are workouts getting more and more intense lately? It seems like you can't turn on the TV or open a magazine without hearing about the latest ''extreme'' workout fad that promises to get you six-pack abs and boundless energy. Although those type of workouts might appeal to some people, they're definitely not for everyone. What ever happened to sane, safe exercise programs for the average person just trying to stay healthy and fit?
Enter
Lisa Whelchel's Everyday Workout for the Everyday Woman
. Lisa Whelchel is a busy mom of three, an author, motivational speaker, and former TV star from
The Facts of Life.
As an average woman who struggles to fit exercise into her busy days, Lisa's DVD is a breath of fresh air for any woman trying to start a reasonable and sustainable fitness routine—or for any woman who just wants to mix things up a bit! You can learn more about what to expect from the DVD in the YouTube video below:
Read More ›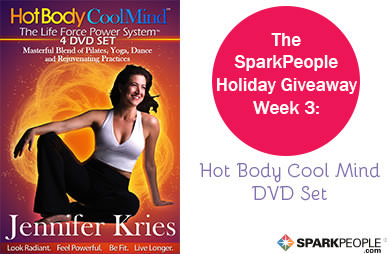 Even though we're still full of turkey, we're super excited to announce this week's giveaway from
Jennifer Kries
, which will have THREE winners. Take a break from your holiday shopping to enter!
High intensity interval training
(aka H.I.I.T.) doesn't always have to be high impact! This workout is perfect for maximizing your cardio time--without pounding your joints. (Oh, and did I mention it's free of both burpees and squat thrusts? Score!)
Join me for this
low-impact
, high-intensity cardio routine that can be done easily in a small space with zero equipment. (No jumping means it's perfect for hotel rooms and apartments, too!)
Read More ›
Tired of the same old exercises? Are curls, raises, rows and squats no longer doing it for you? Fret not, fearless exerciser, for we have a fun workout that will change all of that!
These seven exercises require a little imagination but otherwise no equipment at all. You can do them outdoors, inside a tiny apartment or even on an empty soccer field. As a bonus, this is a workout that your kids will LOVE to do with you—because it feels more like play than exercise. So if you're a mom or dad who needs to squeeze in exercise on top of childcare responsibilities, this is a win-win-win. (The extra "win" is because your little one will become your accountability partner and will ask to do the whole routine with you again and again!)
Read More ›
Walking workouts are convenient, easy to do, and so great for your health (and your waistline!). But walking indoors can get a little repetitive sometimes, and since my Mom and I both love Zumba, we thought it might be fun to infuse some of the Latin-inspired dance movements into a walking-based workout! So if you're looking for a way to spice up your walking routine, try joining us for this fun, easy to follow, low impact dance walk that's appropriate for all fitness levels.
Working on a carpeted surface? Try this workout barefoot and/or modify some of the twisting-type movements to help protect your knees.
Read More ›
You already know some of the
amazing benefits of walking
: It's good for your heart, great for your bones and perfect for weight control), but some days the weather outside can be frightful, and the treadmill can be well, less than delightful.
If you are in need of an indoor walking buddy today, join me for this full length, low-impact workout you can follow along with at home! This 30-minute power walk is easy to follow, fun to do, and it doesn't require much space to move around. Plus, it's appropriate for all fitness levels.
Read More ›
Looking for more exercise resources and workouts? YouTube is a great source for fitness--but with so many options available, it can be overwhelming to figure out which ones to follow! Of course, I am a huge fan of
SparkPeople's channel
, where Coach Nicole has created a wide variety of different workouts for various levels of exercisers. But since I figure you are all already familiar with
SparkPeople's videos
, here are some more of my favorite YouTube channels (by category) for fitness workouts and why they're worth checking out. READ MORE
If you are interested in:
Beginner-Focused Workouts
Try:
Fitness Blender
While they offer a wide variety of different workouts for all levels, Fitness Blender has a nice library of beginner focused low impact sessions that are just right for someone starting an exercise plan. (You can check out their
low impact/beginner workout playlist
here). On screen cues help you remember the moves (there's even an 'up next' cue that previews each coming move for you in the left corner of the screen) making it easy to follow along. There's no music (each video offers an instructors guidance) so you can easily play your own music along with the videos if you like to groove while you sweat.
If you are interested in:
Tough, Hardcore Workouts
Try:
Turbulence Training
Certified trainer Craig Ballantyne, creator of Turbulence Trainin--a specific type of metabolic conditioning training designed for peak fat loss--offers some great full-length hardcore workouts on his channel. I prefer his routines to some of the other more popular "hardcore" workout channels out there because Ballantyne really knows his stuff and explains the how and why behind his exercise selection well, which is really important for safety when it comes to high intensity routines. If you like to work hard and push yourself to your limits, then check out his channel!
Read More ›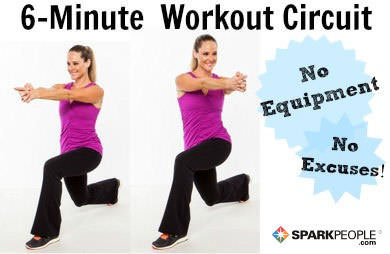 Hey, we're all busy. But that's no reason to let your workouts get away from you. Next time you feel like skimping on exercise to watch TV or meet your friends for Happy Hour remember this: It doesn't take much to get a great workout.
That's why I designed this excuse-proof workout. You can do this simple, 6-minute circuit anytime (it's whisper quiet), anywhere (no gym required) and without any equipment. All that and it'll sculpt your body from head to toe, too.
Read More ›
There's no need for special equipment for a great workout! A good old beach towel can be just as effective at working your muscles as dumbbells, resistance bands or expensive machines. Want proof? Meet "The Towel Workout."
All of these moves can be done with just a towel, which is great because you'll probably need it to wipe up your sweat after you are done.
Read More ›
A few weeks ago I was reading through the message boards when I came across a post from Chris 'SparkGuy' Downie to a member who was asking about what type of strength training activities he could do without access to a gym or weight training equipment. Chris did not let that deter him from offering some great recommendations of performing body-weight exercises--exercises such as push-ups and squats which can be done at home or when traveling when access to resistant training equipment is not at your disposal.
This gave me the idea to link examples of body-weight exercises for you to refer to as the busy holiday travel season rolls around. Hopefully you will can take this with you when traveling and access to weights or machines is not an option.
Read More ›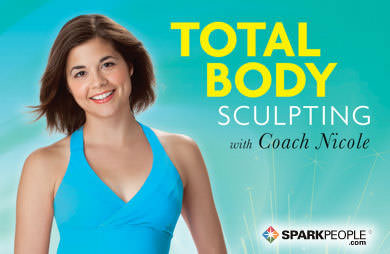 I don't have kids yet, but I've heard (and mostly believe) that when you become a parent, you never love anything in the world more than your own child(ren). You will think they're smart and beautiful and amazing little creatures—because they're yours. And if you've ever worked on something with so much passion and time and energy that you thought of it as your "baby"—whether "it" is a thesis, a cause, or even a work project—you've probably felt something similar.
My latest "babies" have been the
workout DVDs I've created for SparkPeople
. The process of
creating a workout DVD
is no small feat. Like any project, it becomes a labor of love. It keeps you up at night. It stresses you out at times. It takes a lot of your energy and focus. It becomes a priority above all else and even an obsession. It makes you question yourself and your decisions. But if you're lucky, it grows into something that fills you with love and a sense of pride. After all, it's your baby!
I can say truthfully that I love my
Total Body Sculpting DVD
for all of these reasons. I'm proud of it and I was integral in every aspect of it, from its conception to its "birth" into the world. But like any parent who thinks their child is great, sure…maybe I'm a little biased. While I love the DVD and think it's relevant and amazing, I can't hold onto this little baby forever. Ultimately, I had to send it off into the world, hoping that everything I did to nurture it paid off—and that others received it with open arms and treat it well.
Read More ›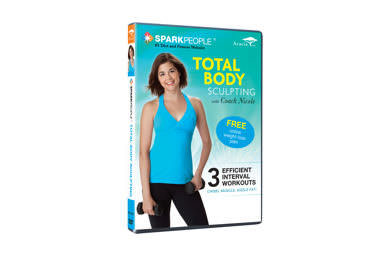 It's here! It's finally here!
I am so excited to officially announce the nationwide release of SparkPeople's newest workout DVD
Total Body Sculpting
, which is now available at a variety of retail stores and websites, including Target, Sam's Club, Barnes & Noble as well as amazon.com, collagevideo.com and bestbuy.com (among others).
I designed this DVD with my favorite multi-tasking moves to help you get great results in as little as 20 minutes a day. No matter what your level, it is perfect for anyone with a New Year's resolution to get fit or lose weight. These never-before-seen workouts feature 100% all-new exercises that you won't find in our existing
video library
! The DVD includes three full-body, fat-torching routines (just 20 minutes each) that show three intensity levels for beginner, intermediate and advanced exercisers.
Want to learn more about the workout segments and
two great deals you can take advantage of right now
?
Read More ›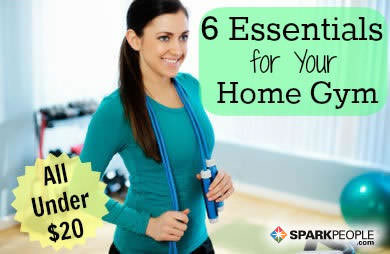 If you've seen enough infomercials in your time, it's easy to get convinced that you need to buy
the latest and greatest in exercise gadgets
or gizmos in order to reach your fitness goals.
The truth is, there's no need to spend a ton of money on fancy equipment or even a gym membership to get in a good workout. In fact, many great workout routines
don't need any equipment at all
. But if you are looking to invest in a few pieces to help you get fit in 2013, there are a few, inexpensive items I'd recommend.
As a personal trainer, I actually train
all
of my clients at home using these six essential items (and they're each cost less than $20).
Read More ›
I was not blessed with natural flexibility. Unless I stretch on a regular basis, I have no hope of reaching down and touching my toes. My tendency to skip stretching after runs (I know, shame on me) has come back to bite me in the past. I've had a few running injuries that could easily have been avoided, had I been stretching on a regular basis. Therefore, this blog is for both you and me. Maybe it will give both of us a new stretching routine to add to our regular workouts, and if it only takes 5 minutes, it's a short amount of time that's well-spent.
Read More ›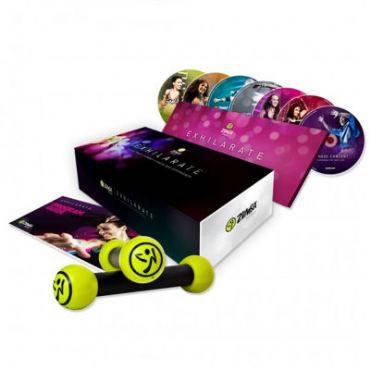 I remember the first Zumba class I ever set foot in at my university's recreation center. The instructor was so full of energy that it made me a little uncomfortable, and the room was jam-packed with girls (and a few guys!) shaking their hips and laughing over pulsing Latin and hip-hop beats. When the first song started, I anxiously wondered what I had gotten myself into and thought about planning an exit strategy. But when the class ended, I was drenched in sweat and grinning like an idiot, in disbelief that an hour had just flown by. After years of being a slave to the elliptical machine, I walked out of that class feeling like I had just had a major fitness revelation:
Working out could be both productive and fun
! Some people feel this way about running, or lifting weights, or yoga. For me, at that time, Zumba was
my thing
. It was the spark that made me start to view exercise as a hobby rather than a chore, and I credit it for helping me to see the fun in other forms of fitness over time.
Since that class five years ago, I've taken Zumba more times than I can count, with about a dozen different instructors. I've taken some amazing classes, some sub-par classes, and some downright miserable classes (FYI: if you try Zumba for the first time and hate it,
take it again with another instructor
. It makes all the difference!). I thought I had experienced all of the possible facets of Zumba—until Zumba sent us a free Zumba Fitness Exhilarate DVD set to review and Coach Nicole let me do the honors.
The Zumba DVD experience is definitely a different animal. I was a little hesitant at first, unsure of how a live class would translate into a home DVD format. So did Zumba's at-home DVDs deliver the same fun and intensity as my classes? Did I really burn 1,000 calories per hour like their commercials claimed I could?
Read More ›
Read More Entries ›