All Entries For
in the news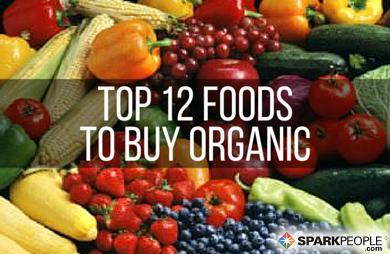 We often hear that organic produce is "cleaner" than conventional (non-organic) produce and free of pesticides; however, organic remains more expensive and isn't available everywhere.
Which conventional fruits and vegetables contain more pesticide residue? Which ones have the least?
The Environmental Working Group (EWG) recently completed an analysis of conventional produce to measure pesticide residue levels. Based on the results of almost 34,000 samples taken by the U.S. Department of Agriculture and federal Food and Drug Administration. Samples were tested after being washed or peeled, to mimic what consumers would do. Therefore, unwashed and unpeeled produce would likely contain even more concentrations of pesticide residues.
Eating the twelve most contaminated fruits and vegetables, referred to as "The Dirty Dozen," exposes the average person to about 15 different pesticides each day, while someone eating the least contaminated will be exposed to fewer than two pesticides each day. (To see the full list, go
here
).
The Dirty Dozen: Top 12 Foods to Buy Organic
If you have budget constraints, your money is doing more for your health when you put it towards organic varieties of the following fruits and vegetables (listed in descending order, starting with greatest levels pesticide contamination):
1. Apples
2. Peaches
3. Nectarines
4. Strawberries
5. Grapes
6. Celery
7. Spinach
8. Sweet Bell Peppers
9. Cucumbers
10. Cherry Tomatoes
11. Imported Snap Peas
12. Potatoes
The Clean 15: Save Your Money & Buy Conventional
If going totally organic is too difficult or pricey, play it safe and eat the following conventional produce items to minimize your exposure. These are known to have the least amount of pesticide residue (listed in ascending order, starting with of lowest levels of pesticide contamination):
1. Avocados
2. Sweet corn
3. Pineapples
4. Cabbage
5. Frozen sweet peas
6. Onions
7. Asparagus
8. Mangoes
9. Papayas
10. Kiwis
11. Eggplant
12. Grapefruit
13. Cantalope
14. Cauliflower
15. Sweet potatoes
To see receive a PDF version of the guides, you can sign up for the EWG's newsletter
here
).
When eating conventional foods, be certain to peel away edible skins and outer leaves (such as those on lettuce) as pesticides are often concentrated there. Remember to wash all produce (conventional and organic) thoroughly with a natural fruit and vegetable cleanser. Peeling and washing can help reduce (not eliminate) pesticide exposure, but also results in the loss of valuable vitamins and nutrients (like fiber). When you have the choice between an organic item and one that's conventionally grown, choose organic as much as possible.
For more information on eating organic foods on a budget, read
this article
.
I keep a copy of this list on a note in my phone, and I consult it when I go to the grocery store.
Do you have "priorities" when buying organic? Do you follow this list?
Last updated in September 2015
Read More ›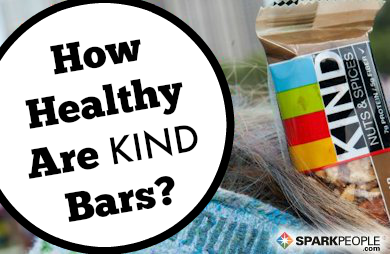 Read More ›
People
magazine has just released a new "Half Their Size" issue, and this one is bigger and better than ever. The entire publication is dedicated to weight loss and featured some amazing success stories along with various diet plans, workout plans and healthy recipes for ideas and inspiration.
We are thrilled to announce that a long-time SparkPeople member, Brandy (
BBANGEL1214
), is featured in the issue. Brandy credits the supportive online Community at SparkPeople as making a big difference in her 177-pound weight loss. Way to go, Brandy!
We recently caught up with Brandy to celebrate her magazine debut. Here's what shared some tips from her journey to losing more than half her weight.
Read More ›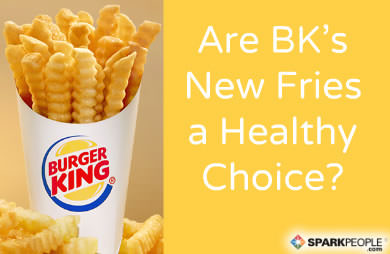 A few weeks ago, Burger King started heavily promoting its latest menu offering called
Satisfries
, which are formulated to have 40% less fat than the leading fast food French fry (from McDonald's). We decided to try the fries, than take a close look at the ingredients and nutrition facts to discover whether these fries are as healthy as they seem.
Read More ›
It may have taken her five tries and 35 years, but 64-year-old
Diana Nyad
never gave up on her goal and her dream of swimming the 103 miles of Florida Straits, from Cuba to Florida, without a shark cage.
She tried to make the swim the first time in 1978 but wasn't successful, so she moved on with her life and pursued other interests. However, after turning 60 and losing her mother, the dream came alive again, as she explains in this TED talk from October 2011.
Read More ›
Yesterday, at their annual meeting, the American Medical Association decided to
classify obesity as a disease
. They hope this change will help doctors to better treat the complex condition and aid in the fight against type 2 diabetes and heart disease. While
The New York Times
reports that the AMA's decision has no legal authority, some medical professionals think the outcome will result in sweeping changes.
I don't know about you, but for the past several years clothes shopping has become more of a headache than the nice enjoyable activity it once was. Sadly, for me the fun is long gone and is replaced with countless hours of frustrations. There was once a time I could go into any store, pick something right off the rack, make a purchase and go home. But not today. That would be too easy.
Like a hunter searching for his prey, I head out early in the morning just as the stores are opening while I still have the energy for what I presume to be a day long mission. After trying pants after pants, hour after hour, store after store, I find myself literally worn out heading home more times than not dejected and empty handed.
While the styles and trends do count for many of my frustrations--I am not a BIG fan of the low rise trend--just finding a size has become a chore. In one store I can easily be a size 4, in another a size 6, and yet another I could wear a size 8. And let's not even talk about online purchases without knowing beforehand my size in a store. Why is that?
Well the answer lies within a sales tactic that clothing manufacturers discreetly call
vanity sizing.
Read More ›
A recent study published in the April 2013 issue of the International Journal of Obesity examined whether people would lose more weight on their own (sticking to a prescribed calorie goal) or by eating pre-packaged diet foods that totaled the same number of daily calories. The story was picked up by news outlets with eye-catching headlines like "Packaged diet foods may spur more weight loss," (Reuters).
Sounds pretty good, right? We thought so, too. So we dug a little deeper to bring out the real truth.
Read More ›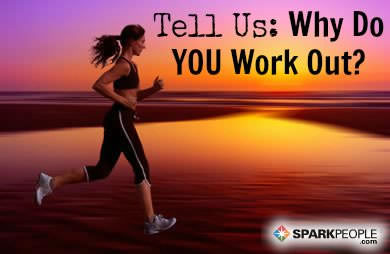 It's no secret that there are many people who don't like to exercise for one reason or another, but at the same time, there are many others that really enjoy it. Why is there such a love it or hate it attitude towards exercise? There are numerous answers to that question and some might say that they had a really bad past experience, they find it boring and haven't found something that is enjoyable, or they may not see the instant gratification (weight loss) that they are looking for when it comes to exercise. As many of you know, what motivates one person to do something may not work for the next person.
Read More ›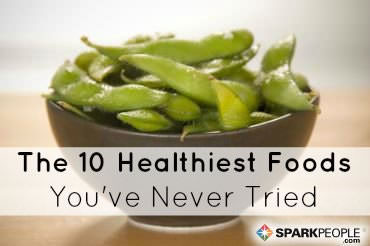 I recently saw a list of the 10 Healthiest Foods You've Never Tried. I pride myself on being an adventurous (mostly vegetarian) eater. When I saw the list, I was excited to see how many I'd eaten.
How many have you eaten?
Read More ›
Our daughter spent this past summer serving customers at our local McDonald's. She observed many patrons trying to make healthier choices by selecting
oatmeal for breakfast
or skipping the fries at dinner. During her work, she helped McDonald's highlight lower calories options as she promoted options from their new
Favorites Under 400 menu
.
To demonstrate their commitment to improved nutrition, McDonald's has published a
nutrition progress report
for the first time. Now McDonald's has taken another step in information sharing. Learn about important tidbits of information that can help make nutrient wise selections even easier next time you are selecting
Food on the Run
.
Read More ›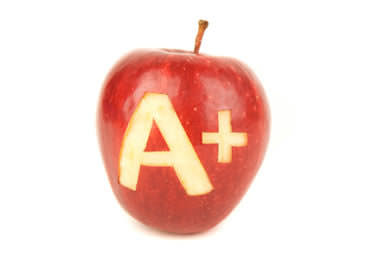 As you know, earlier this year First Lady Michelle Obama and Agriculture Secretary Tom Vilsack announced the new
National School Lunch Program
nutrition standards. Since more students eat school lunch compared to school breakfast, schools first started to implement
the new standards
with school lunches.
Perhaps your family has incorporated
tips that help you pack a nutrient-rich lunch
for your children to take to school. Hopefully you have found
a month worth of fun and healthy lunch
ideas your children enjoy to help
take the hassle out of packing school lunches
. However, if you have a teenager like mine who doesn't want anything to do with packed lunches anymore, selecting a school lunch may be part of his or her daily routine.
It seems many school districts did
major overhauls of their school lunch menu offerings
over the summer to improve the nutritional quality offered to students this school year. I know there are many new changes in our son's school. Here is a sample of the types of new school lunch offerings popping up in school districts around the country.
Read More ›
Over the years as technology has advanced and made it easier for us to sit more throughout the day, humans in general have become less active. This continued inactivity has lead to
increasing obesity trends
, along with other ailments such as diabetes, heart disease, high blood pressure, etc. Like I mentioned in a
previous blog
, "many people might find that they spend 8+ hours sitting at work and then come home and sit some more, whether it is to watch TV or for some other sedentary activity."
Read More ›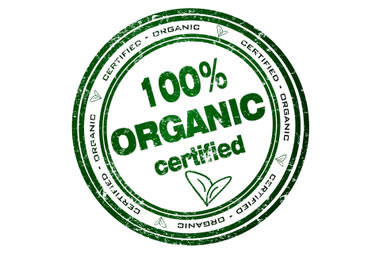 It's been all over the news this week: A
new study
conducted by researchers from Stanford University, and published in the
Annals of Internal Medicine,
finds little evidence that organic foods are any healthier than conventionally grown foods.
If you've been shelling out the extra cash for organic (which does cost more than conventional in most cases), you may feel as if you've been duped!
Before you wallow in all of your wasted dollars, let's stop and think: Could this really be true?
Don't put those pesticide-free carrots back on the shelf just yet! Like any study, it's important to read past the attention-grabbing news headlines and think critically about the information being presented. If you ask me, this study (and its news coverage) is questionable.
Read More ›
According to the
Centers for Disease Control (CDC)
, adult obesity rates have doubled over the past two decades. With
more than one-third of U.S. adults
(35.7%) being classified as obese, the
nutritional state of our nation
is not strong.
The Center for Disease Control (CDC) has released new information for
self –reported obesity rates among states
. Colorado (20.7%) wins the prize for the state with the lowest prevalence of obesity while Mississippi (34.9%) has the highest. Overall, adult obesity prevalence across the U.S. in 2011 continues to vary by region. The South has the highest percentage of obesity prevalence (29.5%) while the Western part of the nation has the lowest (24.3%) prevalence. See if your state made the healthiest or the heaviest top 10 list.
Read More ›
Read More Entries ›