All Entries For
learn to love
I spent most of my early and mid 20s working the second shift at newspapers. I loved working as a copy editor, and I loved the hours, too. My shifts began at 4 p.m. and ended at midnight, which meant I could stay up late, sleep until noon, and still have time to run errands and go to the gym (a rare occurrence then) before work.
Eventually I joined the 9-to-6 crowd, and it was tough. I did not like mornings.
Fast-forward to last fall, when my yoga studio announced it was adding traditional sunrise morning practice to the schedule during the week. Though I now love my morning practice and wouldn't return to evening sessions, it was not an easy transition. I am not a morning person by nature, but I have become one by necessity.
Life is more likely to interfere when I schedule yoga practices at night. I'm too tired, too stressed, too busy. I have time to formulate all kinds of excuses. But when the alarm goes off at 5:30 each morning, I have no excuse. When I don't want to get out of bed (and who does on a cold winter morning?), I ask myself: What else would you be doing at this time? The answer (aside from sleeping): Nothing. So I get up.
By 9 a.m. I have put in almost two hours on the mat, showered, spent time with my cats, and started my workday. Whereas before I had a hard time getting motivated first thing in the morning, now I dive head-first into the day. Even my work schedule has changed. I save less-intense work for afternoon and choose to work on larger projects first. I feel so much better--more energized and accomplished. I know that morning workouts are worth it!
Those first few weeks were tough. I was exhausted by 9 p.m., falling asleep as soon as my head hit the pillow, and I dreaded the alarm clock each morning. I "accidentally" slept through it or hit snooze more than a few times. Within two months, my entire schedule changed.
Here's how I adjusted:
Read More ›
When I first set out
to lose weight
, I didn't know much about exercise. I had spent most of my teen years and early 20s finding ways to avoid exercise, instead choosing to control my weight by restricting calories and other, unhealthy methods. I thought sweating was gross, running made my lungs burn, and I didn't like sports.
So I walked. At first just the two miles home from work, then to work, then longer routes… it felt good to move, then time outside allowed me to clear my mind, and the weight did start to come off. Eventually I joined a gym and started integrating different cardio into my workouts, usually the elliptical. Cardio back then was just something I did to burn calories, not something I particularly enjoyed.
It wasn't until I joined SparkPeople as a member and an employee that I found my two primary forms of cardio: running and Spinning. I love challenging myself in a tough Spinning class, adding resistance until my legs burn and pushing myself to complete the sprints, jumps, and other killer moves. (That Coach Nicole is one tough Spinning teacher! She loves jumps on the bike!) And running gives me time to think, or not think. It's a moving meditation for me, and it allows me to shed stress while getting a great workout.
Read More ›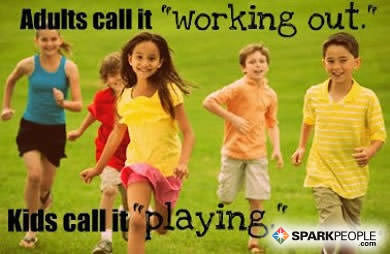 Not everyone enjoys exercising, but it doesn't have to be that way. You CAN learn to love exercise! I know some of you may be thinking to yourself that I'm crazy and that there is no way that you will ever learn to love exercise, but it really can happen.
For anyone who knew me before joining SparkPeople and going on my journey to better health, they probably would have told you that I didn't like exercise. Back then they would have been right, but I have changed that mindset. Now I honestly can say that I enjoy exercising. But how did I change my dislike for exercise? Well, what worked for me was trying various exercises and activities until I found what I liked to do. If you find something that you enjoy doing, or at least that you don't mind doing, then you are more likely to start to enjoy exercise and look forward to it. Any time I hear anyone say that they don't like to exercise, I always recommend they try a new exercise or activity. That usually helps them enjoy working out and sometimes even love exercising.

Read More ›
While there are no magic pills or quick fixes when it comes to weight loss, there are plenty of tips and tricks that can help you commit to a healthy lifestyle. SparkPeople members know what works, so we reached out to our most successful members--those who reached their goal weight or lost more than 100 pounds using our program. We discovered 27 "secrets" of success, which we shared in
The Spark
. Now we're sharing them with you.
Secret #5: Eat more fruits and veggies.
Read More ›
In my free time, I like to read healthy living blogs, and one of my favorites is
Healthy Tipping Point
, which is written by Caitlin, who also writes
OperationBeautiful.com
. Caitlin is a vegetarian who eats very balanced meals, so I was surprised to learn that she didn't really
love


vegetables. As soon as I took a closer look at her meals, I realized why: She was eating them plain!
I issued her the Learn to Love Veggies Challenge. She took up the gauntlet and
commenced the vegetable adventure
.
Now, it's your turn!
Choose a few of these tips and implement them into your weekly meals. They're all pretty simple and affordable.
Read More ›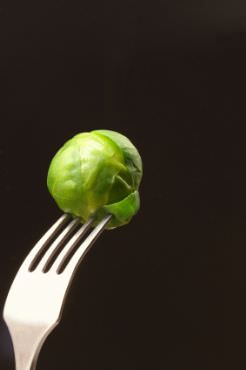 A British warship captain has banned Brussels sprouts from his ship, calling them "the devil's vegetable."
According to
a story in the Telegraph
:
"(Commanding Officer Wayne Keble OBE) brought in the boycott because he "hates" Brussels sprouts but denied a rumour he introduced the ban because they make his crew suffer from flatulence.

Capt Keble disclosed details his ban after he was asked to confirm reports he had banned fried foods from his ship."
While he wields more power than most of us, I wondered if other people have been tempted to outlaw certain foods. Many of us have "trigger foods," junk foods that tempt us to overeat. But are there healthful foods that you ban from your house as well?
Read More ›
Eating a balanced diet every day is the best way to make sure you are getting the vitamins and minerals your body needs.
A multivitamin can be helpful in providing some "insurance" for those days when your food choices aren't the best.
Water regulates every function of our body, flushes out waste and toxins and transports nutrients. Since our bodies contain about 70% water, it is really important to drink water daily.
So what about the combination of vitamins and water together?
Read More ›
The cover of French ELLE reads:
"Stars without makeup.
Without makeup.
Without retouching.
8 women dare true beauty."
European actresses Eva Herzigova, Monica Bellucci, Sophie Marceau, and Charlotte Rampling are among the eight whose beautiful and makeup-free faces grace the cover of the latest issue of
French ELLE
.
It's about time we see a magazine that showcases natural beauty instead of mocking stars caught without makeup. I'd like to see this become a regular feature, wouldn't you?
I really liked this quote from
Yahoo! Shine
, which also has photos of the covers:
In the U.S., when you come across a "stars without makeup" story, there's always a GOTCHA! element, a message that says "Our gift to you: Derive pleasure from how ugly this person looks without cover-up for her zits!
Bravo!
"Stars san Fards" reads the cover. "Fards" means rouge/blush, but in French to be "sans fards" refers to an openness. "Parler sans fards" means to speak openly.
Let's turn this magazine feature into an opportunity to speak openly about the pressure to be "beautiful" in our society.
Read More ›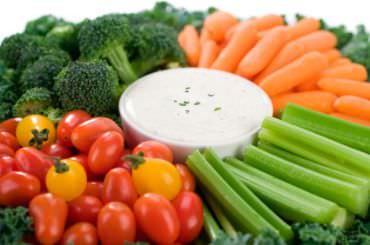 When I became a vegetarian, I could have probably counted the number of fruits and vegetables that had crossed my lips the previous 18 years on two hands.
But things are different these days, and veggies are the highlight of my lunches and dinners. But it wasn't always that way. Like most people, I hated all things green and healthy.
I get questions about this a lot—people calling themselves picky eaters, saying they don't like a single vegetable out there. Take it from a person who was just like you. You CAN learn to like vegetables. And beyond that, you CAN meet your daily quota in a variety of tasty ways.
Here are 8 techniques and tips I used to like vegetables.
Try them yourself—you just might be surprised.
Read More ›