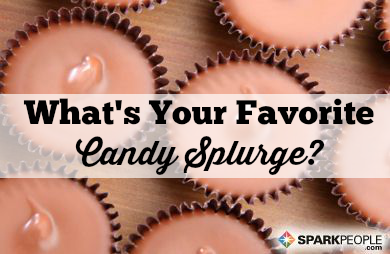 Happy Halloween! We hope you're planning to enjoy some candy (in moderation!) today. What's your favorite Halloween treat to splurge on? Take the poll below, and then check out some of our best resources to help you get through the day feeling satisfied--but not stuffed like a pinata!
Read More ›
Do you have any exercises you really don't like to do when other people might see you?
I do.
In fact, at one time or another in my weight loss project, I've had a lot of them. When I was at my highest weight, it was swimming, or anything else that involved not wearing a shirt. Don't ask me why--it's not as though you couldn't tell how big I was when I
was
wearing a shirt.
When I took up stationary biking, I was always very careful, at first, to avoid the recumbent models and stick to the uprights. After catching a glimpse of myself in the mirror on a recumbent bike, I thought my body had the same basic shape as a Hershey's Kiss.
Even after I got down to my lowest weight, I hated to use an elliptical machine without wearing sweat pants. Whenever I built up to a good speed while wearing shorts, the loose skin on my legs started flapping so loud you could hear it on the other side of the gym.
I guess you could say that I had a pretty big problem with negative body-image, to put it mildly.
But things have gotten quite a bit better for me in this department, thankfully. These days, I rarely worry about how other people might see me enough to let that restrict my activity (otherwise, you'd never catch me riding my bike in compression shorts).
Read More ›
We subscribe to a half-dozen health and fitness magazines, and most of the editors here receive daily and weekly email newsletters from dozens of healthy living sites. We walk the walk and talk the talk when it comes to health.
Whether it's celebrity interviews and workout secrets or the latest health news, we love finding stories to share with you.
Sometimes though, we're surprised by what we read. There's some plain old bad advice out there! Some of what we read really makes us want to scream!
The worst I've seen lately: Eat frozen peas and corn for a tasty, fiber-filled snack. I won't name names, but a popular magazine suggested that eating frozen veggies was a way to satisfy a craving. For what? Who craves frozen vegetables--still frozen?
They said:
"The high-fiber and low-calorie-density combination means they're filling and satisfying, and the frozen part makes them interesting. They're firm, but not rock hard, and they melt in your mouth. "
Seems a little odd to me. Now I want to know: What's the worst diet advice you've ever heard?
Read More ›
A couple weeks back I saw a commercial from a local cosmetic surgery company that caught my attention and surprisingly I am still thinking about it. It was not a new company being advertised but the commercial content was new information and the approach must have contained the right sixty seconds of information.
After hearing the advertisement for a non-surgical procedure that could help me "lose weight from those problem areas for good," I went to check out the company website to learn more.
I have never given serious thought to cosmetic surgery. For people that have lost a great deal of weight leaving excess skin, it makes sense. Since I do not fit into that category, I have never really given it much thought and certainly not as a weight loss method. I have my problem areas like most people. At my thinnest and most fit as a college volleyball player, I had a small lower abdominal "pooch." After having children, it remains my biggest problem area. Additionally, I have a body type where I gain weight first in the mid-section and lose it last from that region. I have really been working on my core this year and have lost a few inches, which is rewarding. However, my six-pack remains hidden in a soft-sided cooler and probably always will.
Read More ›
Let's face it: Losing weight can be hard work. It requires patience, dedication, and the drive to make permanent healthy changes in your life. It's not always fun to head to the gym instead of watching your favorite show on T.V., or turning down the French fries at dinner and opting for a side of veggies instead. Those who make healthy choices are able to look at the bigger picture and know that these choices aren't always easy, but will leave them better off in the long run. Knowing that it is hard work, would you be willing to trade time to get the body you've always wanted? A new survey says some women are willing to make that trade.
Read More ›
I've noticed a popular trend this year among friends who have children. A common New Year's Resolution I heard other moms talking about was to feeding their families fewer processed foods. This has been one of my goals for quite some time, but I know from experience that it's not very easy. One reason it can be difficult to feed your kids healthier foods is that you get different recommendations about the "right" and "wrong" things to eat depending on where you look. Your doctor says one thing. The doctor on TV says another. SparkPeople's dietitians recommend certain strategies. And those tips might conflict with what your best friend has tried successfully.
According to a new national survey
, moms will be making changes to their food-buying decisions over the next year, and looking to more non-traditional sources for advice. When it comes to food and nutrition, "
Moms place higher priority on the opinions of bloggers and peers than that of experts like doctors and dietitians
," according to the survey results. This stood out to me; it seems we trust one another more than the people we've been told to trust as "experts" all these years. So who do you trust more?
Read More ›
Country. Dance. Metal. Rock.
Oldies. Techno. Disco. Pop.
Our world is full of music for every taste and personality. And whether you are a music connoisseur, or you devote yourself to a single band, there's no denying that
music can be motivating
, uplifting, and
energizing
—especially when it comes to your workouts.
We love helping our members discover new kinds of music to power their exercise sessions—and now we'd love to hear from you! We're working to develop the most best-ever library of workout songs
based on YOUR votes
.
First up, help us name the best workout songs from the '90s, '80s, '70s and earlier (Oldies)!
Read More ›
Fall will be here in just a couple weeks, which means we should be experiencing cooler temperatures very soon! During the hot summer months, many people take their workouts indoors to escape the heat, including myself. With the cooler weather that accompanies the fall season though, it's a great time to get back outside for some of your workouts.
Read More ›
Have you ever noticed that many top chefs also struggle with their weight? If you read the news or follow food blogs, it would be hard to miss the controversy over the popular TV chef
Paula Dean
and her battle with diabetes. These stories have kicked off interesting water cooler debates about the tug of war between fine cuisine and our health. The issue has also taken a tragic turn with the deaths of Dom Deloise and Jennifer Patterson of "Two Fat Ladies," among others. At the same time, there is a new generation of chefs tackling this issue with fresh vigor, including some that are already super famous, like
Jamie Oliver
, and some that are still up-and-coming, but making an impact in their location communities.
Read More ›
A married couple in Montreal wanted to improve their health, so they planted a vegetable garden (picture at left is a stock photo, not their garden). By growing their own cucumbers, tomatoes, zucchini, beets, onions and Brussels sprouts (among other fare), homeowners Michel Beauchamp and Josee Landry lost 75 and 25 pounds, respectively, and have improved their diet and their health.
Now,
according to CBC News
(link includes photos of their garden), the couple is fighting to keep their garden, facing fines between $100 and $300 per day if they don't pull up their vegetables. Why?
Because their vegetable garden is in their front yard. Neighbors complained, and now the city is planning to outlaw the growing of vegetables in front yards.
This isn't the first story of its kind. Last year, the story of
a woman in Michigan who faced 93 days in jail
for planting vegetables on her front lawn garnered national attention.
This has led me to wonder: Would you be offended if vegetables replaced your neighbor's front lawn?
Read More ›
Recently, I shared
my half-marathon music playlist
with you, and it got me thinking. While some of the songs on the list are newer hits, most of the music I run to day in and day out are anything but new. However, they are some of my favorite running (or workout) songs of all time. While I occasionally swap out some tired tunes for new ones, most of what I listen to stays pretty much the same year after year.
It made me wonder whether YOUR favorite songs are those tried-and-true ones or newer hits.
In an effort to create a collection of the best running songs of all time, we want to know: What is your favorite running song?
Read More ›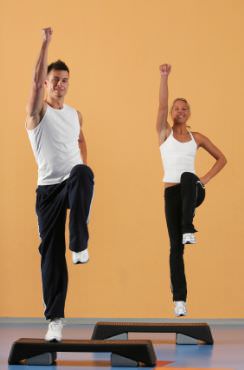 It's been a long time since I have taken a workout class at a gym. I normally do my workouts on my own, but I joined a gym a few months ago and want to shake up my workout routines a bit and am now considering going to a few of the classes that they offer. I hate to admit it though, but that makes me nervous and even a little bit scared (even though I have gained a lot of confidence with reaching various goals). What you may not know though, is that I'm not the most coordinated person and I usually have to modify exercises to suit my physical ability/needs, so that is where the feelings of being nervous and scared come in. What if I make a fool of myself in some way (whether it is going the opposite direction and running into someone, dropping a weight if I lose my grip, or just not picking up on what it is that I should be doing)?

Read More ›
When you decide to start making healthy changes in your life, you probably start at home. Common changes include getting junk food out of the house or replacing an evening T.V. show with an evening walk. You might be the only one in the house who's formally committed to the change, but that doesn't mean that everyone else doesn't benefit from it. If you cook the meals, maybe you start making healthier dishes instead of opting for fast food a few nights a week. And it's easy to ask for company on your nightly walk, so soon it becomes a family event.
In many households, it's not just one family member who has weight issues. Years of unhealthy habits can create weight problems for everyone, young and old. If you've got a child in your house who has weight issues, it's likely very stressful to try and figure out how to help. How do you make eating healthy and exercising fun, to create habits that they can carry on for the rest of their lives? According to a new study, the best strategy could be leading by example.
Read More ›
I almost never look at myself in a mirror. (If you saw my hair today, you'd agree that this must be true.) When I'm brushing my hair in the morning, I look at my hair for a moment, but don't notice or pay attention to any other part of me, or my body looks like as a whole. When I brush my teeth, I walk around the house or look at my teeth, but don't notice anything else. When I use the restroom during the day, I don't even glance at the reflection right in front of me when I'm washing my hands. Once every few weeks, my own reflection catches—sometimes when I'm walking past a large window or if I'm trying on new clothes in the store. When it happens, I'm always surprised. "Oh, so is what I look like!"
If your weight has had ups and downs (especially lots of ups), or if you've struggled (
as I have
) with body hatred or a
negative self-image
, sometimes it's easier to just ignore your reflection than to face it—and the hurtful silent comments that come with it. I no longer hate looking at myself, and I no longer say bad things about what I see. But I still general ignore mirrors—I think out of habit.
Recently, I started workout out at a new studio that has mirrors in the Spinning room. You could either pick a bike that directly faced the mirror or one that faced the other direction (with the mirror to your side, out of your direct line of sight). I chose the bike in front of the mirror, unsure whether it would help or hurt my exercise efforts.
Read More ›
Tomorrow is Thanksgiving, of course, and we're curious:
What's your eating style on the big day? Do you eat with restraint or overboard? Do you have seconds or stick with one helping? Do you skip dessert or sample a bit of everything?
Read More ›
Read More Entries ›