Like so many of you, I suffer from back pain, which I keep in check by taking care of my body with daily yoga, weekly Pilates classes, and being conscious about my posture. And though my job is pretty awesome, I do spend my days in front of a computer. I love writing and editing, but I don't love sitting. I am fortunate that the SparkPeople offices have not only a treadmill desk but some standing desk options as well.
When I'm working on large projects, I've been known to spend hours and hours sitting--without much movement. As soon as I do stand up, my body feels it. So I avoid staleness of mind and stiffness of body by finding creative ways to move throughout the day.
Here's what works for me:
Read More ›
I've blogged a lot about the downsides of sitting at work (or school) for hours a day. It can be a real pain in the neck—and back! But just because you sit doesn't mean you're doomed to suffer. The keys to combat the effects of sitting are to be aware of how you're sitting and take steps (literally!) to get up and moving as much as possible throughout your day.
For those of you who spend a lot of time in a seated position, there are a few posture-enhancing stretches I recommend that you do several times a day. These simple moves will help you focus on sitting tall and with proper alignment and help prevent pain and stiffness associated with being a desk jockey.
Read More ›
Just because you sit at a desk all day doesn't mean that you can't squeeze in a little fitness. There are a lot of sneaky ways you can work your muscles while sitting in a chair—without anyone even noticing. (OK, with some of these ideas they might
notice
your covert attempts to exercise, but they won't think you're a total weirdo, I promise.)
Check out these simple leg-toners you can do from a chair--no equipment required.
Read More ›
Here at dailySpark, we've talked a lot about the
pitfalls of sitting
. Whether you have a
sedentary job
, sit through lectures as a student, or do your share of commuting or couch surfing, the research is clear about spending too much time on your rear: It's
bad for your health
, your back and your waistline. And while it may be surprising (even a little depressing), these facts hold true even if you are a consistent exerciser. (Boo!) After all, even an hour or two in the gym can still mean 22-23 hours a day that you're not active at all, and it's those long periods of inactivity that can increase your cholesterol, contribute to weight gain and contribute to chronic pain for many people.
I've previously blogged about my own attempts to
counter the effects of my desk job
, from creating a standing workstation to sitting on a ball to trying more back-friendly chairs. So when our friends at Best Buy offered to send us a treadmill desk to test, we jumped—er, walked—at the chance.
Best Buy sent us the
LifeSpan TR 1200DT Desktop Treadmill
, which we set up in an empty cube at the office so that all employees who wanted to try working from their feet instead of their butts would have an equal chance to use it. So what's it like to work while you walk? Check out our video review, then hear from our other testers and get more details on this walking station.
Read More ›
I've blogged in the past about my battle with my posture, because I have been a sloucher since I was a kid. It's something that makes me cringe when I look at pictures of myself and think "Why doesn't anyone ever tell me to stand up straight?" Having a desk job doesn't help, because it's easy to slump down in my chair when working at a computer for hours at a time. According to new research, thousands of people are losing days of work due to posture-related aches and injuries.
Read More ›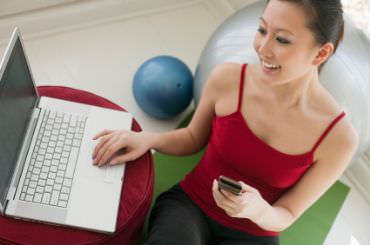 Raise your hand if you spend most of your day sitting at a desk.
I'm right there with you.
When I was studying fitness and exercise in college, I never actually dreamed that I'd end up with a desk job when it was all said and done. Don't get me wrong: I love my job at SparkPeople! But I don't love being glued to a desk and computer screen for 8-10 hours a day.
Too much sitting is
bad for your health
and
for your fitness level
. But what's a good employee to do? Do you really have any alternatives to sitting all day when you have a desk job?
The answer is YES!
Background: I've had back problems since I was 18. They come and go (Pilates has helped me keep them going more than coming, however), but last year, my back was in bad, bad shape. Sitting at my desk all day seemed to only exacerbate the problems I was having, so I started looking into alternatives to my standard desk chair to ease my back pain and promote better posture throughout the day. I've tested our four alternatives that all have different benefits, whether it's greater calorie burning, better alignment, or more muscle activation. Bonus: All of them are as cost-effective as most standard desk chairs, so your employer will have no excuse about approving your request (let's hope!).
Read More ›
You want to be a fit person, right? That's why I'm sharing my own habits for keeping fit and staying healthy in the ongoing
Habits of Fit People
series.
Here's one that works for me: turning off the TV.
Sounds simple enough, but most people I talk to aren't willing to give up the guilty pleasure of their favorite shows. I get it: TV is an ideal downtime, a mental and physical respite that we welcome at the end of a hard day's work. But besides freeing up boatloads of time that you didn't know you even had, there are plenty of other ways
turning off the tube
can help you get fitter and healthier.
Even for me, a person who enjoys exercise (most of the time anyway), exercising regularly and consistently is no small feat. It takes time, commitment, and organization. It involves making some tough choices, like waking up earlier than I'd like to or not following McDreamy and McSteamy's latest adventures (sad, I know). If staying fit were easy, we'd all be fit people. But in truth, the most common excuse we use for not exercising is lack of time. Where does all of our time go? We have jobs/school, social lives, and countless commitments, but many fit people maintain all of those same obligations and still make time for exercise. I have an idea for how they do it, because this technique works for me, too: They limit how much TV they watch.
Read More ›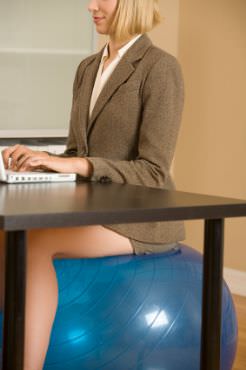 As a young college student studying health and fitness, I never expected that I'd have a desk job. Certainly I'd be on my feet, active, exercising, training people all day long, right? Turns out, my job is the exact opposite. Working for SparkPeople allows me to share my passion for health and fitness with so many people, helping them get fit and reach their goals. I love what I do. But I don't love sitting on my rear for more than 40 hours per week while I do it. Being handed a "desk sentence" at such a young age is not what I expected.
Although I exercise most days of the week and try to maintain as
active of a lifestyle as possible
, I'm suffering from too much sitting. Lately, my back aches most of the time, sometimes so badly that I can't sit, stand or lie down comfortably for days. My shoulders round forward, which is doing a number on my
posture
. My head and neck are in a permanent "forward" position, and my hips are tight. Throughout the day, I notice my shoulders creeping up toward my ears with tension and have to remind myself to relax them down. Ten, 30, 60, even 90 minutes of exercise a day doesn't seem to matter much when I'm spending all the rest of my time on my butt (or on my back, sleeping).
I'm know I'm not alone.
Women's Health magazine
recently reported on a poll of 6,300 people conducted by the Institute for Medicine and Public Health. They discovered that
on average, we spend 56 hours a week sitting behind a computer, at the wheel or in front of the TV
. A sedentary lifestyle seems to be the most common side effect we suffer from life in a modern world. We drive (or ride public transit) to work, sit all day at our white collar jobs, make the long commute home (sitting again), and then feel so achy, tired or exhausted from our long days of (mentally) hard work that we plop down on the couch and stare at the TV or computer for a few more hours before we lie down and go to bed.
We know a sedentary lifestyle is bad for us
. It definitely contributes to weight issues, heart disease, poor blood sugar control, and a host of other ailments.
For awhile, I felt hopeless. Destined for discomfort. Banished to a life of back pain. But lately, I've been tackling my issues head on by getting up from my desk throughout the day, targeting the muscles made weak or tight by sitting while I work out, and changing how I use my body while I use the computer. I'm happy to report that it's been paying off. And since many of you struggle with sedentary jobs that create all sorts of muscular imbalances, which lead to pain and discomfort, I'm sharing a new workout plan with you.
Read More ›
We often hear about the benefits of exercise, how it will improve your quality of life and help you live longer. It's easy to assume that people who train for marathons or bike 10 miles to work each day would be the pillar of good health. Although exercise is key, how you spend the other 23 hours a day is just as important. Need another reason to lead an active life that doesn't involve being a couch potato? A new study says that if you spend a lot of the day sitting, you have an increased risk of mortality regardless of how much you exercise.
Read More ›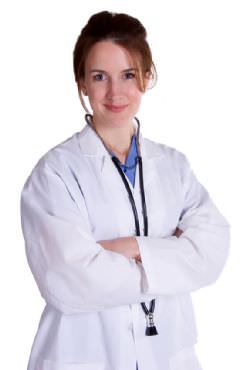 This month marks the 7th annual Deep Vein Thrombosis Awareness Month.
The Coalition to Prevent Deep-Vein Thrombosis
is working diligently to make more people aware of this potentially life-threatening condition.
While many of us are unfamiliar with the complications involving deep-vein thrombosis, each year almost 2 million people are afflicted with this condition and of that number 300,000 succumb to a more serious side effect known as a pulmonary embolism. By making the public aware of the risks and symptoms of this condition, treatment can be sought early enough to prevent further complications.
So what exactly is a deep-vein thrombosis?
Read More ›
Several studies in recent years have established that there is a strong connection between how much time you spend sitting and your risk of significant health problems (especially obesity and diabetes) and even premature death. Coach Nancy recently blogged about some of this research
here
.
A
new study
reported this week indicates that even as little as a few hours of continuous sitting causes metabolic changes that increase blood sugar levels and decrease the amount of fat used as fuel, therefore increasing the amount that goes back into storage as body fat.
It's important to understand that the issue here is not just that you burn fewer calories when you're sitting around. Long periods of sitting actually cause unhealthy changes in your metabolism.
Read More ›
Many of us have jobs that require us to sit for countless hours every day at our desk working on the computer or doing other paperwork. And sitting usually does not stop there. We sit in the car on the drive home from work, eating our meals, and of course who doesn't come home from a busy day only to plop down on the sofa to relax, read and watch T.V. In a
article
published in the November 2009 issue of Women's Health Magazine, the average American spends 56 hours per week sitting--the equivalent of 2 full days per week and then some.
How does all this sitting affect our health?
Prolonged sitting may be leading us down the road to poor health. Sitting may also be a contributing factor to the increase in cardiovascular disease, diabetes and obesity. According to a study published in the May 2009 issue of the
Journal Medicine and Science in Sports and Exercise
, the official Journal of the American College of Sports Medicine, sitting for extended periods of time may increase our risk of premature death, not to mention an increase in disease.
Read More ›
As you can imagine, SparkPeople employees are into health and fitness. And even though we are deskbound most of the day (like many of you), we try to make the best of it. You may have heard of people sitting on stability balls at their desks, as a way of engaging their core muscles and improving their posture and getting a little bit of a "workout" at work. But not every office will allow their employees to sit on giant inflated balls, and sometimes the
right-sized ball for you
just doesn't fit well with your work area. That's where
Gaiam's Balance Ball Chair
comes in.
Read More ›