All Entries For
skin care
You know you should slather on the SPF and avoid the tanning bed. But when it comes to acne, aging and all things skin-related, there's a lot more your dermatologist knows than can be discussed in a typical appointment. Keep reading for a handful of topics your doc might fail to mention.
Read More ›
Summer provides a perfect opportunity to get a healthy dose of the
sunshine vitamin
that many of us need. At the same time, we are mindful of the
damaging effects of the sun's UV rays
we have heard so much about over the years. We look for
tips that make applying sunscreen easier and more fun for kids
while
not always wearing it ourselves
.
Last summer the
FDA unveiled new rules related to sunscreen claims
to help reduce consumer confusion about UV protection and claims related to being waterproof or sweatproof. The new rules would have gone into effect June 17, 2012 were it not for an
FDA issued delay
last month that provided a six-month extension.
With all the confusion regarding when and how the guidelines will change, it can be difficult to know how to protect your skin against the sun at the beach or during outdoor workouts. Here are some useful tips to help you have a skin safe summer.
Read More ›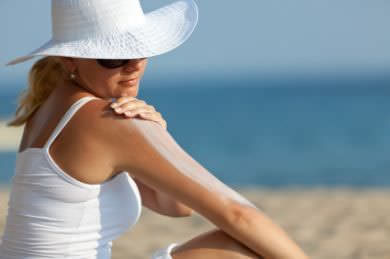 Summer is near, which means many of you will be wearing shorts, tank tops, bathing suits, and other clothing that exposes more skin. Some of you may already be doing this as many areas in the U.S. are already experiencing very warm weather. Exposing more skin, especially in the sun, can be really hard on your skin and create some issues that you may not think of at the time of exposure.
Read More ›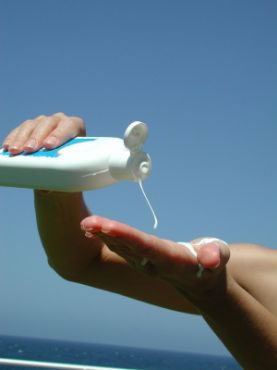 It's hard to explain to a 5 and 3-year old why it's important to coat their bodies in greasy sunscreen when we go outside. They can't quite understand the concept of cancer and skin damage, so sometimes it's a battle to get them covered. Especially when we're outside a lot in the summer, I use sunscreen as much as possible (although I do give them a little time without it just so they get their daily dose of Vitamin D). I also encourage them to wear hats because I don't think you can be too careful when it comes to the sun.
Read More ›