All Entries For
success story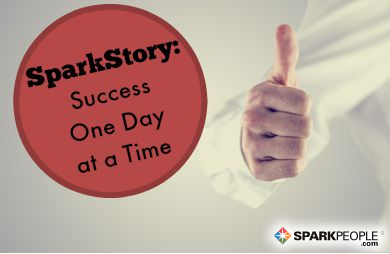 This blog is a featured "SparkStory", one of the classic posts from our members that provides support, encouragement and inspiration to the SparkPeople Community.
POSTER:
PORITA
I found SparkPeople in 2011 after weighing in at the doctor's office and realizing how out of control my weight had become. After lots of reading and finding encouragement here, I started to take steps to improve my life. By tracking everything I ate and starting with baby amounts of exercise, I lost 20 pounds. I was excited. I finally took a picture of myself to start tracking the progress. I'm
DONE with excess weight and all the problems it causes. Read More ›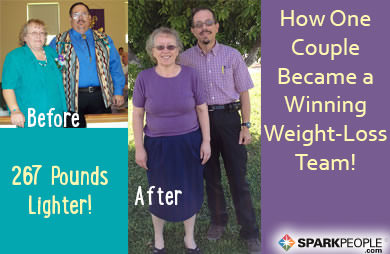 A couple facing diabetes and other health issues joined together to start a weight loss journey that took them from sedentary and lifeless to vigorous and healthy. They now have many Valentine's Day celebrations ahead of them as a couple thanks to careful food tracking and daily walking!
Names:
Steve and Debbie Cartwright
Usernames:
Sac-6582
and
Debarizona
Amount of weight lost:
Steve lost 180 pounds and Debbie lost 87 pounds
Hometown:
Peoria, AZ
Occupations:
Steve is in ministry and Debbie is a facility director for a camp/retreat
Ages:
Steve is 54 and Debbie is 52
Read More ›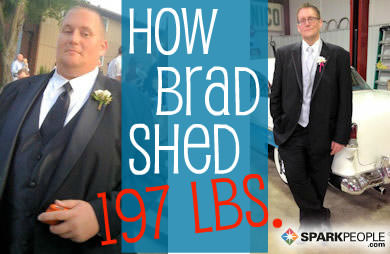 Brad Milligan (
BRADMILL2922
)
Weight Lost:
197 pounds
Hometown:
Jeffersonville, IN
What was life like before losing weight?
I was a big kid and a big teenager. Being 6'7", I was never going to be small. I never enjoyed exercise much, but I did it because it was part of playing sports. I was always an athlete growing up, including playing baseball in college. When sports ended for me, I stopped exercising. I steadily gained weight in my 20s from lack of exercise and poor diet. When I was at my highest weight of 509 pounds, I didn't feel like doing anything. I didn't want to go out of the house and hang out with friends because I was embarrassed of myself. I really couldn't participate in many sporting activities or physical activities in general because it made me tired. I had no energy.
What was the main motivation behind your weight loss?
My main motivation was my kids. I am a single dad of three children and I wanted to be around for them, be more active with them and set a good example. I realized that the way I was going, that wasn't going to happen. I had a lot of "dieting" stops and starts over the years that failed every time. I had lost myself and who I was. On May 4, 2012, I weighed in at 466 pounds and I decided that on May 5 (Kentucky Derby Day around here), I wasn't going to do this anymore. I came up with a plan of diet and, eventually, exercise that I thought would help me lose the weight. No shortcuts. No fad diets. No trainers. No surgery. No diet pills. It was going to be hard work and I knew I needed some help along the way which is where
SparkPeople.com
came in. I set a goal to lose 167 pounds, which would get me down to 299 pounds. I would be less than 300 pounds for the first time since college!
Read More ›
Meet Erin
. She's 30 and lives in Florida. Happily engaged and recently promoted at work, she loves her life. She wakes up feeling great, rarely stops moving throughout her waking hours, and goes to sleep each night with a smile on her face. Life isn't perfect, but every day feels better than the last, she says.
Erin is so committed to this life that it's hard for her to remember what it was like before, when
she weighed almost twice what she does now.
When she had little energy to stay awake after work and all she wanted to do on her days off was sleep. When she was in excruciating pain from even the smallest physical efforts and walking around the block seemed like torture. When she looked in the mirror and didn't recognize the woman she'd become and didn't know how to change her life.
Read More ›
Name:
Kimberly Pinney
Username: KIMBERLY0916Amount of weight lost:
100 pounds
Hometown:
Logan, OH
Occupation:
Student
Age:
38
Kimberly Pinney transformed her life and her body by making one small healthy choice at a time until they turned into habits that helped her lose 100 pounds and take control of three serious medical conditions: bipolar disorder, IBS and fibromyalgia.
Read More ›
Now that thousands of people have had the chance to use the
Spark Activity Tracker
, we decided to find out how SparkPeople members were enjoying the Spark. We were wowed by some of the reactions we received from everyday people who used the Spark to reach goals and stay motivated. Here are three stories of our favorite "success stories" so far.
Read More ›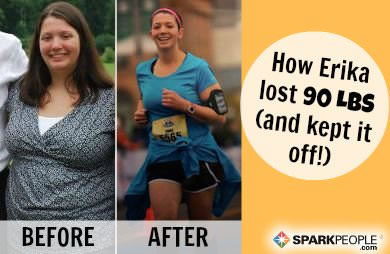 Name:
Erika Schnure
Username:
FATGIRLRUNN
Amount of weight lost:
90 lbs.
Hometown:
Oak Park, IL
Occupation:
Meeting Planner
Age:
28
What was life like before your weight loss?
Just before I lost weight, I was in a very bad place personally. I had just lost my job, I was
extremely depressed
, and I ate for comfort during my days at home. I used a popular weight-loss program to lose 55 pounds in 2010, but once I lost my job and couldn't pay for the food anymore, I gained every single pound back, and then some. This landed me at 230 pounds at 5 foot 6 inches tall. I was completely miserable. In just my mid-20s, I was on the verge of being categorized as having
high blood pressure
, and my
cholesterol was very high
. I had given up. I thought my weight was due to genetics, and there was nothing I could do about it, so why try to eat healthy? Why pay for a gym when working out wouldn't do anything?
What was your ''light bulb moment'' that made you get serious about losing the weight?
After losing my job in DC, I ended up moving back in with my parents in the Chicago area for about a year. Shortly after I moved home, my mother, who was also obese at the time, was diagnosed with
type 2 diabetes
.
Obviously, I understood the genetic implications of such a diagnosis, and I knew I was in danger of the same problem. Moving home may have actually been the best thing for me, because living in the far suburbs meant that I could not just walk a few blocks to gorge on burritos and cheeseburgers at my neighborhood restaurants like I could in DC. The closest fast food restaurants were miles away and required a car trip. I realized that eating as poorly as I did was just not worth it. As I made that realization, I discovered that eating well was not only a lot cheaper and easier, it was much more delicious!
Tell us a bit about your weight-loss journey.
Read More ›
Today we share our final success story from our
2013 New Year's Resolution Keepers.
Jennifer decided to deal with her depression by committing to a complete health makeover. Learn how she changed her outlook and her life by trying new things, setting mini goals and pushing herself beyond what she thought she was capable.
Read More ›
This month we have been highlighting Success Stories for people who set New Year's resolutions last year and stuck with them, to help you begin your own journey to success. Today we introduce you to someone who started 2013 with a resolution to try new foods instead of a goal to lose weight, which had previously not been successful. What she found was the year she chose not to set a weight-loss goal and focus on something else, she actually achieved weight loss, too!
Read More ›
Many of us begin the new year with a desire for a fresh start in a new direction. With the right
habits
,
motivation
and
support
, our goals can become so resolute they carry us to places we never imagined. We want to help you remain steadfast in your healthy living quests this year by introducing you to several people who set goals for 2013--and stuck with them all year long.
Read More ›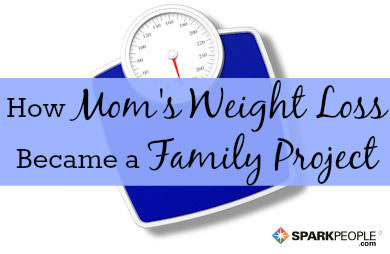 Last week we introduced you to
Amanda
, who successfully kept her 2013 New Year's Resolution to kick the nicotine habit. Today we introduce you to a single mother that achieved her 2013 resolution to lose weight and helped her family get healthier at the same time.
Name:
Janna Miller
SparkPeople Username:
jannamiller
Hometown:
Colona, Illinois
Occupation:
Special Education Teacher
Age:
43
Starting weight:
240 pounds
Current weight:
170 pounds
What was your New Year's resolution?
My New Year's resolution was to lose 70 pounds by January 1, 2014.
Why did you set a New Year's resolution?
On New Year's Day 2013, I was 240 pounds, taking meds for high blood pressure, high cholesterol, and high blood sugar. I was also told I had a slow brain bleed. I had no energy and always felt sick. Being a single mom, I knew I was not going to be around for my kids if I didn't change. So I finally decided to change. My youngest son was also severely overweight and having similar medical issues. I knew I needed to be a good mom, which meant being a good role model to him.
What did you do to stay motivated?
I was very lucky. We went into this project as a team -- my mom, my son, and me. As a former athlete and a current coach of three sports, it fit my personality. We gained strength from each other. We motivated each other, we held each other accountable for our actions and we celebrated each other's victories.
Why do you think you stuck with your resolution when so many people give up?
Our entire family was on board with the program.
They knew we needed to do this, and if that meant changing around the menu or adding some more activities, they were all for it. They also would keep us motivated to keep doing our program. If we slipped--and we did at times--they would kick us in the butt and get us going again.
What tools, routines, habits, and motivators did you find most helpful in sticking with your resolution?
It became important to
plan meals
, something I was not very good at. We also got rid of A LOT of food that was just not possible to have on our new lifestyle. This was very helpful for me because if I see it I will eat it. My daughter was a two-sport letterman in high school and in the Army Reserves, so weight is not currently an issue for her. She would keep all of her snack in her locked room! We found snack foods that we could have and made sure we had those on hand for weak moments. We would do weekly weight checks with our doctor's office every Friday after school, and that helped keep us on track. I also joined the weight-loss challenge at school each quarter, and we weighed in every Wednesday.
Did you ever slip up or hit a plateau? If so, how did you overcome it?
I have had many plateaus. Sometimes I was
not eating enough
and my body let me know so I would up my carbs for a few days and then I would be back on track. Sometimes I
needed to change my workouts
. I just kept telling myself: This is not about
now
, this is about
always
. If you take a short break, that is OK, just come back!
What was the hardest part about committing to your New Year's resolution?
For me, it was finding the time to
do things for myself
. I am a single mom of four active kids. I teach special education, which has a lot of paperwork and individual planning, I coach three sports, I run a very active youth-service group that always has activities, and I have a huge, close extended family. It is hard to fit in "me" time.
Did you experience any other benefits (improved relationships, reach other goals, improved self-image/confidence etc.) while sticking with your resolution?
I can keep up with my kids and my great-nephews more! I am now thinking about trying to date if I can fit it in!
What advice do you have for others who might set a similar resolution for this year?
It is not a new diet and you can't think about it that way. You need to
change your lifestyle
because you and your family are worth it. Sometime we get into these old habits, and we know they are not working for us but they are comfortable. It will take time to make the new habits feel comfortable just keep working at it.
Get a support system! Make it a team effort! Who can't get a little healthier?
Now that you've succeeded with this resolution, have you/will you set any other goals?
Yes. I think I am going to go back to school.
How did SparkPeople help you achieve success?
I have been motivated by a lot of the articles on SparkPeople. They have lots of good information and even if you only use a little it helps move you in the right direction. Remember a healthy lifestyle is not a sprint--it is a marathon. Slow and steady will get us to a healthy life.
How about you? Will 2014 be the year you reach your goals? The best way to set yourself up for success is to make sure that your goals are SMART: Specific, Measurable, Attainable, Relevant, and Timely. Using these guidelines is a proven way to create goals that you can stick with for the long haul. After reading the explanation of SMART goals in this article, print out this goal-setting worksheet to create your own SMART goals to make 2014 the year you find success.
Read More ›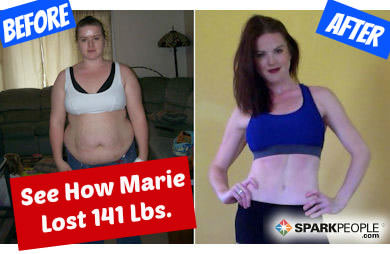 Marie Dozier (
FEB_SHOWERS16
), a 30-year-old nurse who lost 141 pounds using SparkPeople, is featured on Huffington Post Healthy Living this week.
Not only did Marie lose the weight and keep it off, but she also beat a sugar addiction, too.
Check out her story here
, and if you're also struggling with a sugar addiction, you might be interested in our four-week
Tame Your Sweet Tooth Challenge
.
Read More ›
One of the best parts of working at SparkPeople is watching people reach their goals and achieve things they never thought possible. Today, we're sharing with you the story of a woman who not only lost weight (more than 200 pounds) but also--as of this week--crossed a major goal off her "bucket list."
Tracy Meuschke (TRACY31502), a stay-at-home mom from South Bend, IN, is featured in this year's "Half Their Size" issue of People magazine.
If you ever doubted whether you could lose weight and keep it off the healthy way, just look at Tracy for inspiration. We know her story is going to inspire so many people who are just starting their journey, who are where Tracy was just a few years ago.
Read More ›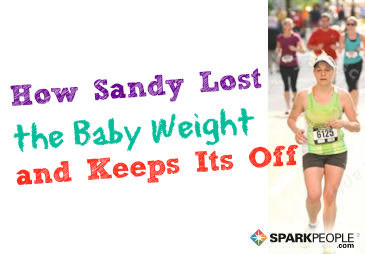 Sandy Clark (
ORANGECOWCAT
)Weight Lost:
70 pounds
Hometown:
Roland, Iowa
Occupation:
Group fitness instructor and stay-at-home mom
What was life like before your weight loss?
I got pregnant with my son in 2006. Prior to that pregnancy, I was always at a normal body weight and didn't have to work much to maintain that weight. During my pregnancy, I gained more than 60 pounds. After delivering my son, I realized that those 60-plus pounds were not really necessary during my pregnancy! I lost about 35 pounds within the first few months, but when I went back to work, I started to gain all the weight back, plus some more. I was working 60 to 70 hours a week and felt miserable because I was struggling to make time for myself to make me feel better. The more miserable I felt, the more I struggled with my weight. I'd never been overweight in my life and to struggle with it now felt awful. I wanted to be happy with my new life and my new family, but I hated how I looked and how I felt. Although I was still trying to be active, I found that most of the time I really just wanted to sit around and feel sorry for myself.
What was your 'light bulb moment' that made you get serious about losing the weight?
I wanted to lose the weight from the beginning, so there was never really one factor that pushed me to do it. I was unhappy with how I looked, and I was tired of wearing baggy clothes to try to hide my size. My wedding rings were tight, and I absolutely hated all the pictures I saw of me with my baby. I didn't want to be close physically to my husband because I was repulsed by my weight. And I was just sad. All these things together really pushed me to want to get serious about the weight loss. However, when we had our fourth miscarriage a few months after my son's first birthday, I decided that I was going to lose the weight for good. I was going to have a healthy lifestyle so that I would be around to enjoy my son's life, see him grow up and hopefully have some more kids!
Tell us a bit about your weight-loss journey:
Read More ›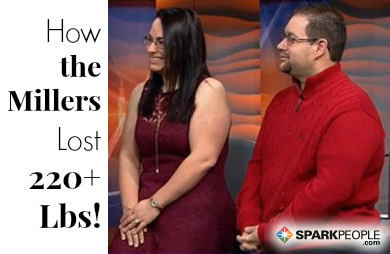 Dave (
dave3977
) and Julie (
jujumiller
) Miller joined SparkPeople in February, just after starting their weight-loss journey. In just 11 months, they have shed more than 220 pounds--137 for him and 87 for her, with another 60 and 30 to go, respectively. What a great success story!
Now the couple is being called "Cleveland's Biggest Losers" by their local TV station WKYC. This morning, they were on the news to show off their slimmer, healthier selves and share the secrets to their success.
Watch the two-part segment here.
Read More ›
Read More Entries ›