All Entries For
super bowl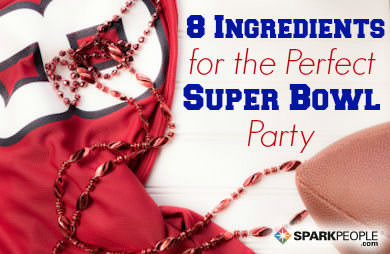 Hosting the Super Bowl bash this year? Beyond wings, beer, and plenty of chips and dip, there are a few more things you'll need to ensure your game-day festivities don't commit any party fouls. Keep reading for eight ingredients for the perfect Super Bowl party!
Read More ›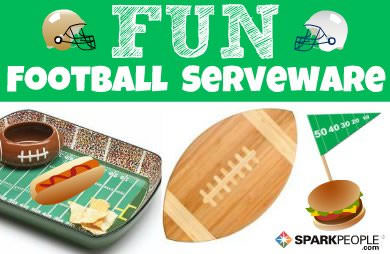 Whether you're having a get together to watch the big game, a Super Bowl bash or a party for your kid's football team, there are tons of great themed accessories available to help bring your
appetizers
to life.
Read More ›
The Super Bowl is synonymous with friendly get-togethers and
party food
. Too bad it usually leaves us feeling weighed down by the time the night is over. This year, let's change that!
Whether you watch the game on your own this weekend or invite a few fitness-minded friends to join you, vow to keep this year's game night healthy with
light Super Bowl eats
or my favorite:
The Super Bowl Workout Game
! It's a fun, calorie-torching, muscle-challenging game that you can play (if you dare!) while you watch on Sunday.
Try this workout on Super Bowl Sunday or while you watch any football game in the future.
Read More ›
Speaking as a native San Franciscan, it's been a great year for professional sports! Between the Giant's World Series championship and the 49ers super bowl berth, our athletes have given us a lot to brag about. Rooting for your team is fun, but thinking about what you eat while watching the game (and the commercials) is just as important.
According to USA Today
, the Super Bowl is "only second behind Thanksgiving for the average amount of calories consumed in a day." To combat this unfortunate fact, I've gathered our favorite healthy super bowl party food so you can celebrate without the
super
-high calories, fat, and sodium. Don't forget to get up at halftime and dance to the music or get outside to throw the ball with your friends, neighbors, and loved ones. That way you can enjoy some great food and keep moving too. You know who I will be rooting for on the field ("Go 49ers!"), but I'm also rooting for all my fellow Sparkers out there to have a fun and healthy super bowl celebration.
Read More ›
Are you ready for some football? Just as the Giants and Patriots are preparing for the big game, time is running out to decide what serve to family and guests. At SparkPeople, we love to highlight recipes that are nutritious and taste great too. Here are my all time favorite Super Bowl recipes from SparkRecipes.
Read More ›