All Entries For
we tried it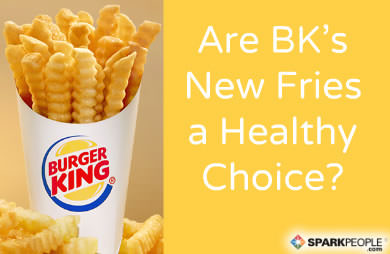 A few weeks ago, Burger King started heavily promoting its latest menu offering called
Satisfries
, which are formulated to have 40% less fat than the leading fast food French fry (from McDonald's). We decided to try the fries, than take a close look at the ingredients and nutrition facts to discover whether these fries are as healthy as they seem.
Read More ›
If you're like most people who are struggling to lose weight, you've started watching what you eat and counting (and cutting back) on your calories. We all know that weight loss is the result of a simple equation:
burning more calories than you take in each day
. But how do you know how many calories you REALLY burn—or how many calories you should be eating for optimal weight loss?
We all have our own unique metabolic rates—the amount of calories our bodies use just to stay alive; this is called your resting metabolic rate (RMR). Even at total rest—and without moving—your body is using ("burning") calories just to breathe, circulate blood, digest food, think, blink and more. This actually takes more calories than you might think—hundreds or even thousands. On top of your RMR, even if you don't work out, you burn additional calories by performing basic activities of daily living: brushing your teeth, typing on your computer, and driving your car.
When you visit most nutritionists, sign up for a
free weight-loss plan at SparkPeople.com
, or even follow a diet plan you read about in a book or magazine—you're getting some good
estimates
of your calorie needs, usually based on your weight, gender and possibly your age and height. But these widely used formulas are just that—estimates. They are reasonably accurate for a lot of people, but they are not always accurate for everyone. "Calorie Plan A" may be too few calories for you but be perfect for your sister to lose weight. "Calorie Plan B" might not cut calories enough, yet be too many calories for your friend who weighs the same amount you do. Since we are all unique, estimates don't always work. And when they don't, it can stall your weight loss or bring it do a grinding halt despite your efforts of tracking, counting, measuring and eating within a specific calorie range.
"There are a few people who really struggle in determining their accurate weight-loss calorie range," says SparkPeople's head dietitian, Becky Hand, RD, LD. "They just don't seem to 'fit' the standard formulas, and 'experimenting' with their calorie intake brings about more and more frustration."
So what's a person to do? You can tweak your plan, adding or cutting back on calories to see how your body responds. This is what a lot of people do throughout their journeys until they find the magic number that starts peeling away the pounds. It takes guessing, checking—and time. And it can work.
But there is another option: You can take a simple test to find out exactly how many calories you're burning each day. This eye-opening RMR test is non-invasive, takes a few minutes of time, and is pretty widely available for a fee. I recently tried it myself along with two SparkPeople employees,
Jeff
and Jaime, both of whom have been struggling to lose weight.
Read More ›
Recently, I was asked if I wanted to try out a new pair of running shoes and blog about the experience. I usually hesitate with things like this (because I'm picky about my running shoes), but was very intrigued by this product. Maybe these shoes could give me the Olympic speed I've been dreaming of! Or, more realistically, perhaps they would feel good on my feet and give me a slightly different running experience.
Read More ›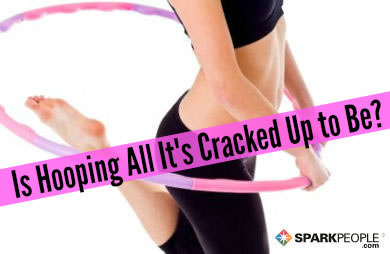 More and more people these days are turning to workouts that feel less like work and more like play. Dodge ball leagues for adults are increasingly popular, and out-of-the-box exercise classes like aerial yoga, circus arts and trampolining (rebounding) are almost as commonplace as kickboxing. Another fun pursuit on the list of fun fitness trends is hooping—as in hula hooping—which you probably used to do as a kid.
SparkPeople alone has almost 600 hoopers in one
SparkTeam
, and the website hooping.org has nearly 8,000
registered members
. Celebrities rave about the benefits of hooping workouts, and actress Marissa Tomei even released a series of
hooping workout DVDs
through Gaiam in 2010.
With the popularity of hooping on the rise, we've received a lot of questions about how many calories it burns and whether hooping can actually take the place of more traditional workouts. There has been very little scientific research on this subject, but I always find that it's best to answer these questions not just with the research available, but also personal experience.
So I gathered several of my SparkPeople co-workers to investigate hooping firsthand. We took a class at
Shine Yoga Center
in Cincinnati, led by hooping instructor
Leslie Kreines
, and were joined by SparkPeople's most famous hooper, member Shelli (MOSTMOM1), who regularly
blogs about her hooping adventures
.
What did we discover?
Read More ›
Contest closed! The winners are:

JENIFIREHARP

HOLLY404040

VPOLESKI

Congratulations!
A cool new company contacted us recently, hoping we'd test their product and offer a giveaway. It's called Healthy Surprise, and right from the outset, I loved this idea.
Healthy Surprise
is a subscription-based service that ships a box of healthy, natural, gluten-free and vegan snacks right to your door each month. In lieu of a subscription, you can also give yourself (or a friend) a one-time gift shipment, which is a really thoughtful and fun idea for the healthy eaters in your life. They offer four different packages that vary in size and price, starting at just $33/month (plus shipping) for the smallest package (which includes 16-20 snack servings) and goes all the way up to $333/month (free shipping) for the largest package of 200+ snacks, which might be more fitting for a club or workplace than an individual's home. You don't get to pick and choose what goes into your box, which is part of the fun—hence the "surprise" part, but as a bonus, you'll end up trying foods you never knew you liked and bring the fun back to snacking!
Read More ›
Editor's Note (Nicole Nichols): So many workout DVDs land on my desk, but since I only have so many hours in the day to work (and work out), I've started enlisting the help of my fellow SparkPeople employees to test them. I asked Teri, a new employee on SparkPeople's sales and marketing team, to try the first (and recently released) DVD by Chris Powell, trainer from the TV show "Extreme Makeover Weight Loss Edition." When I previewed the DVD, I liked what I saw: lots of encouragement, good modifications (plus tips to progress exercises), and workouts that seemed introductory and geared toward beginners and/or people who have a lot of weight to lose. I also loved seeing the real people doing the workouts along with Chris. The DVD includes three workouts (15 minutes, 25 minutes, and 30 minutes) that increase in intensity as you get fitter.
Teri is getting back into fitness since starting her job at SparkPeople two months ago, and her goal is to lose 25 pounds. Find out what she thought about this workout DVD!
Read More ›
by Catherine Pearson, That's Fit
In spite of the best efforts of my childhood ballet teachers, I have become a sloucher. I am forever cringing when I see pictures of myself slumped over like a piece of limp spaghetti.
The source, I figure, is some combo of laziness and bad office chairs, but if the good folks at MBT shoes are to be believed, another culprit could be the ground beneath my feet. In 1996, the company designed (and patented) a thick, curved sole meant to mirror walking on soft, uneven surfaces, like people used to before everything was paved and leveled.
"When walking in MBTs, the ground no longer feels flat and stable, so the body has to compensate and create stability," its website states. That, in turn, is supposed to improve balance and posture.
MBT offers a variety of different styles, from professional to athletic. I tested a new style from its casual line -- a grey, thick-soled Mary Jane called the Kesho MJ. I wanted to see how it functioned as an everyday, walking-around-New-York-City shoe and also what effect, if any, it'd have on my posture. Here's what I found.
The Pros:
First thing's first: This shoe takes some getting used to. MBT isn't lying when it says its shoes provide a new -- or old? -- way of walking, and I did wobble around with each step.
Read More ›
By That's Fit
We often hear about how some celebrity spends two hours at the gym six days a week, or who eats exactly 1,300 calories per day in order to get into killer shape, but the truth is that many working actors are working just as many hours as we are -- and their days are just as busy.
Ugi was created with busy people (famous and anonymous alike) in mind by kinesiologist and celebrity personal trainer Sara Shears. She wanted to provide her clients a system that was portable, straightforward and integrated both diet and exercise.
Here's how the system works. For $189, you get the
Ugi at Home
system, which includes an Ugi ball in the weight of your choice (the website helps you determine which weight is best for you): 6 lb, 8 lb, 10 lb or 12 lb. With the Ugi ball (which is a bit soft and squishy, like a beanbag), you receive a workout guide book, a DVD showing all 150 exercises from the book, a guide to making good eating choices, access to Ugi's online library of exercises, an interval timer and a free downloadable Ugi interval timer for iPhone (with other smartphone platforms in the works).
For pros, cons, and more, click here.
Read More ›