All Entries For
weight loss
This is a loaded question! If you ask 10 different trainers, you'd get 10 different answers. One trainer's answer is likely to be based on what they've seen help clients get the best results or their own personal preference for one type of exercise over the other.
There isn't a ton of research on this topic, but we know that people who do
both
cardio and strength training tend to have better outcomes in terms of weight loss, fitness and even improved blood sugar levels. These two modes of exercise each do very different things. If the issue is time, my answer would be to find a way to fit in both, whether each workout is a little shorter (and maybe more intense) to maximize your time, or you are doing both but doing each thing occasionally (such as just once a week each). Anything you can do will help. Another solution to fitting in both cardio and strength training is to seek out workouts that combine both efficiently. There are many workout DVDs (including
SparkPeople's best-selling titles
), fitness classes (including CrossFit) and workout options (including
kettlebell training
) that give you the best of both worlds.
Circuit training
, which involves lifting weights in a circuit of exercises without resting in between, is another good way to add an aerobic component to your strength-training workouts
Now let's look a little deeper at each exercise component and the role they might individually play in your fitness and weight-loss plan.
Read More ›
UPDATE:
It's here!
After months of teamwork, SparkPeople is thrilled to offer you an improved version of our popular Diet & Fitness Tracker app (now renamed Calorie Counter & Weight Loss App)--for FREE. Our mission has always been to SPARK millions of PEOPLE to reach their goals and lead healthier lives, and we believe that offering our best food and fitness tracking tools in a free app will help more people than ever before.
As of today, our app is free for all Apple (iPhone and iPad) and Android users. You can download the app using the links below (or search for "SparkPeople" in your mobile phone's app store). And to sweeten the deal even more,
you'll get 250 SparkPoints* just for downloading the app!
Read More ›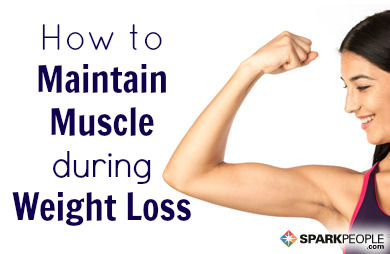 When starting a weight-loss plan, most of us hope to lose body fat, specifically—not muscle mass. But when we lose weight, a large percentage of the total weight lost can be muscle. Is there any way to reduce that muscle loss?
Read More ›
Picture this: It's time for your weekly weigh-in, and you are confident that you've lost a pound or two. You've eaten very well this week and have been even more consistent with your exercise than you usually are. You take a deep breath, close your eyes and step on the scale, your heart skipping a beat. You brace yourself, open your eyes, and… your heart sinks into your stomach and you clench your fists. Your weight is up one pound since last week.
What's going through your mind? Is it a frenzy of horribly
negative self-talk
? Do you feel like a worthless failure who can't do anything right? Do you swear and stamp your foot and move the scale to another spot on the bathroom floor in the hopes that the number will change?
If you've had any (or all) of these reactions after a disappointing weigh-in, you're not alone. But think about how crazy that roller coaster is! Why should a number on a scale make you feel so nervous—and then so painfully defeated when it isn't what you had hoped for? Why should a number on a scale ruin your day and make you say horrible things to yourself that you would never dream of saying to a friend?
Read More ›
If you are concerned about how many calories you burn during strength training, chances are that you are actively trying to lose weight (or might want to ensure you are eating enough to support strength training without losing additional weight). Although strength training is challenging and requires a lot of hard work (especially when lifting heavy weights), it doesn't typically burn as many calories as cardiovascular (aerobic) exercises like running or cycling.
Read More ›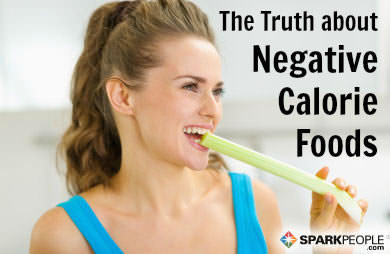 You might have heard that you can eat as much of you want of certain foods because it takes more energy to burn them than they actually contain. But is it true? Can eating more of these foods really help you lose weight?
Read More ›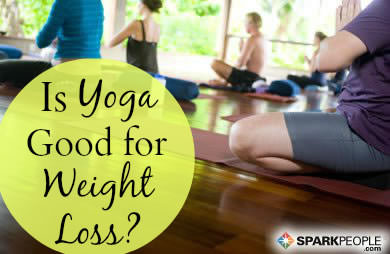 Over the past decade alone,
yoga has exploded
into a multi-million dollar industry. Nearly 21 million Americans actively participate in yoga, spending more than $10 billion a year on classes and products (including equipment, clothing, retreats and videos), with the majority of novice practitioners citing general wellness, stress management or weight loss as one of their primary motivations for taking up the practice.
However, the roots of yoga are spiritual, not physical, which is the way we think of yoga today. Body-focused yoga styles (that focus on toning, weight loss and physical transformations) are a modern, Western phenomenon. There's no doubt that the benefits yoga offers for the physical body appeals to Americans, even though yoga can be so much more than a physical fitness regimen.
So can yoga really help you lose weight? Is there any truth or science to claims that any set of yoga postures can boost your metabolism, help you slim down, or give you that coveted "yoga body"?
Read More ›
It's no secret that the majority of people who start a new exercise program do so because they want to lose weight, which is a great reason (and motivator) to get fit.
That being said, if your only motivation to exercise is fat loss, you can easily find yourself frustrated and wanting to quit when progress temporarily
hits a plateau
(which it will). That's why setting goals beyond weight loss alone is essential if you're going to stick with a fitness or weight-loss program for the long haul.
And consider this: Setting goals that don't focus on fat loss can actually help you reach your desired weight-loss goal. It's true! (Check out this
SparkPeople success story
of a woman who lost weight by resolving NOT to lose weight!) For example, if you focus on getting stronger, you will likely gain lean muscle mass, which will speed up your metabolism and help you lose more weight. Or maybe you choose to set a goal like walking with a friend several days a week, or taking your dog hiking every weekend. Those goals will keep you active and moving (which is the whole point) and don't hinge on what a scale says to keep you motivated. Over time, you'll be more consistent with exercise, burn even more calories and, of course, lose more unwanted fat.
See? You don't have to be laser-focused on the scale to be successful in changing the scale. Setting other goals can be even more motivating—and just as effective!
Here are five of my favorite types of goals that often lead to weight loss and better health (without focusing on the scale).
Read More ›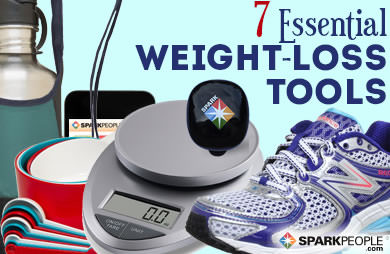 While it's true that all you really need to lose weight are good information and determination, there are plenty of helpful tools that will make the path to health and fitness a little easier and a lot more fun. I've gathered a list of the kinds of things that have helped me in my own weight-loss journey. You'll need different tools at different stages, but these are great when you're just getting started.
Read More ›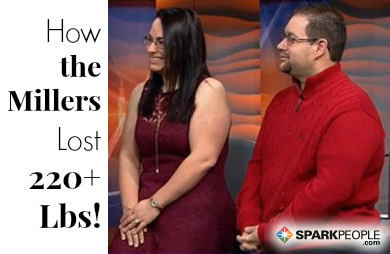 Dave (
dave3977
) and Julie (
jujumiller
) Miller joined SparkPeople in February, just after starting their weight-loss journey. In just 11 months, they have shed more than 220 pounds--137 for him and 87 for her, with another 60 and 30 to go, respectively. What a great success story!
Now the couple is being called "Cleveland's Biggest Losers" by their local TV station WKYC. This morning, they were on the news to show off their slimmer, healthier selves and share the secrets to their success.
Watch the two-part segment here.
Read More ›
"I am just big-boned. Everyone in my family is big-boned."

"My Mom is heavy. My Dad is heavy. I'll never be anything but heavy."

"My sister has my Mom's lean body and I have my Dad's stocky body, so I will never be lean like her."

At one point or another, you've probably heard your friends or family members utter these phrases. Heck, you may have even said similar things yourself.
So just how much of a role do genetics play in your body shape and size? If you have heavy parents, are you truly doomed to be heavy forever? When your parents are tall and lean, can you get away with eating more—without consequence? If your mom has wide hips, will shopping for jeans always be the bane of your existence?
"I'm fat because of Oreo cookies!" screamed the woman as she entered the weight-loss class I was coaching last week. In hand, she waved the
press release from Connecticut College
, which blared the warning,
"Oreos are just as addictive as drugs!"
"I am addicted to certain foods, just like those rats were addicted to Oreo cookies," she continued on. "It's supposed to be worse than being addicted to
cocaine
. How am I ever going to be successful with my weight loss?"
Read More ›
Barbara Whitehead (ONEKIDSMOM)Weight Lost:
100 pounds
Hometown:
Lincoln, NE
Occupation
: Computer Programmer/Analyst
What was life like before your weight loss?
I have been a compulsive eater since childhood, raiding my parents' food stores and downing large volumes of candy when I could get it. I was a fairly active child, so didn't start actually gaining the pounds until adolescence. I lost with an unhealthy fast/feast diet cycle between high school and college, which is the last time I was in the 120s before this current lifestyle change. I was the classic yo-yo dieter. I'd try for a while, lose some, and then gain it all back. I was so unfit that walking five steps across the room to answer the telephone caused my mother-in-law to ask me whether I had been running. I was afraid that if my young son would hurt himself on the playground, I would be unable to get to him to help him.
What was your 'light bulb moment' that made you get serious about losing the weight?
My motivation to lose weight was to save my life. I also wanted to manage the stresses in my life in a healthier way and to be happy. The "a-ha moment" came when I realized it was not losing the weight or the number on the scale that made me happy. It was the behaviors that gave me weight loss and a healthy weight as a side effect that truly made me happy! I firmly believe that this is the revelation that will enable me to keep it off for life.
Tell us a bit about your weight loss journey with SparkPeople: Read More ›
Michelle Miller (JUSTCHELLE75)Weight Lost:
140 pounds
Hometown:
Houston, TX
Occupation:
Paralegal
What was life like before your weight loss?
My weight has had vast fluctuations my entire life. I maintained at 135 pounds for about three years and then I steadily went up. I gained the most recent weight when I was pregnant with my daughter. I gained about 100 pounds while pregnant with her and then had a C-section. I was so out of control I wouldn't even let the nurse tell me what I weighed. I didn't even realize how large I had gotten. I no longer looked at myself in the mirror and when I did, I didn't see what I was becoming. I got married and had a baby all in the span of one year while working full time and going to school. I had many changes and didn't know how to take care of myself. My husband and I were so busy that we turned to fast food or eating out much too much. I was winded to the point of thinking I had asthma just walking up the stairs. We would take my daughter out in her jogging stroller and I would hurt. My husband would tell me how beautiful I was but in my head I just didn't want to believe him. I didn't feel beautiful or secure.
What was your 'light bulb moment' that made you get serious about losing the weight?
I saw a picture of myself with my daughter in December 2010. It's the first time I really saw myself and how out of control I was. I decided I needed to lose weight and get healthy so my daughter would never have to go through what I did. I also wanted to feel comfortable taking pictures with her and our life. I had become happy with myself.
Tell us a bit about your weight loss journey:
I joined Weight Watchers and SparkPeople on the very same day. That day was January 17, 2011. That's the day I have dubbed my 'Healthiversary'.
Read More ›
That headline got your attention, didn't it? Not to worry, SparkPeople hasn't changed our attitude about healthy living and weight loss. But what we
have
done, for the first time ever, is compile and publish the
very
best advice, tips and tricks from our "
Success Stories
"--more than 100 members who've lost weight and kept it off using SparkPeople.com to accomplish their goals. These members know that how you start to lose weight is the most important indicator of long-term weight loss. They shared their struggles and successes so that you can learn from their experiences and remove the guesswork from weight loss.
We compared their success against people who gave up on weight loss within the first two weeks. And you know what? We found quite a few red flags that determined--from Day 1--whether someone would succeed or fail.
Here are our
top 7 signs that someone is going to give up on weight loss
--and how to reverse your fate if you have any of these demotivating habits.
Read More ›
Read More Entries ›