All Entries For
you asked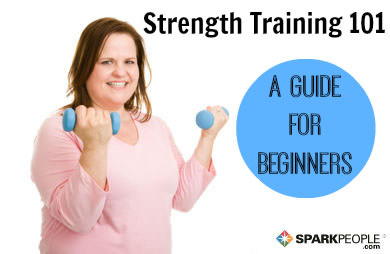 You know that strength training (also called resistance training) is good for your body. It can help you maintain and build muscle mass, rev your metabolism, make you a better recreational athlete, strengthen your bones and reshape your body. But unlike cardio, where you usually just pick an activity you enjoy and get out there and do it, strength training can be a lot more complicated to a novice. Most people don't just walk into a weight room, stare at the sea of weights, and know how to begin.
If you've never lifted weights before (or it's been a long time since you have),
it can be intimidating
to know how to start. There are so many weights, machines, classes and options. Which ones are right for you and your goals?
While the idea of strength training can be complex, hopefully these basics will point you in the right direction so you feel comfortable starting a training program.
Read More ›
This is a loaded question! If you ask 10 different trainers, you'd get 10 different answers. One trainer's answer is likely to be based on what they've seen help clients get the best results or their own personal preference for one type of exercise over the other.
There isn't a ton of research on this topic, but we know that people who do
both
cardio and strength training tend to have better outcomes in terms of weight loss, fitness and even improved blood sugar levels. These two modes of exercise each do very different things. If the issue is time, my answer would be to find a way to fit in both, whether each workout is a little shorter (and maybe more intense) to maximize your time, or you are doing both but doing each thing occasionally (such as just once a week each). Anything you can do will help. Another solution to fitting in both cardio and strength training is to seek out workouts that combine both efficiently. There are many workout DVDs (including
SparkPeople's best-selling titles
), fitness classes (including CrossFit) and workout options (including
kettlebell training
) that give you the best of both worlds.
Circuit training
, which involves lifting weights in a circuit of exercises without resting in between, is another good way to add an aerobic component to your strength-training workouts
Now let's look a little deeper at each exercise component and the role they might individually play in your fitness and weight-loss plan.
Read More ›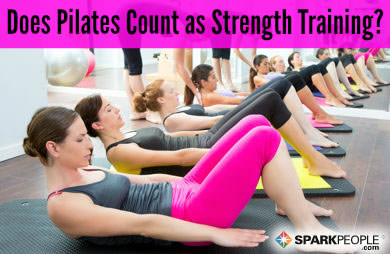 This is not an easy question for me to answer. As a certified Pilates instructor and long-time Pilates practitioner, I've seen the
many benefits of Pilates
first-hand, and with many of my students. Pilates can sculpt your core, help you stand taller, improve your balance, tone your muscles and even prevent and relieve certain issues like lower back pain. I'm a huge advocate of Pilates and think it can benefit any body—male or female, young or old, beginner or athlete.
Read More ›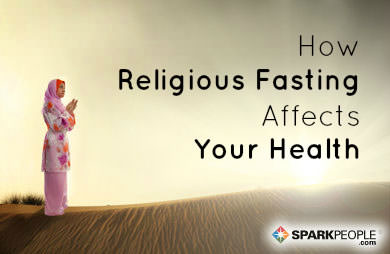 Many religions recommend fasting for both spiritual and/or health benefits. All religious fasts are different: Some restrict certain foods, while others only restrict the times of day in which one can eat. Few religious fasts involve a long-term or complete abstinence from food, but no matter what the nature of the fast is, you may wonder just how it really impacts your health.
Three religious fasts have been studied the most:
Islamic Ramadan: During the holy month of Ramadan, which varies according to the lunar calendar, Muslims abstain from eating or drinking from sunrise to sunset.
The 3 annual fasting periods for Greek Orthodox Christians: The Nativity Fast (40 days prior to Christmas), Lent (48 days prior to Easter), and The Assumption (15 days in August).
Biblical-Based Daniel Fast: This fast typically incorporates a 21-day fasting period.
Read on to find out how these fasts impact your health and weight-loss efforts.
Read More ›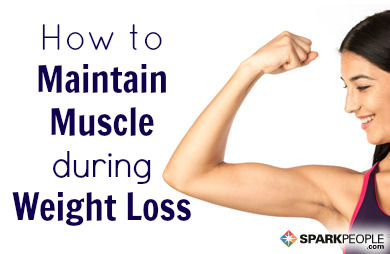 When starting a weight-loss plan, most of us hope to lose body fat, specifically—not muscle mass. But when we lose weight, a large percentage of the total weight lost can be muscle. Is there any way to reduce that muscle loss?
Read More ›
For a healthy adult, eating more protein than
your recommended daily range
once a week or so won't have any major impact on your long-term health or weight loss (assuming you still eat approximately the same amount of calories for the day). Based on your food selections for that day, if you consume a larger-than-normal amount of protein you may notice:
A change in bowel habits in the next 24-48 hours (due to a lower fiber intake)
A sluggish or light-headed feeling (if you also ate very few carbs)
Some abdominal discomfort if your fat intake sky-rocketed
No noticeable changes at all
However, you may be wondering how a long-term high-protein diet affects your health in the long run...
Read More ›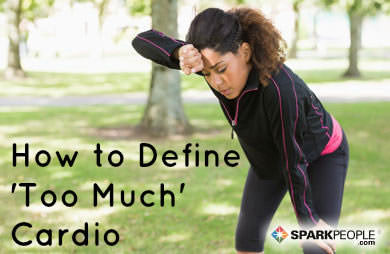 Aerobic exercise (think running, biking, and jumping rope) is good for your health, helps with weight loss and generally makes you feel good. But believe it or not, you can have too much of a good thing—even exercise. It's important to find the balance between challenging yourself, making exercise a regular part of your daily routine, and doing more harm than good. But where exactly is the line where a healthy amount becomes too much?
Read More ›
If you are concerned about how many calories you burn during strength training, chances are that you are actively trying to lose weight (or might want to ensure you are eating enough to support strength training without losing additional weight). Although strength training is challenging and requires a lot of hard work (especially when lifting heavy weights), it doesn't typically burn as many calories as cardiovascular (aerobic) exercises like running or cycling.
Read More ›
The
2010 U.S. dietary guidelines
recommend that all Americans eat more fruits and vegetables as part of a healthy diet. Government guidelines aside, you surely grew up with your mom telling you to eat your vegetables. Or maybe you even hear it now from your doctor.
When you're new to adopting a healthy diet, you may wonder: What's so good about fruits and vegetables anyway? What kind of benefits will I see if I eat more? Here are four good reasons to be like Bugs Bunny and chomp away on more fresh produce.
Read More ›
I remember the days when I had time to drive to the gym for a workout multiple times a week. Now as a busy mother of four, those days long gone! However, that doesn't mean my fitness level has to suffer. I'm still able to squeeze in a good workout in the morning before the rest of my family wakes up. By investing in a few
key pieces of equipment
, I've been able to create quality, low-cost workouts without ever leaving the house—and you can, too!
Read More ›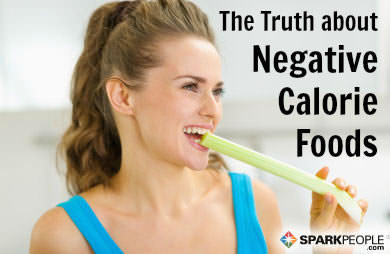 You might have heard that you can eat as much of you want of certain foods because it takes more energy to burn them than they actually contain. But is it true? Can eating more of these foods really help you lose weight?
Read More ›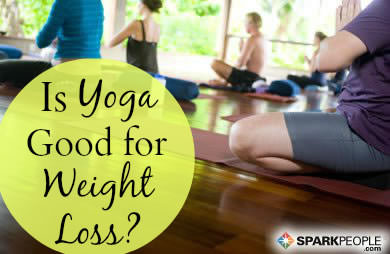 Over the past decade alone,
yoga has exploded
into a multi-million dollar industry. Nearly 21 million Americans actively participate in yoga, spending more than $10 billion a year on classes and products (including equipment, clothing, retreats and videos), with the majority of novice practitioners citing general wellness, stress management or weight loss as one of their primary motivations for taking up the practice.
However, the roots of yoga are spiritual, not physical, which is the way we think of yoga today. Body-focused yoga styles (that focus on toning, weight loss and physical transformations) are a modern, Western phenomenon. There's no doubt that the benefits yoga offers for the physical body appeals to Americans, even though yoga can be so much more than a physical fitness regimen.
So can yoga really help you lose weight? Is there any truth or science to claims that any set of yoga postures can boost your metabolism, help you slim down, or give you that coveted "yoga body"?
Read More ›
It sounds like you're referring to a "calories in vs. calories out" type of equation. First you need to understand that one pound of fat is made up of roughly 3,500 extra calories. So in order to lose one pound of fat, you need to create a caloric deficit of 3,500 calories.
Read More ›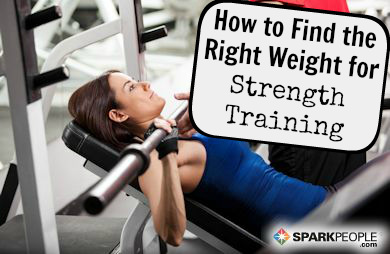 Your One Rep Max is the highest possible weight you can lift for exactly one repetition. You can use the One Rep Max as a benchmark to measure strength gains over time. However, keep in mind that this metric is typically used on very specific, more advanced lifts like bench press and back squat, so you wouldn't use this metric on, say, a bicep curl or a calf raise.
Some advanced athletes find their 1 RM by progressively bumping up their resistance until they fail the lift on the second repetition of a set. However, this method is risky and should be done with additional supervision. So how does a beginning lifter determine his or her One Rep Max?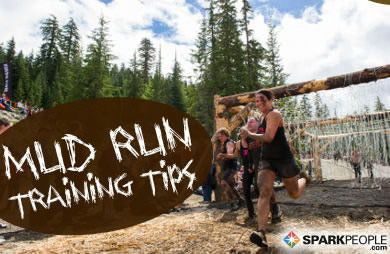 Last summer, I surprised a few family members by asking if they wanted to form a team to do a mud run. I'm not known as adventurous—or as someone who likes to get dirty—but mud races were becoming so popular among runners (and non-runners alike) that I was ready to step out of my comfort zone and try something new. To my delight, the race was lots of fun and definitely something I'd do again in the future.
Mud runs have exploded in popularity over the past few years. One example is the Warrior Dash, which started as one run in 2009 with 2,000 participants. In 2012, 65 Warrior Dash events were held across the world, involving more than 1 million participants. Today, you have no shortage of mud-related "obstacle" races from which to choose. Each race is different, so it's important to know exactly what you're getting into before you sign up.
Read More ›
Read More Entries ›