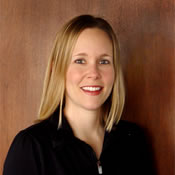 SparkPeople Community Director and Fitness Coach

Jen Mueller left her first career in corporate finance to earn a master's degree in health education. She is a busy mom of three and holds a number of fitness certifications (including ACE's Health Coach and Advanced Health and Fitness Specialist). She is passionate about helping people reach their health and fitness goals. In her spare time, Jen loves training for marathons (crazy, huh?) and spending time with her family. Jen enjoys blogging about raising healthy children and how small behavior changes can impact health and quality of life.
Read More of Jen's Blogs:
I will never forget the day one of the dads at school came up to me and said ''We've been thinking about having a fourth, especially after watching you. You seem like you really have it together, you're relaxed about having four kids and you just kind of go with the flow.'' I told him that was the most hilarious thing I'd ever heard in my life, because it couldn't be further from the truth. ''Go with the flow'' is not a term anyone who really knows me would use to describe my personality. It made me realize that appearances are not always what they seem. I'm the first to admit that most days, I'm just trying to keep my head above water. I'm busy, I get stressed out easily, and I wish I could find better ways to relax. At the end of the day, I'm doing my best, and that's all I can ask of myself.
Read More ›