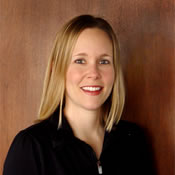 SparkPeople Community Director and Fitness Coach

Jen Mueller left her first career in corporate finance to earn a master's degree in health education. She is a busy mom of three and holds a number of fitness certifications (including ACE's Health Coach and Advanced Health and Fitness Specialist). She is passionate about helping people reach their health and fitness goals. In her spare time, Jen loves training for marathons (crazy, huh?) and spending time with her family. Jen enjoys blogging about raising healthy children and how small behavior changes can impact health and quality of life.
Read More of Jen's Blogs:
How much can you relate to the following scenario: You start every January 1st with great intentions. You've renewed your gym membership, stocked your pantry full of healthy food, tossed out all of the chips and cookies and told yourself this is it. The healthy lifestyle begins now.

Things go well for the first few days, the first few weeks or even the first month. Then slowly, the old habits start to return. You're tired of getting up an hour early every morning to head to the gym, so you hit the snooze button and begin skipping workouts a few times a week. The occasional splurge is becoming more frequent, and staying in your calorie range becomes the exception rather than the rule. Eventually, all of the hard work that began on January 1st has been undone, and before you know it, you're right back to where you started. What went wrong?!? Here are some ways to prevent history from repeating itself in 2015.
Read More ›