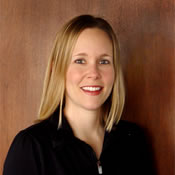 SparkPeople Community Director and Fitness Coach

Jen Mueller left her first career in corporate finance to earn a master's degree in health education. She is a busy mom of three and holds a number of fitness certifications (including ACE's Health Coach and Advanced Health and Fitness Specialist). She is passionate about helping people reach their health and fitness goals. In her spare time, Jen loves training for marathons (crazy, huh?) and spending time with her family. Jen enjoys blogging about raising healthy children and how small behavior changes can impact health and quality of life.
Read More of Jen's Blogs:
You often hear people talk about how having kids changes your entire life. I have to agree, having been through it more than a few times over. I have four children ranging in age from nine months to seven years, and although they are exhausting, they are equally wonderful. Pregnancy was never a walk in the park for me, but I tried to do all of the right things--eat a healthy diet, exercise regularly and gain a healthy amount of weight. Because of this, I assumed it would be pretty easy for me to bounce back into shape after baby arrived. While that's been true to a certain extent, there have definitely been some surprises along the way.
Read More ›