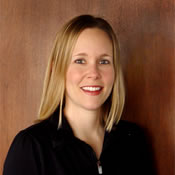 SparkPeople Community Director and Fitness Coach

Jen Mueller left her first career in corporate finance to earn a master's degree in health education. She is a busy mom of three and holds a number of fitness certifications (including ACE's Health Coach and Advanced Health and Fitness Specialist). She is passionate about helping people reach their health and fitness goals. In her spare time, Jen loves training for marathons (crazy, huh?) and spending time with her family. Jen enjoys blogging about raising healthy children and how small behavior changes can impact health and quality of life.
Read More of Jen's Blogs:
Most people who decide to make a lifestyle change will tell at least a few others about their intentions. All of a sudden you're buying more fruits, vegetables and whole grains, and you've dusted off those gym shoes to go for a walk a few times a week. Something is up, but how many people do you tell? Do you tell anyone at all, or just let them figure it out for themselves? New research shows that sharing your goals could negatively affect your behavior and success.
Read More ›