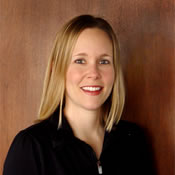 SparkPeople Community Director and Fitness Coach

Jen Mueller left her first career in corporate finance to earn a master's degree in health education. She is a busy mom of three and holds a number of fitness certifications (including ACE's Health Coach and Advanced Health and Fitness Specialist). She is passionate about helping people reach their health and fitness goals. In her spare time, Jen loves training for marathons (crazy, huh?) and spending time with her family. Jen enjoys blogging about raising healthy children and how small behavior changes can impact health and quality of life.
Read More of Jen's Blogs:
You started the New Year full of motivation and enthusiasm. You decided that this is going to be your year to make lasting changes and improve the quality of your life. Now that we're almost a month in, perhaps your motivation has started to wane and a little doubt has crept in. Does this mean that you're doomed to repeat the failed resolutions of the past? Definitely not! Take a few simple steps to ensure that your resolutions last from January to June to December—and for the rest of your life. Here's how.
Read More ›