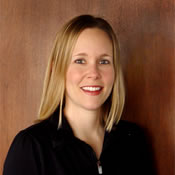 SparkPeople Community Director and Fitness Coach

Jen Mueller left her first career in corporate finance to earn a master's degree in health education. She is a busy mom of three and holds a number of fitness certifications (including ACE's Health Coach and Advanced Health and Fitness Specialist). She is passionate about helping people reach their health and fitness goals. In her spare time, Jen loves training for marathons (crazy, huh?) and spending time with her family. Jen enjoys blogging about raising healthy children and how small behavior changes can impact health and quality of life.
Read More of Jen's Blogs:
If you've recently started tracking calories and watching portion sizes, chances are you've been surprised that your morning cereal is really three servings instead of just one. Or that the salad from your favorite restaurant you thought was a healthy option really isn't. It's easy to convince yourself that your diet is fairly healthy until you really start measuring and tracking your food throughout the day. That's why I'm not totally surprised by a new survey that says most Americans consider their diets to be at least "somewhat" healthy.
Read More ›