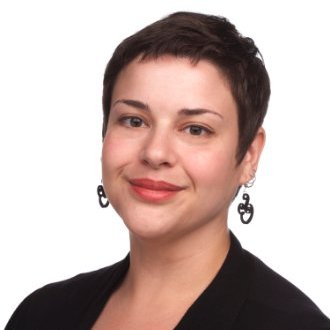 Megan Patrick
Megan Lane Patrick has been a professional writer and editor for the past 16 years, and was a chronic dieter for at least 30. A combination of weight-loss surgery, mindful eating and daily exercise finally allowed her to maintain a weight loss of more than 100 pounds. When she's not lifting weights at the gym, you can find her walking shelter dogs as a volunteer for the SPCA.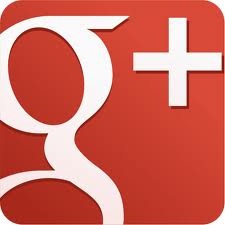 Read More of Megan's Blogs:
This giveaway is now closed. The winners are: BLUESUEDE1, RINGRANGRUNG and JUDY1939. Congratulations!

Can you believe that Thanksgiving is next week! We're already in the holiday spirit around here and we're excited about this week's giveaway from Leslie Sansone, which will have THREE lucky winners!
Posted 11/22/2013 9:00:00 AM By: Megan Patrick : 32 comments 13,074 views
Read More ›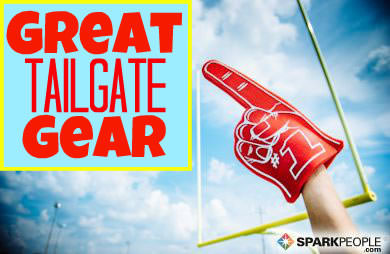 Once you've planned the perfect tailgate party, you'll want to stock up on gear to help you celebrate your favorite team and serve up delicious snacks in style.

We've rounded up 10 of our favorite products to make your party even more fun.

(We're showcasing Bengals gear here, since SparkPeople's hometown is Cincinnati, but all the team products listed are available for your favorite NFL teams.)
Posted 11/15/2013 6:00:00 AM By: Megan Patrick : 8 comments 14,448 views
Read More ›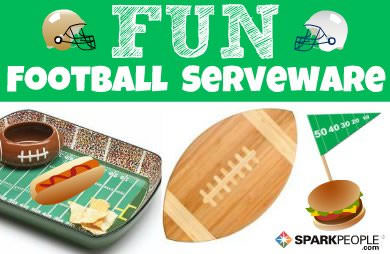 Whether you're having a get together to watch the big game, a Super Bowl bash or a party for your kid's football team, there are tons of great themed accessories available to help bring your appetizers to life.
Posted 11/13/2013 6:00:00 AM By: Megan Patrick : 7 comments 21,322 views
Read More ›
Since November is Diabetes Awareness Month, we wanted to take this opportunity to remind you about all the tools and content you can find on SparkPeople to help you successfully manage your diabetes whether you've been diagnosed as pre-diabetic or are living with type 1 or type 2 diabetes. According the American Diabetes Association, nearly 26 million children and adults in the United States have diabetes, while another 79 million Americans have pre-diabetes or are at risk for developing type 2 diabetes. Many diabetes complications can be prevented or delayed with careful attention to diet, exercise, medication and blood glucose monitoring.

Posted 11/8/2013 6:00:00 AM By: Megan Patrick : 1 comments 17,009 views
Read More ›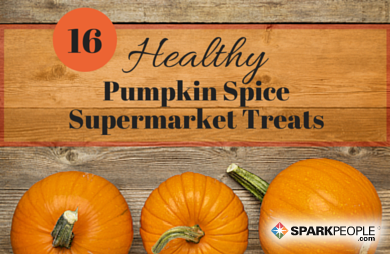 Which flavors come to mind when you think about fall? Apple, caramel, cinnamon, nutmeg and ginger? Probably no flavor is more closely associated with fall than pumpkin. It seems as though every food company and restaurant under the sun is offering limited edition pumpkin delights these days—you can find the flavor in just about everything from yogurt to granola bars to tea.

But just like a lot of the foods found year-round that may sound healthy, many pumpkin-flavored treats are high in calories, fat and sugar (or all three). (Check out our list of fall's most fattening foods here.) In many cases, you'd be better off having a slice of pumpkin pie, than that "innocent" impulse item tempting you from the checkout line!

So which pumpkin treats are worth trying this fall? We scoured supermarket shelves to discover seasonal offerings that will let you indulge—without breaking the calorie bank.

There are actually more supermarket options than you might think, some of which even contain real pumpkin (instead of artificial pumpkin flavor). Pumpkin, along with the rest of the winter squash family, is packed with beta carotene, vitamin C, niacin, phosphorus, potassium and fiber.

The top supermarket pumpkin treats worth trying fall into three categories:

Pumpkin-Flavored Drinks
While you won't find any actual pumpkin in most pumpkin-flavored drinks, they can still offer a low-calorie way to enjoy fall's most popular flavor.

Pumpkin-Flavored Bars
You always have to be careful in this aisle, as snack and energy bars are often just candy bars wearing a "healthy" halo. But the right bars can be a convenient, on-the-go choice when you're busy.

Pumpkin-Flavored Breakfast Foods and Snacks
Pumpkin makes a great complement to many breakfast foods. It's easy to find pumpkin donuts and pastries at the grocery store, but there are low-calorie, high-flavor options, too.













This tea offers lots of flavor with zero calories.

If you have a Keurig brewer, you can try this flavorful brew.

If you use a regular coffee machine, Trader Joe's offers this fall coffee flavor.


To punch up the flavor of pumpkin or regular coffee, use this syrup.


If you like your coffee with cream, International Delight offers this tasty creamer.


If you crave a cold, pumpkin-flavored drink this beverage could be just the thing to quench your thirst.


This coconut milk contains some real pumpkin and only 1 gram of fat.


These granola bars are 170 calories per serving (that's two bars per
package).


These nutrition bars would be appropriate before or after a strenuous workout.


This Alt bar is also workout-worthy with 220 calories and 10 grams of soy-free protein.


This cream cheese spread is offered every fall—and it's made with real pumpkin.


Pop two of these waffles into the toaster for a filling breakfast at home or on the go.

For a protein-packed option, this yogurt flavor comes with a whopping 14 grams of protein per serving.

These cereal bars are not a bad choice to satisfy a pumpkin craving without going for a pastry.

Swap out your usual breakfast cereal for one serving of these for a tasty choice to keep you full through the morning.

To add protein, healthy fat and some fun pumpkin flavor to yogurt or oatmeal, try these almonds.

More Food Ideas for Pumpkin Lovers
These sweet treats feature the goodness of real pumpkin, which adds moisture and flavor while lowering the fat in the recipes.
For a festive fall twist on hummus, try this pumpkin bean dip.
To warm up a fall evening, fill up a bowl with delicious spiced pumpkin soup (that can be made in just 20 minutes)!
What your favorite healthy way to enjoy fall's favorite flavors? Have you tried any of the fall foods above?
Posted 11/1/2013 6:00:00 AM By: Megan Patrick : 51 comments 81,844 views
Read More ›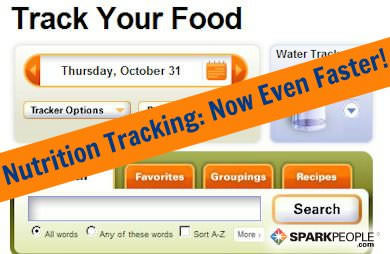 People who keep a detailed food diary (like the SparkPeople Nutrition Tracker) lose twice as much weight as people who don't track what they eat. Are you using your Nutrition Tracker every day? Are you recording everything you eat and drink? Are you measuring your portions for accuracy? If you've gotten stuck on your weight-loss journey, this is the best place to start looking for small changes you can make to your eating habits.
Posted 10/31/2013 11:00:00 AM By: Megan Patrick : 83 comments 18,111 views
Read More ›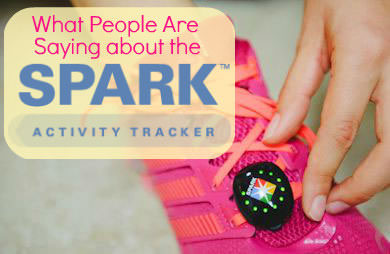 Everyone in the SparkPeople office has been wearing and using the Spark Activity Tracker during the beta testing phase so we were very excited for it to finally release on October 1. While we love its small size, fun light-up display and ease of use, we were anxious to hear what SparkPeople members would think about this tiny tool that tracks steps, miles and fitness minutes (and automatically syncs the data with your SparkPeople Fitness Tracker). We're finding new reviews from members daily, and we're delighted to see how much they're enjoying the Spark! (Learn more about exactly what the Spark Activity Tracker can do for you.)
Posted 10/16/2013 6:00:00 AM By: Megan Patrick : 55 comments 56,103 views
Read More ›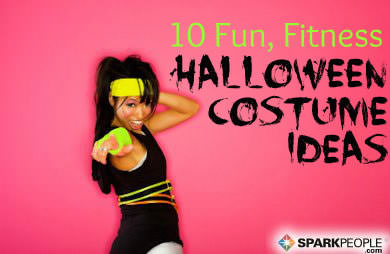 Since your closet is full of workout clothes anyway, why not use this Halloween as an excuse to celebrate your healthy lifestyle by dressing as your favorite fitness personality? There are tons of possibilities, but here are 10 that are pretty easy to pull off.
Posted 10/10/2013 6:00:00 AM By: Megan Patrick : 33 comments 77,625 views
Read More ›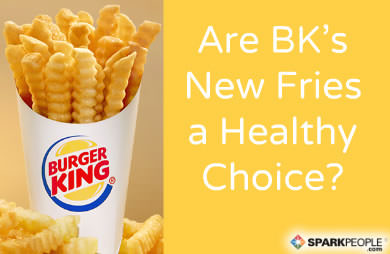 A few weeks ago, Burger King started heavily promoting its latest menu offering called Satisfries, which are formulated to have 40% less fat than the leading fast food French fry (from McDonald's). We decided to try the fries, than take a close look at the ingredients and nutrition facts to discover whether these fries are as healthy as they seem.

Posted 10/4/2013 6:00:00 AM By: Megan Patrick : 48 comments 41,780 views
Read More ›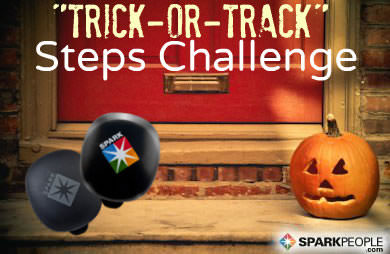 We're taking a big step in helping you get fit! SparkPeople has just released the Spark, our very own activity tracker that integrates perfectly with the rest of SparkPeople's online tools. The Spark Activity Tracker requires no charging, determines the specific type of workout you're doing (walking vs. running vs. elliptical) and automatically logs your fitness minutes directly to your SparkPeople Fitness Tracker!

The new Spark Activity Tracker is just one more way to get you motivated and moving toward your goals—and we're here to help you along the way. Everyone who uses a Spark is eligible to participate in monthly fitness challenges that will motivate you to get out there and walk, run or bike your way to reaching your goals each month. Our very first challenge, the Trick or Track Halloween Challenge, starts on October 1 and offers some BIG prizes!

Posted 10/3/2013 12:00:00 PM By: Megan Patrick : 14,046 views
Read More ›
Since I started working at SparkPeople this April, I've gotten into the habit of wearing workout clothes to work on most days of the week. It helps me fit in fitness breaks throughout the day without having to spend time changing clothes. But because I'm wearing fitness gear so much, my old ratty yoga pants and oversized T-shirts just aren't cutting it anymore. If this is what I'm going to wear every day, I want to look cute, too! Luckily, it's getting easier and easier to find cute workout clothes in extended sizes. (I wear a 14 or 16 depending on the brand.)

Fall is a tricky season for exercise clothes. It can be quite cool in the mornings but then warm up throughout the day. There are also sometimes weeks of lingering summer heat or sudden, overnight cold snaps. At least that's what it's like here in Ohio. If you don't like the weather, just wait 24 hours and you'll get something completely different! My strategy is to dress in layers and to always keep some of my summer clothes in the rotation until the first freeze of the season. Here are some of my current favorites and some things I'm putting on my list for fall shopping.
Posted 9/15/2013 8:00:00 AM By: Megan Patrick : 38 comments 42,171 views
Read More ›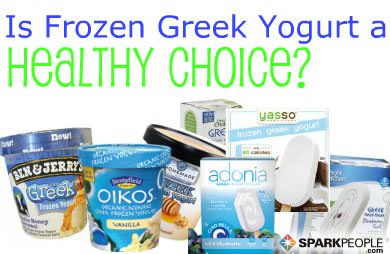 Greek yogurt is all the rage because of its high protein content and versatility. It can be eaten like traditional yogurt (sweetened with fruit or honey, if you like), whirled into smoothies or used in place of sour cream in recipes. It's become so popular and has such a good reputation as being "healthy," that it's even showing up outside of the yogurt tub. You'll find the buzz words "Greek yogurt" outside of the dairy case these days in some unusual places like coating packaged granola bars, inside cereal boxes, mixed with store-bought hummus and even in frozen desserts.

We decided to take a look at this trend and see whether frozen Greek yogurt desserts offer any health benefits when compared to regular frozen yogurt. Plus, we wanted to answer the most important question of all: How does it taste?!

Posted 8/21/2013 8:00:00 AM By: Megan Patrick : 55 comments 137,424 views
Read More ›
Yesterday, at their annual meeting, the American Medical Association decided to classify obesity as a disease. They hope this change will help doctors to better treat the complex condition and aid in the fight against type 2 diabetes and heart disease. While The New York Times reports that the AMA's decision has no legal authority, some medical professionals think the outcome will result in sweeping changes.

Posted 6/19/2013 6:00:00 PM By: Megan Patrick : 140 comments 30,925 views
Read More ›
A recent study published in the April 2013 issue of the International Journal of Obesity examined whether people would lose more weight on their own (sticking to a prescribed calorie goal) or by eating pre-packaged diet foods that totaled the same number of daily calories. The story was picked up by news outlets with eye-catching headlines like "Packaged diet foods may spur more weight loss," (Reuters).
Sounds pretty good, right? We thought so, too. So we dug a little deeper to bring out the real truth.
Posted 5/11/2013 12:00:00 PM By: Megan Patrick : 48 comments 39,581 views
Read More ›
‹ Back