SparkPeople Guest Blogger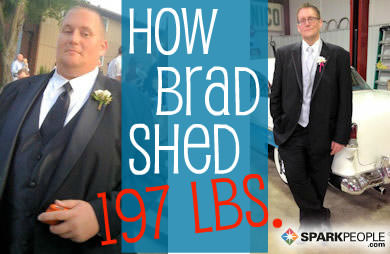 Brad Milligan (BRADMILL2922)

Weight Lost: 197 pounds
Hometown: Jeffersonville, IN

What was life like before losing weight?
I was a big kid and a big teenager. Being 6'7", I was never going to be small. I never enjoyed exercise much, but I did it because it was part of playing sports. I was always an athlete growing up, including playing baseball in college. When sports ended for me, I stopped exercising. I steadily gained weight in my 20s from lack of exercise and poor diet. When I was at my highest weight of 509 pounds, I didn't feel like doing anything. I didn't want to go out of the house and hang out with friends because I was embarrassed of myself. I really couldn't participate in many sporting activities or physical activities in general because it made me tired. I had no energy.

What was the main motivation behind your weight loss?
My main motivation was my kids. I am a single dad of three children and I wanted to be around for them, be more active with them and set a good example. I realized that the way I was going, that wasn't going to happen. I had a lot of "dieting" stops and starts over the years that failed every time. I had lost myself and who I was. On May 4, 2012, I weighed in at 466 pounds and I decided that on May 5 (Kentucky Derby Day around here), I wasn't going to do this anymore. I came up with a plan of diet and, eventually, exercise that I thought would help me lose the weight. No shortcuts. No fad diets. No trainers. No surgery. No diet pills. It was going to be hard work and I knew I needed some help along the way which is where SparkPeople.com came in. I set a goal to lose 167 pounds, which would get me down to 299 pounds. I would be less than 300 pounds for the first time since college!
Read More ›