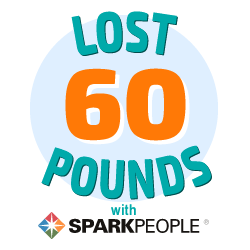 I have 11 pics in my gallery

Awards

No time like the present!
My name is Anna, and I never thought I would have to say that I need to lose 200 pounds! It really sneaks up on you. I am only 23, and if I have managed to gain this much weight in 23 years, I am terrified of how much I could gain in another 20!

I am 390 pounds which is, honestly, TOO close for comfort to 400. I've been a member of SP since Jan 2007, when I was a senior in HS. I was around 330 then and I lost 70 pounds and got down to 260 and I looked and felt great! (Mind you, I ...
My name is Anna, and I never thought I would have to say that I need to lose 200 pounds! It really sneaks up on you. I am only 23, and if I have managed to gain this much weight in 23 years, I am terrified of how much I could gain in another 20!

I am 390 pounds which is, honestly, TOO close for comfort to 400. I've been a member of SP since Jan 2007, when I was a senior in HS. I was around 330 then and I lost 70 pounds and got down to 260 and I looked and felt great! (Mind you, I am 6'1") I still could have lost about another 50 or so and been good.

Then I started college, and over the past 5 years I have managed to pack on 130 pounds. 130 pounds!! In 5 years!! That is horrifying. I've never actually thought about it like that. but 25 pounds a year (a little over 2 pounds a month) will sneak up on you quick.

I know *how* to lose weight, and I know *what* to do, I just can not seem to be consistent. One thing disrupts my routine, one exceptionally stressful situation occurs--and I fall off the bandwagon for 6-8 months.

Lets see if I can remember my weight history. I was 180 when I was 10. I was 250-275 by Sophomore year of HS, I was 330 by Senior year, I was 260 starting college, I got up to 320 and then went back down to about 290 when I was a sophomore/junior in college, then I got up to 380, then went down to 369 last year, and now I'm back up to 389... I feel like a yo-yo.

Oh, and I don't have any thyroid/medically related problem that caused the weight gain. I am simply an emotional eater (seriously, when I feel an emotion, I eat it :P) and I have problems with binge eating.

"This time next year, I'll be glad I didn't quit today"

Weekly Weigh-ins!

10/02/11-381.0 BMI 50.3
10/09/11-373.4 BMI 49.3 (Out of the 50's!)
10/16/11-369.4 BMI 48.7
10/21/11-366.8 BMI 48.4
RESET (Fell off the band wagon, eventually got back on)
7/29/12 - 394.0 BMI 52.0
8/22/12 - 389.0 BMI 51.3
8/25/12 - 383.4 BMI 50.6
9/1/12 - 380.0 BMI 50.1
9/8/12 - 377.6 BMI 49.8 (Out of the 50's, again!)
9/15/12 - 375.4 BMI 49.5
9/22/12 - 373.2 BMI 49.2
9/29/12 - 371.0 BMI 48.9
10/8/12 - 367.0 BMI 48.4
10/13/12 - 365.4 BMI 48.2
10/20/12 - 364.4 BMI 48.0
10/27/12 - 359.6 BMI 47.4
11/3/12 - 364.2 BMI 48.0
11/10/12 - 362.0 BMI 47.7
11/17/12 - 359.4 BMI 47.4
11/24/12 - 354.2 BMI 46.7
12/1/12 - 353.4 BMI 46.4
12/8/12 - 352.4 BMI 46.4
12/31/12 - 346.2 BMI 45.7
1/19/13 - 348.8 BMI 46.0
1/26/13 - 346.4 BMI 45.7
2/2/13 - 342.4 BMI 45.2
2/10/13 - 339.8 BMI 44.7
2/17/13 - 338.0 BMI 44.6
2/24/13 - 338.0 BMI 44.6
3/2/13 - 336.0 BMI 44.3
3/10/13 - 331.6 BMI 43.7
4/5/13 - 340.2 BMI 44.8

Loss Per Month!
October 2011 - 14.2
October 2011-August 2012 - Gained 22.2 pounds
August 2012 - Down 9.0 BMI 50.1
September 2012 - Down 9.0 BMI 48.9
October 2012 - Down 12.0 BMI 47.4
November 2012 - Down 7.2 BMI 46.7
December 2012 - Down 6.0 BMI 45. 7
January 2013 - Up 0.2 BMI 45.7 (maintained and did not track)
February 2013 - Down 8.4 BMI 44.6
March 2013 - Down 6.4 BMI 43.7
April 2013 - So far am Up, fun times, gained like 8 pounds in 3 weeks.

380 by 9/15/12 - met 8/31/12
370 by 10/15/12 - met 10/8/12
360 by 11/15/12 - met 10/27/12
350 by 12/15/12 - met 12/31/12
340 by 1/15/13 - met 2/10/13 - 25% of the way to goal!
330 by 4/15/13
320 by 5/15/13
310 by 6/15/13
300 by 7/15/13
290 by 8/15/13 (This will be ~1/2 way)
280 by 9/15/13
270 by 10/15/13
260 by 11/15/13
250 by 12/15/13
240 by 1/15/14
230 by 2/15/14
220 by 3/15/14
210 by 4/15/14
200 by 5/15/14
190 by 6/15/14

SparkFriends

SparkTeams



My Ticker:
current weight: 367.0


Recent Blogs:

Profile


Member Since: 1/6/2007

SparkPoints: 15,776

Fitness Minutes: 6,466

My Goals:
380 by 9/15/12 - met 8/31/12
370 by 10/15/12 - met 10/8/12
360 by 11/15/12 - met 10/27/12
350 by 12/15/12 - met 12/31/12
340 by 1/15/13 - met 2/10/13 (25% of the way to goal!)
330 by 4/15/13
320 by 5/15/13
310 by 6/15/13
300 by 7/15/13
290 by 8/15/13
280 by 9/15/13
270 by 10/15/13
260 by 11/15/13
250 by 12/15/13
240 by 1/15/14
230 by 2/15/14
220 by 3/15/14
210 by 4/15/14
200 by 5/15/14
190 by 6/15/14

My Program:
Eat between 2100-2500 calories per day (keeping to the low end)

Exercising 180 minutes or more a week.

1hr of Zumba on Wednesdays
1hr of Splashburner (Water Aerobics) on Mondays
Jillian Michaels 30-day Shred T/R


Other Information:
"This time next year, I'll be glad I didn't quit today"

Profile Image