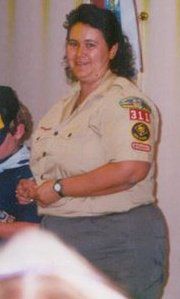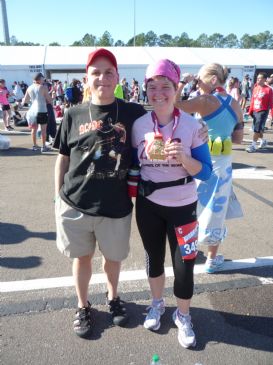 I have 30 pics in my gallery

Awards


A long year, 2014 - Hopefully I can make it better.
I have not had a good 18 months or so. My mom and uncle have been in and out of the hospital, and I have basically become a mother to them. This has taken my life over and has caused me many regrets - also stress, anger and fear of the future. Now add onto that in the last 9 months or so I have gained all my lost weight back. And I'm so tired of restarting.

I need to remember that this is me. I am all I can be, and that is me. I am worth doing things for me. And I'm the one ...
I have not had a good 18 months or so. My mom and uncle have been in and out of the hospital, and I have basically become a mother to them. This has taken my life over and has caused me many regrets - also stress, anger and fear of the future. Now add onto that in the last 9 months or so I have gained all my lost weight back. And I'm so tired of restarting.

I need to remember that this is me. I am all I can be, and that is me. I am worth doing things for me. And I'm the one who benefits - ME. I can't be excepted to take care of someone, if I can't take care of myself - and that is where we need to go with this.

Thanks for being there, Sparkfriends. I'll get back to where I need to be, one baby step at a time. For ME.


SHORT STORIES TO MAKE YOU THINK.....................................
......................

The Shoes

As Gandhi stepped aboard a train one day, one of his shoes slipped off and landed on the track. He was unable to retrieve it as the train was moving. To the amazement of his companions, Gandhi calmly took off his other shoe and threw it back along the track to land close to the first. Asked by a fellow passenger why he did so, Gandhi smiled. "The poor man who finds the shoes lying on the track," he replied, "will now have a pair he can use."

Being Polite


I walked with a friend to the newsstand the other night, and he bought a paper, thanking the owner politely. The owner, however, did not even acknowledge it.

"A sullen fellow, isn't he?" I commented as we walked away.

"Oh, he's that way every night," shrugged my friend.

"Then why do you continue being so polite to him?" I asked.

And my friend replied, "Why should I let him determine how I'm going to act?"


Twenty Dollars


A well known speaker started off his seminar by holding up a $20 bill. In the room of 200, he asked. "Who would like this $20 bill?"

Hands started going up. He said, "I am going to give this $20 to one of you - but first, let me do this."

He proceeded to crumple the 20 dollar note up. He then asked. "Who still wants it?" Still the hands were up in the air.

"Well," he replied, "what if I do this?" He dropped it on the
ground and started to grind it into the floor with his shoe. He picked it up, now crumpled and dirty. "Now, who still wants it?"

Still the hands went into the air.

"My friends, you have all learned a very valuable lesson. No
matter what I did to the money, you still wanted it because it did not decrease in value. It was still worth $20.
Many times in our lives, we are dropped, crumpled, and ground into the dirt by the decisions we make and the circumstances that come our way. We feel as though we are worthless; but no matter what happened or what will happen, you will never lose your value.

Dirty or clean, crumpled or finely creased, you are still
priceless to those who love you. The worth of our lives comes, not in what we do or who we know, but by ...WHO WE ARE.

You are special - don't ever forget it."


Triple Filter Test

In ancient Greece, Socrates was reputed to hold knowledge in high esteem. One day an acquaintance met the great philosopher and said, "Do you know what I just heard about your friend?"

"Hold on a minute," Socrates replied. "Before telling me anything I'd like you to pass a little test. It's called the Triple Filter Test."

"Triple filter?"

"That's right," Socrates continued. "Before you talk to me about my friend, it might be a good idea to take a moment and filter what you're going to say. That's why I call it the triple filter test. The first filter is Truth. Have you made absolutely sure that what you are about to tell me is true?"

"No," the man said, "Actually I just heard about it and ..."

"All right," said Socrates. "So you don't really know if it's true or not. Now let's try the second filter, the filter of Goodness. Is what you are about to tell me about my friend something good?"

"No, on the contrary…"

"So," Socrates continued, "you want to tell me something bad about him, but you're not certain it's true. You may still pass the test though, because there's one filter left: the filter of Usefulness. Is what you want to tell me about my friend going to be useful to me?"

"No, not really …"

"Well," concluded Socrates, "if what you want to tell me is neither true nor good nor even useful, why tell it to me at all?"


Current Status:


SparkFriends

SparkTeams

My Ticker:
current weight: 175.8

Interact with BLACKROSE_222






Recent Blogs:

Profile


Member Since: 9/6/2006

SparkPoints: 67,192

Fitness Minutes: 93,494

My Goals:
- To be at a Healthy weight before Chris and I start thinking kids

- Current best Marathon time (WDW January 8, 2012) - 4:29:22

- Lose 10% of 177 = 160.9

- Lose 10% of 160.9 = 146.2

- Lose 10% of 146.2 = 132.9

My Program:
- I've been training for a Full Marathon, but have dropped down to a Half due to knee injuries. Currently getting a min. of 25 Miles in a week.

-keeping track of my eating and calories. The less I have to carry across the finish line, the better.

-Using my husband as a guide, and helping him as well (although he still won't join SP!)

Personal Information:
My name is Jenn Gutierrez, and I am born and raised in Calgary, Alberta.

I'm a busy person, who constantly needs to be needed and wanted. I love to work out, read, sing, watch movies, and do anything spontaneous!

Profile Image