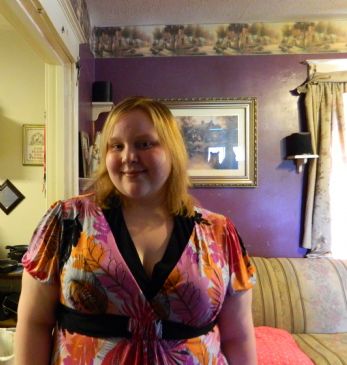 I have 3 pics in my gallery

Awards

Long Road Ahead...
I'm a 24 year old psychology student also working part time in HR for a home care agency and trying to make a place for myself in the world. One of my goals is to just feel..."healthy". I've struggled with weight my entire life and I want to feel better, mentally, physically, and emotionally one day and that's why this is so important to me.

My goal weight is 160lbs - well over 100lbs to lose.

**I'm a Sims fanatic! You are too? Talk to me! Can't wait for Sims 4's ...
I'm a 24 year old psychology student also working part time in HR for a home care agency and trying to make a place for myself in the world. One of my goals is to just feel..."healthy". I've struggled with weight my entire life and I want to feel better, mentally, physically, and emotionally one day and that's why this is so important to me.

My goal weight is 160lbs - well over 100lbs to lose.

**I'm a Sims fanatic! You are too? Talk to me! Can't wait for Sims 4's release! WOO!

Also, any fans of HBO's Oz, Law & Order: SVU, Criminal Minds...or you randomly think sharks are awesome - talk to me.

Perhaps you can even relate to the difficulties of living with Cyclic Vomitting Syndrome and/or autonomic dysfunction causing most physical activity to get you sick to your stomach. :(
SparkFriends

SparkTeams

My Ticker:
Pounds lost: 60.0


Recent Blogs:

Profile


Member Since: 4/3/2013

My Goals:
-Reach a healthy BMI at 160lbs

-Exercise 3+ times per week

-Be able to go into any store and fit in their clothes

-Prevent anymore health problems from occurring due to my weight

-Live a healthy lifestyle, eventually..effortlessly

My Program:
My program involves getting more physical activity inputted into my life, both strength training and cardio, and keeping my diet restricted to nearly 1200 - 1350 calories.

Personal Information:
My name is Jessica and I'm from Wisconsin. Naturally, I'm a cheese-fanatic.

Profile Image