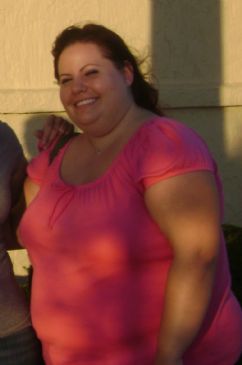 I have 3 pics in my gallery

Awards

doing this for me...
I had another sparkpage a couple years ago under the username: *Candice*. But I lost the password. So here is a new start on Sparkpeople.

I want to live a healthier life. I need to lose a lot of weight (at least 132 lbs) Not just to feel better about how I look, but also to control or perhaps eliminate some dangerous health problems. I understand this will not happen overnight, nor will it be easy. But I must at least try to give it my all.

I have:
PCOS
...
I had another sparkpage a couple years ago under the username: *Candice*. But I lost the password. So here is a new start on Sparkpeople.

I want to live a healthier life. I need to lose a lot of weight (at least 132 lbs) Not just to feel better about how I look, but also to control or perhaps eliminate some dangerous health problems. I understand this will not happen overnight, nor will it be easy. But I must at least try to give it my all.

I have:
PCOS
Hypothryoidism
High Cholesterol
2 Herniated disks in low back [since 01/2002]
Bipolar Disorder [diagnosed 2006]
Type 2 Diabetes [diagnosed 5/18/12]



Highest Weight: 267 lbs, Size 24

***********************************

"Part 2"
Start Date: Friday, May 18, 2012
Weight: 256.6 lbs

Weekly Weight Loss Progress
05/25/12 - 254.0 lbs [-2.6 lbs]
*****[See 10/11/2013 Blog Entry "Recap of 'Part 2'" for details]*****
12/21/12 - 209.0 lbs [-1.0 lbs]
[9 months: Major plateau. Also, depression, high anxiety & medication changes that resulted in some weight gain.]

***********************************

"Part 3"
Start Date: October 3, 2013
Weight: 224.0 lbs

I will now be incorporating an exercise routine in addition to eating healthy. I will be using Turbo Jam & TurboFire workouts [from Beachbody.com] Let's see how this goes! ...

10/02/13 - 224.0 lbs
10/09/13 - 222.2 lbs [-1.8 lbs]
10/16/13 - 220.2 lbs [-2.0 lbs]
10/23/13 -
10/30/13 -
11/06/13 -
11/13/13 -
11/20/13 - 219.0 lbs [-1.2 lbs]


***********************************


"Nothing can stop the man with the right mental attitude from achieving his goal; nothing on earth can help the man with the wrong mental attitude."
~ Thomas Jefferson

"Our greatest glory consists not in never falling, but in rising every time we fall."
~ Oliver Goldsmith





SparkFriends

SparkTeams



My Ticker:
current weight: 219.0


Recent Blogs:

Profile


Member Since: 3/6/2012

My Goals:
New weight goals:

1st Goal:
Start 10/03/13 at 224 lbs. Lose 8 lbs [be 216 lbs] by October 30, 2013.
__________




My Program:
I am tracking all my food, the time of day I eat, and my blood glucose levels in a notebook every day.
I am drinking mostly water. No regular soda or juice. And I am making an effort to cut out all diet soda & other drinks containing aspartame.
I am eating only whole wheat products; brown rice, wheat pasta, etc.
I've eliminated all sweets.
And I am trying to stay active (avoiding taking so many naps!) and will be starting up an exercise routine:

Turbo Jam
TurboFire




Personal Information:
My name is Candice
Married a little over 10 yrs, no children.
I am 5'2.75" & 31 yrs old
I started at 267 lbs, size 24
My goal weight is 135 lbs [to lose a total of 132 lbs]




Profile Image