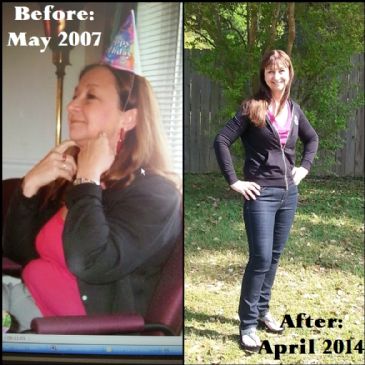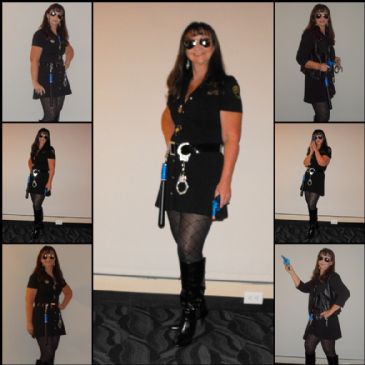 I have 50 pics in my gallery

Awards


MAINTENANCE: NEVER FEELING HOPELESS ABOUT MY WEIGHT AGAIN AND LIVING A LIFE THAT I CAN LIVE WITH!
Hi and welcome to my page!

My starting goal was to lose 50 pounds. With the tools on SparkPeople, I not only met that goal in 2008...I exceeded it by 10 pounds and dropped from a size 14-16 to a size 4-6. I couldn't be happier with where I am. I think I am a dang hot-lookin' grandmother...don't you? I've lost a total of 60 pounds and now I stay on SparkPeople to KEEP it off!

SparkPeople saved my life...and introduced me to some of the most wonderful friends. Some of ...
Hi and welcome to my page!

My starting goal was to lose 50 pounds. With the tools on SparkPeople, I not only met that goal in 2008...I exceeded it by 10 pounds and dropped from a size 14-16 to a size 4-6. I couldn't be happier with where I am. I think I am a dang hot-lookin' grandmother...don't you? I've lost a total of 60 pounds and now I stay on SparkPeople to KEEP it off!

SparkPeople saved my life...and introduced me to some of the most wonderful friends. Some of them I have met in person, some I am still waiting to meet, and some I may never meet in 3D, but I love them all!

My Story....

Obesity. My doctor wrote that awful word in my chart. OBESITY! I couldn't believe it. Other people were obese, but not ME! It was true. I was pushing 200 pounds at 5' 4" tall. I was also "pre-diabetic," with a fasting blood sugar of 126. My doc recommended I start keeping a food journal if I really wanted to lose weight. I tried to record what I ate, but it was so difficult. While searching the Web looking for food calorie counts, I accidentally found this wonderful site, sparkpeople.com. The more I read, the more excited I became. The site had so much to offer. And, best of all, it was FREE!

So I started this SP journey in May 2007 and lost 20 pounds by the end of September. I was faithfully logging my food and exercising. I was very pleased with the weight loss and the progress I had made, but then things began to slip. I had several business trips and a long vacation, and the holidays followed. I stopped doing all the things that had been working to help me lose weight. I look back on it now and I just can't figure out why I stopped. I just got lazy. By the time January 2008 rolled around, I had gained all the weight back, plus some. So I sucked it up, and started over...yet again.

Starting over this time was really tough. I struggled with self-doubt and, yeh, I threw a few pity parties in honor of ME. But I pressed on. From January 2008 to August 2008, I dropped from a size 14/16 to a size 6. I enjoy shopping again. I am sleeping better...even those icky hot flashes and night sweats have almost completely subsided. I love being active! Most of all, I feel so much better and I am a happier person. And now my husband has started working out...we are having fun together. The most exciting news of all...in October 2009, my doc REMOVED the word OBESITY from my chart! I am also NO LONGER PRE-DIABETIC!

I'm doing what I know works...exercising, tracking my food, staying within my recommended calorie range, and sticking close to SparkPeople where there is support and motivaton any time day or night. I'm working toward making real lifestyle changes as well as dealing with what's happening on the inside of me that led me to "fatville" in the first place. When people ask me how I've lost weight (and someone does almost every day) I tell them about SparkPeople. I also tell them that I have found success by doing 3 things: tracking my food (this is the key to success...no guessing), exercising (enough to make you SWEAT), and drinking water. When you think you have had enough water...drink another glass!

I'm recording this here so that the path I have traveled will stay fresh in my mind. Life's challenges, business trips, vacations, and holidays will always be there. What has changed are the choices I make, and EVERYTHING is a choice. Saying yes to one thing, means saying no to something else. I say 'yes' to a healthy life and 'no' to obesity and diabetes. I am in for the whole journey. I never want to start over again.
___________________________________
This poem was a big help to me in January 2008 when I started over. It still helps me when I have a bad day.

Let it Go
-- by Ralph Waldo Emerson

Finish each day and be done with it.
You have done what you could.
Some blunders and absurdities have crept in.
Forget them as soon as you can.
Tomorrow is a new day; you shall begin it serenely and with too high a spirit to be encumbered with your old nonsense.
_____________________________________




Current Status:


SparkFriends

SparkTeams



My Ticker:
current weight: 129.1

Interact with CAROLISCIOUS







Recent Blogs:

Profile


Member Since: 5/29/2007

SparkPoints: 93,656

Fitness Minutes: 85,507

My Goals:
1. Make the best food choices I can every day and keep this body moving!
2. Stay connected to people on SP who push me to stick with it.
3. Maintain 60-65 pounds lost and size 4-6
4. Have a better "progress picture" every year



My Program:
A LIFE THAT I CAN LIVE WITH:
*Eat like a food Nun Monday-Friday afternoon
*Relax the nunliness a little Friday night-Sunday
*Occassional weekend food devilishness...when the scale is in a good place (meaning below 135)

*10-12 cups of water daily
*Cardio and resistance exercise a minimum of 4 days per week

*Weigh Daily
*Measure Monthly
*BMI/Body Fat % Monthly

Personal Information:
Hello from Pensacola, Florida! I am married (34 years) with three beautiful children, one terrific son-in-law, and a beautiful daughter-in-law. In 2009, we welcomed our first grandchild, a precious little girl named Ellie! Grandbaby #2, Miles Benjamin, was born in 2011! I'm a registered nurse in the behavioral health/ managed care field. My husband and I love to travel...and I always have more fun traveling when I feel good about myself.

Other Information:
WooHoo! I'm a SparkPeople Motivator! (8/28/08)

Spark MOD! (6/15/09)

5K (4/4/09) - 33.21
5K (7/1/09) - 33.31
5K (4/27/13) - 35:54
15K (2/1/2014) - 2:00:11
1st half marathon training run, 13/3 miles (3/1/2014) 2:55:00
2nd half marathon training run, 13.2 miles (3/15/2014) 2:52:17
ROCK N FLY Half (3/29/14) 3:00:32

Summer 2009: Joined the National Weight Control Registry...one more way to keep me motivated!

I lead a little sparkteam called Florida Panhandle Sparkers. Deciding to step up as a team leader was huge in helping me reach my goals.

Desirable Ranges -
% Body Fat 23-34%
BMI 20-25
Mar 2008: 37.4%; 29
Mar 2009: 28%; 24
Mar 2010: 27.5%; 23.6
Mar 2011: 28%; 24
Mar 2012: 26.7%; 22.7
May 2013: 27.4%; 23.4

Profile Image