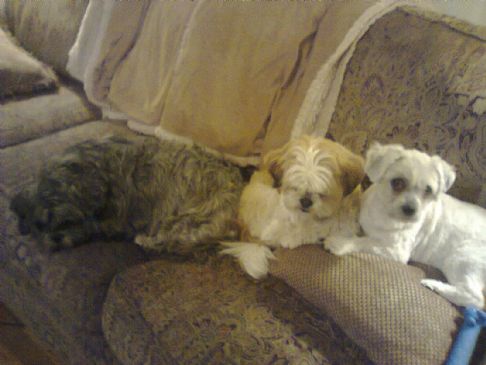 I have 38 pics in my gallery

Awards


Bound and determined..
04/10/13---
I'm choosing to move forward without forgetting where I've come from. It's not always easy, but it's certainly worth the effort.

01/12/13---
Proud to be a Courageous Copper Cougar for BLC 21! RAWR!

01/24/12---
"Running is a great sport because anybody can do it. Being a runner is hardcore because most people will not take the time or effort."
-WildBound, RW commenter

12/07/11---
"'Begin at the beginning,' the ...
04/10/13---
I'm choosing to move forward without forgetting where I've come from. It's not always easy, but it's certainly worth the effort.

01/12/13---
Proud to be a Courageous Copper Cougar for BLC 21! RAWR!

01/24/12---
"Running is a great sport because anybody can do it. Being a runner is hardcore because most people will not take the time or effort."
-WildBound, RW commenter

12/07/11---
"'Begin at the beginning,' the King said gravely, `and go on till you come to the end: then stop.'"
-Alice in Wonderland

05/05/11---
I've been a part of SparkPeople for one year. Or should I say, SparkPeople has been a part of ME for one year. The year was going to pass, with or without me doing anything to improve my life. I'm glad I decided to do something about it, and I'm uber-glad I was introduced to SparkPeople one year ago today.

I'm celebrating life. I'm celebrating sweat and muscle, and Anjou pears and Quinoa, and acceleration gliders and 30/30 run/walk/run intervals, and clothes that fit and an attitude full of goof and sass.
Let's do this thing - together!
RAWWR
C~

05/10/10
Hi. My name is Candy, and I'm 42 y/o at the time of this writing. I'm bound and determined to kick fat's *ss off my body and reclaim it as my own. My body, that is.. not the fat. This is for me. Onward...

11/05/10---
Sweat is the cologne of accomplishment.
Heywood Broun

01/20/11---
Excellence is an art won by training and habituation. We are what we repeatedly do. Excellence, then, is not an act but a habit.
- Aristotle

04/13/11---
This is my world, I can have anything that I want in it but the work will have to be put in, […]
- BOTZZZ

06/21/11---
"[E]xcuses should be viewed as obstacles that need to be addressed and removed."
- Dr. Birdie
SparkFriends

SparkTeams



My Ticker:
current weight: 241.2


Recent Blogs:

Profile


Member Since: 5/5/2010

SparkPoints: 85,744

Fitness Minutes: 50,365

My Goals:
~*~ UPDATED 04/10/13~*~
~ Lose 45 lbs to get below 200
~*~ ~*~

~ Lose 120 pounds.
~*~ Halfway there - 60 lbs down 03/12/11

~ Get fit and healthy.
~*~ Work in progress, every single day, and loving it!

~Maintain the positive attitude that I'm gaining, day by day.
~*~ Work in progress, and it's not always easy, but I keep plugging away.

~ Run a 5K - Goal met!
~*~ Done 12/05/10

~ Live to see grandkids, whenever they come along
~*~ Riley Jacob, born 05/06/11!

~ Live to enjoy life with my hubby and all the ups and downs to come.
~*~ Having the time of my life with The Man!

My Program:
~ Remain a work-in-progress - never finished, always evolving.

Personal Information:
I was born and raised in W.Va., and moved to Portland, OR, in May of 2006.

I've been married 4 years to my fabulous husband Bill, and have one daughter, two step-daughters, three almost-sons-in-law, and three step-grandkids! And three lhasa apsos who are my babies.

I've been involved in helping others almost my entire adult life, in one way or another.

I have a sharp sense of humor, use my sarcasm a bit too much sometimes, and love a good hard, bring tears to your eyes laugh.

I started volunteering at the Oregon Humane Society in June 2012. This is some of the most fulfilling work I've done in my life and now I finally know what I want to be if/when I ever grow up - an advocate for companion animals.

Profile Image